Mes Que Un Club means More than a Club. FC Barcelona have always stood as the epitome of this statement up until recently. It has always functioned as a club with strong values and thus created a team that transcended football. Cules (As the Barcelona fans are commonly nicknamed) fell in love not only with the magic of Ronaldinho and Lionel Messi's footwork but also with the strong morals of the club. Be it their partnership with UNICEF or their strong cultural, social and political connect, especially in the region of Catalonia, or their fabled youth system - La Masia, they were certainly more than a club.
Club legend Johan Cruyff slammed the club in 2015 by saying:
"Money is secondary. Before anything else there should be principles, values. Barça has lost them.
---
This week saw Barcelona 'usurp' Roma to the signing of highly-rated 21-year-old Bordeaux attacker Malcom. With another overpaid transfer, Barcelona have hit an all-time low. Gone are the days when La Masia used to be the hotbed of talent, with most players going on to have a decent career.
Even the most ardent Barcelona supporter will agree that the club is fast losing its identity in today's age of commercialisation. There is no doubt that the club legends would be worried about the way the club is being run by Josep Bartomeu and Co. With a heavy heart, we have to concede that they have become pretty similar to most of the European clubs at the moment. What has happened to their identity? Where have their values disappeared? How did it all come to this?
#5 Commercialisation & Money madness (2012-Present)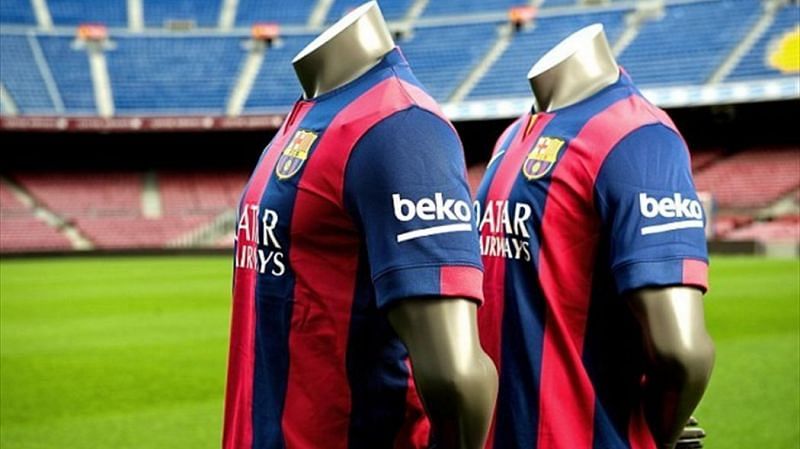 In 2006, Barcelona did something every other European club had started to do. It would be the first time that the Catalonian club would have the name of a sponsor on the front of the famous Blaugrana jersey.
However, they were truly unique in this regard. Sticking to the principles of the club, it sported UNICEF jerseys as a gesture towards the famed organization that worked tirelessly to help children across the world. For fans of the club, who were against having a sponsor on the shirt, it became a whole lot easier knowing that the club was doing this out of kindness. The gesture only elevated their 'Mes Que Un Club' status.
However, in 2012 the tag began to lose its meaning. After five fruitful years with UNICEF, the club announced that they would be having new shirt sponsors in the form of Qatar Foundation. Bartomeu and Sandro Rossell (former President) finally gave in and succumbed to the mega-money package of £170 million that they were offered for brandishing 'Qatar Foundation' on their jersey.
It was heartbreaking. The club which was the football fan's only glimmer of hope in the corporate world had become the latest addition to the list of endless clubs that fell victim to greed and money.
From that moment on, Barcelona have gone on to become the ultimate face of commercialisation, with the latest deal struck in 2014 with Electronic giants Beko, which meant that Barcelona became the first club to place a corporate logo on their shirt sleeves.
#4 The Neymar Saga (2013)
There is no doubt that Neymar was the next big thing when he was snapped up from Santos in 2013. He made the world stand up and take notice. All of the top clubs were interested in his signature. However, unlike Barcelona, no club compromised on their moral compasses in their pursuit for Neymar.
Sandro and Bartomeu did not only sign Neymar for his footballing services alone. They saw a rising global brand in Neymar. Neymar was the face of Nike's advertisement campaigns while Sandro was a former executive of Nike.
Soon enough, the newspapers - marionettes of the sextuple winning club released polls asking if it would be right to sell Messi making Neymar the focal point of the attack. 8% voted yes. Sandro, Nike, Brasil FA and Qatar were all just different pillars controlled the same force in this big scam. Sandro faced several trials for the same and eventually found himself incarcerated on grounds of corruption.
This dragged the club's name into the ground. Hardly what a club of principles would do, let alone a club that believes it is more than just that.
#3 Dismantling of the La Masia. (2013-Present)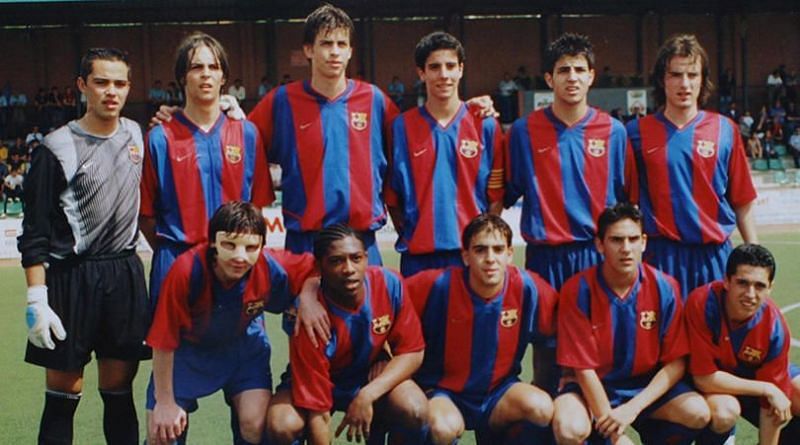 Pep Guardiola was the chief benefactor of the La Masia. Being part of the same production line himself, Guardiola understood its importance and went about creating a team which would incorporate its precious talents.
In came Sergio Busquets, Gerard Pique and Jordi Alba to go along with the previous generations of La Masia graduates as the club experienced unprecedented success on the field.
The club was replete with both home-grown players and home-grown staff. It formed the basis of their perfect philosophy which brought them numerous titles. The coaching staff had been brought up along the lines of the Catalan 'culture' - coming through the youth systems, then serving for Barcelona B and finally managing the likes of Messi and Co.
Their team comprised of a core group of footballers who were shaped in the same way - all pupils of a definite style, a definite ideology.
Ever since Guardiola left, none of the coaches has been able to nurture the talents, let alone the idea of reaping the benefits from La Masia. Pep's successors prioritized results and 'Madrified' the club - buying finished products aka in the form of Galacticos'.
The club has allowed talented youngsters like Bellerin, Deulofeu, Alex Grimaldo, Marc Bartra and Munir El Haddadi leave the club without giving adequate opportunities to prove themselves. This proved consequential in more than one way and led to the current state where the club is merely a bully in the transfer market.
To compensate for this massive youth drain, they've spent in excess of €200 million on Paco Alcacer, Nelson Semedo, Andre Gomes, Digne, Mina, Vermaelen and co. The question remains, would Samper and Munir do any worse than Gomes and Alcacer?
#2 Dani Alves's exit (2016)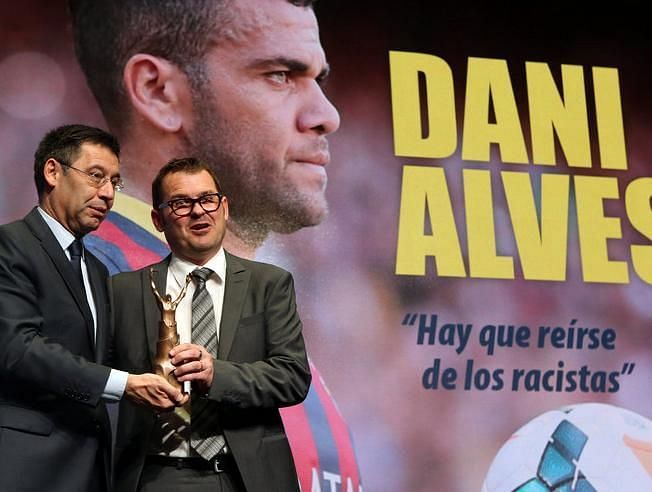 Barcelona usually give their legends warm send-offs, agreed. It is much better than how Real Madrid treated Casillas, granted. However, in Dani Alves's case, Barcelona stooped so low to a point where they have to compare themselves with their arch-rivals to feel better. They're meant to be a club of a different standard, a higher level.
Alves, 34, joined Juventus on a free transfer from Barcelona in 2016 after spending eight trophy-laden years after which he hinted that he moved on because of a conflict with Bartomeu and the board. This is what Alves said after leaving the club:
They were false and ungrateful. They didn't have respect for me. They only offered to renew my contract when the FIFA ban came into effect. So that's when I decided I would play and I signed a renovation with a free clause. The people who run Barcelona have no idea how to treat the footballers.
A tweet followed from Alves proclaiming Bartomeu to be a liar. His tweet eventually triggered the 'Bartomeu out', 'Bartomeu Dimite ya' movement last year.
#1 The transfer of Ousmane Dembele (2017)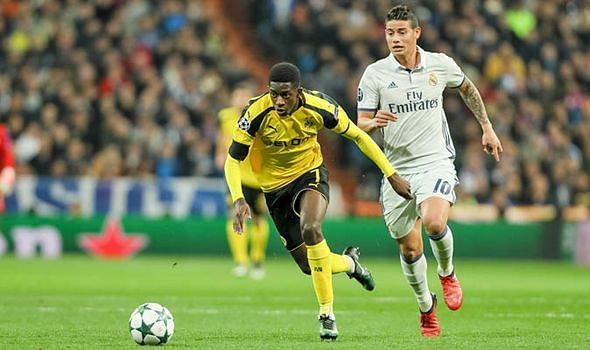 After Dani Alves's ignominious departure, there was not much of Barcelona's famous ethos left to save. Whatever little was left was all gone when the club decided to splash out £135 million on French winger Ousmane Dembele from Borussia Dortmund.
The German club rightly accused Barcelona of acting inappropriately in their pursuit of the player. The club reportedly asked Dembele to force a move to Catalonia. The 20-year-old obliged as he refused to train with Dortmund.
CEO Hans-Joachim Watzke said:
"It is not that Ous is making fun of us, he simply declines to do his job. That is a new quality. And we should talk about the role of glorious FC Barcelona in this matter. On Wednesday [last week] we met with Barcelona's officials. Our positions were very far away from each other. Then, on Thursday, he did not show up at the training.You don't believe a 20-year-old will refuse to go to training without his possible new club liking that?"
They had clearly bullied the youngster and his former club. Dortmund are the undisputed kings in Europe when it comes to nurturing young talent, and then selling them for good profits. With the signing of Dembele, Barcelona have strained their relationship with the German club. They are sure to have a tough time should they look to go shopping at Dortmund once more.
Edited by Debjyoti Samanta