FIFA Aims to Abolish Draws in World Cup Group Games
762 //
15 Aug 2010, 09:59 IST
FIFA President Sepp Blatter, known for voicing his absurd ideas on changing the rule of the World's most beautiful game is this time up to changing few rules in the FIFA World Cup. He is considering scrapping draws in group matches of the World Cup and also ending extra time play.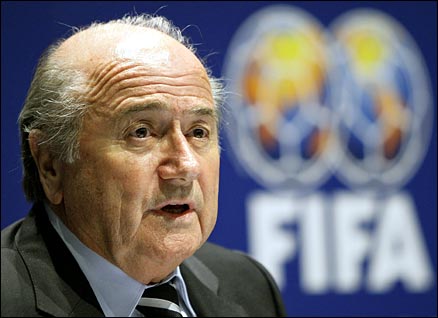 According to German Weekly "Focus", Blatter wants to end defense-minded teams playing to get a draw in the group stages. "We are considering doing away with draws in the first round and also ending extra-time play," he said. "If there is no winner at the end of 90 minutes of play, we would proceed directly to penalty kicks."
He also spoke about reviving the "Golden Goal" rule. Under this rule, if a match is a draw after normal time then the first team to score a goal in extra-time is the winner. This rule was followed in France 98, but was scrap in its next edition in S.Korea-Japan 2002.
From my personal front, I can see why Blatter would like it but it would work contrary to his intentions. Right now attacking teams at the world cup are rewarded for their efforts when they win games but should rules like this be introduced, minnows would literally camp out in their penalty area betting on a draw and taking their chances in penalty shootouts. This would be bizarre.
This man often comes up with weird ideas. Even earlier it was reported that he wants to do away with offside in football following the hockey path. Then he thought about allowing three yellow cards instead of two for a player's suspension and remains adamant on introducing goal-line assistant to judge goals.
On the latter issue he reiterated Fifa's efforts to examine goal-line technology, which will be discussed at October's International Football Association Board meeting."As soon as we have a safe, fast and uncomplicated goal indicator, we will use it," he said.
I am fed up with this person often trying to change the rule of the game according to his whims and fancies. The sooner he goes; I feel the better it will be for the game and the game lovers. Mr. Blatter if you can't do good to the game please don't spoilt it.