FIFA Bans Dangerous Snoods
922 //
13 Mar 2011, 04:05 IST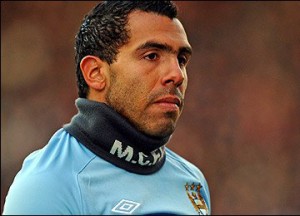 The International Football Association Board's decided to ban the fashionable snood used by player like Carlos Tevez, Samir Nasri, David Silva, Mario Balotelli, Pepe Reina, Marouane Chamakh citing safety risk. What's more ludicrous about the whole development is Sepp Blatter's statement that snoods are "dangerous" and it could "hang somebody."
It's quite un-imaginable when one says wearing a snood poses safety risk while football itself is a fast pace game involving lots of barbaric and life threatening tackles. Shouldn't FIFA concentrate more on reducing the dangerous aspect of the game rather than banning the fashionable snood, used by some player to keep their neck warm?
It might be coincidental that all the said players have had a splendid season thus far with the snoods on. It shouldn't surprise anyone if a Arsenal fan insists that snood is the secret behind Nasri's glittering form. It remains to be seen how Nasri performs without his magical neck-wear.
Amid so many high-profile admirers for snoods, one man who stood out was Sir Alex Ferguson who has already prohibited his players from wearing the snoods with a catchy remark that, "Real men don't wear snoods." Don't be bemused when Ferguson bans his players from wearing vest and brief in the future.
But Arsenal manager Arsene Wenger, who has a number of players in his squad that wear the neck warmer – including midfielder Samir Nasri – defended his players. "I get advice from the medical team – that's why we let them wear them," the Arsenal boss told the club's website.
It solely depends on the player to decide what he is comfortable wearing while playing as long as he complies with his uniform norms. It doesn't make sense to ban snoods as they can't really hang people. It's not long before the hilarious man Blatter says the hand wear the player uses also posses' life threat.
He even once said that women's football needed a boost and felt shorts were way too long to attract spectators. Expect a few more suggestions like that in the future until he steps down.
FIFA should lend their ears to more serious issues and shouldn't promulgate such baffling bans on silly attires when the matters seeking priority—like goal-line technology—are still unresolved.