This World Cup, you have the chance to experience the Footy Carnival of a lifetime
2.31K //
13 May 2014, 16:05 IST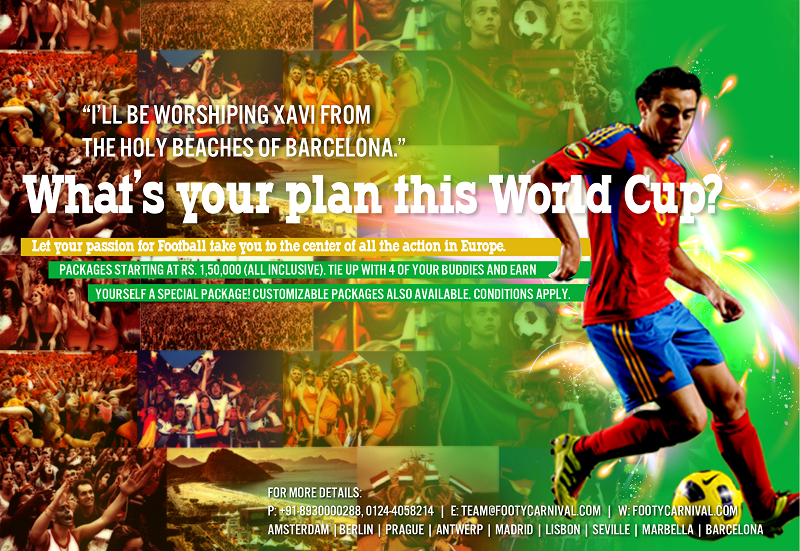 This FIFA 2014, we are NOT offering a travel package to Brazil. Instead, we're headed to Europe to support our beloved teams right from their homeland.
A continent where football is a religion and the players are heroes. We'll be dashing from one country to another, experiencing football at its purest. It will be a true Footy Carnival!
What could be better than cheering for Ronaldo in Lisbon, for Casillas in Spain or for Ozil in Berlin, while the stars themselves strive for World Cup glory? A completely planned opportunity to experience Europe like never before, visiting various holy temples where football is the only deity! (When the holiday season and the football season collide, you have to read the divine signs!)
So what's the big idea? Enquire now to know more.
Let's admit it, being a football fan in India can get awfully tragic. There's just no way to wholly enjoy the biggest sporting event in the world in its true spirit. Why? For one, take a look at the match timings.
Most matches begin at 0030 or 0330 hours. You'll probably watch the match in bed, barely struggling to stay awake. Or maybe at a friend's place whose parents are away. Not to forget, these matches will finish in the early hours. So you replace all the beer you should have been chugging with some coffee to prepare you for the day ahead.
Also, what when the matches get over and you want to scream your guts out? You are limited to celebrating with your own self without all the essential cheering and shouting.
That's where we bring in the European night-life with our packages to complement your love for the beautiful game. Watching the game with hundreds of people on a huge screen, screaming for every single touch of the ball – that's football. Actually, that's life.
So what's in store for you? Contact us to get all the details.
Sizzling cafes of Amsterdam. Fresh German beer in Berlin. The most passionate fans on the beautiful beaches of Barcelona, Madrid and Marbella wearing their Spanish colors, singing their anthems and shouting their hearts out. A million hearts that beat for the beautiful game. A Footy Eurail Trip to remember!
Here are the amazing routes you can take to experience the carnival to its fullest, depending on who your favourite players/teams are!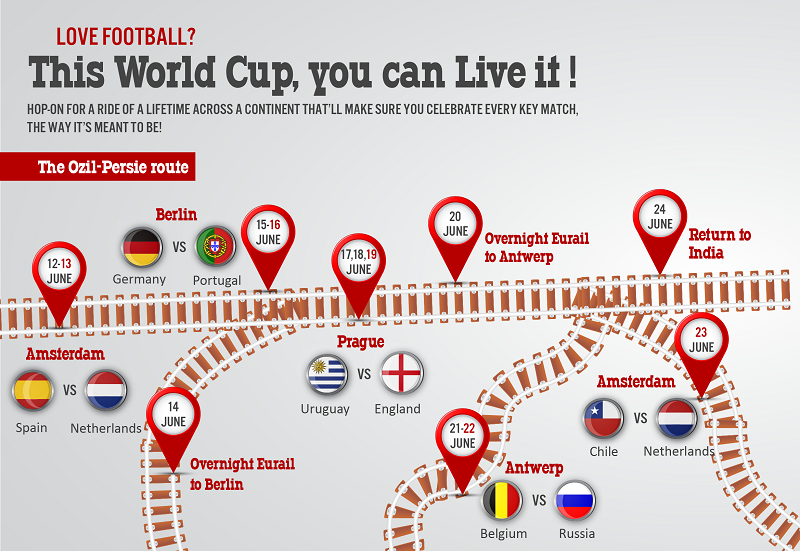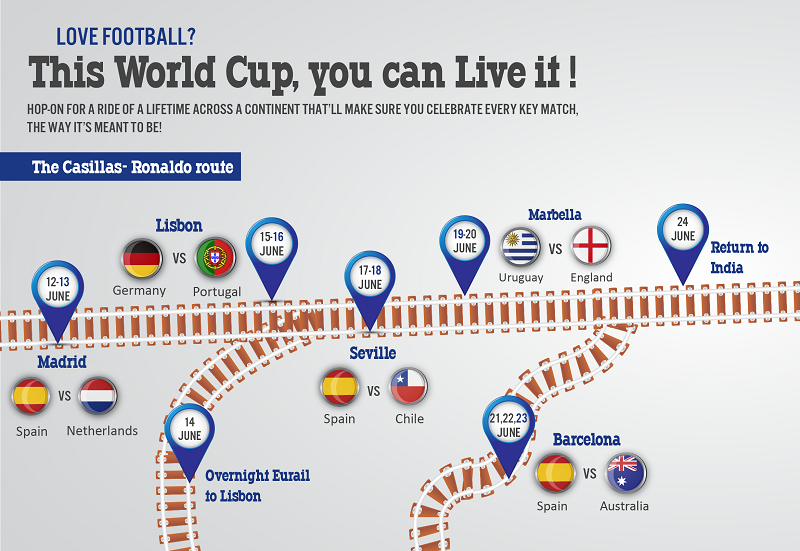 Of course, this may also possibly be the best World Cup ever. The greatest players of this generation are at the peaks of their careers; when playing at the celestial home of football, they would give everything they have to touch the most famous trophy in all of world sport. Enquire today to be a part of this once-in-a-lifetime atmosphere.
And really, what could be a better place than Europe to absolutely immerse yourself in the game? A continent with 13 teams in the World Cup, Europe is probably where the phrase "football-crazy" was invented. With a night-life to die for, after-match parties to take you to early heaven and some great music to tap your feet to, see how Europe comes alive this month as it lives the greatest sporting spectacle on earth.
Still not convinced? Take a look at our FAQs to soothe any doubts that you may have. So yes, we're about to take the journey of a lifetime, living the dream along with millions of zealous football fans! To know more about the details of the options available to you, click here: Package details
And we were wondering, what's you plan this World Cup?
Follow and like us on Facebook here: Footy Carnival