First team football in question as form of old evades Andres Iniesta
1.75K //
28 Jan 2015, 02:02 IST
It seems almost heresy to say it, but should Andrés Iniesta really still be an automatic starter for club and country? The statistics suggest that so far this season the World Cup, double European Championship, three-time Champions League and six-time La Liga winner has fallen some distance from his best.
Most strikingly, Iniesta has yet to either score or assist a goal in 13 La Liga appearances this term. 'Don Andres' has yet to find the net in the Champions League either, although he has provided three assists in four games in Europe. His only goals all season both came in the Copa del Rey against Huesca, when Barca were coasting on their way to winning 12-1 on aggregate against a completely overwhelmed third-tier side.
You could argue that goals have never really been a huge part of Iniesta's game (Stamford Bridge in May 2009 and Johannesburg a year later notwithstanding). Real Madrid's Sergio Ramos has famously now scored more through their careers.
It could also be that this season Iniesta is more often providing the second-last pass in moves (the 'assist' to the 'assist'). Barca do play differently now, with coach Luis Enrique aiming to quickly feed the big-name front three of Lionel Messi, Neymar and Luis Suarez. It is not, however, as though Iniesta has particularly changed his position, he still typically plays as one of the more attacking 'interior' midfielders, either side of holder Sergio Busquets in the blaugrana club's characteristic 4-3-3 system.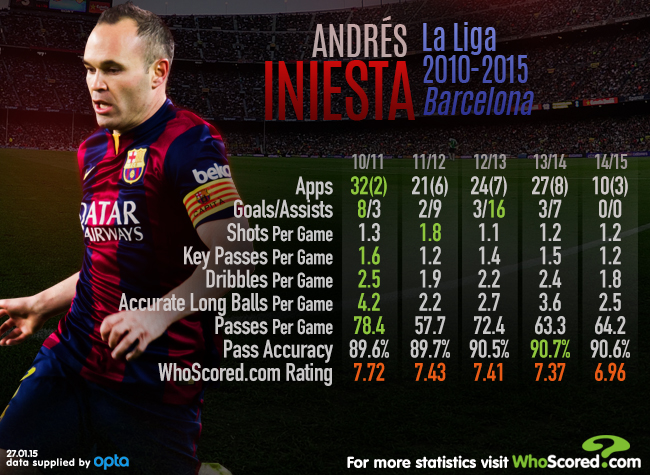 Has Iniesta lost his 'spark'?
For the national team however, Iniesta's numbers do not compare well with other Spanish midfielders. His former teammate Cesc Fàbregas has an incredible 18 assists and four goals in 27 league and Champions League games for Chelsea in his first half-season back in England. Atletico Madrid's Koke has eight assists (although admittedly seven have been from set-pieces) to date in 2014/15.
Most similar in style to a young Iniesta is perhaps Real Madrid's Isco, who has five assists and two goals while playing mostly in central midfield – and intermittently at that – so far this term. La Roja coach Vicente Del Bosque has a habit of showing tremendous loyalty to his aging players, but for Euro 2016 Iniesta's starting place looks seriously under threat.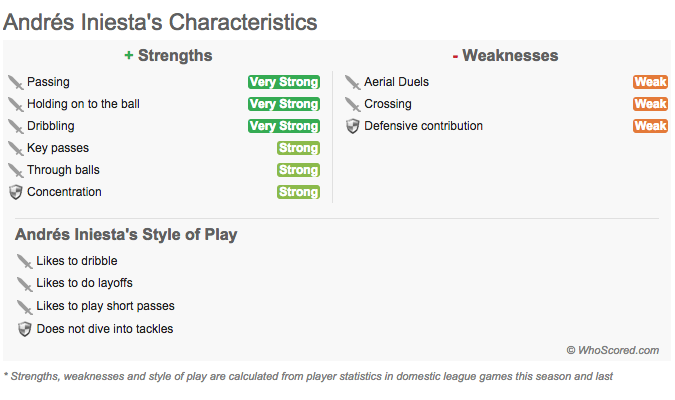 Iniesta's apparently dwindling returns have not gone unnoticed by Spanish pundits. The most read sports story through much of last week on the El Pais website was a pretty harsh take on his season so far, suggesting he has lost his "spark".
"Iniesta, who was La Roja's Messi, no longer plays like Iniesta, no longer deflates opponents with his zig-zag and his skillful use of both feet", wrote respected columnist Jose Samano.
"These days, he negotiates his way through games, nothing more. A symptom of this undefined Barça or maybe that the player, at 30 years of age, has become more steady and predictable. He has always had everyone's affection, and his angelic air also conditioned the media judgements, although they always emphasised more his stand-out moments rather than his full career as a whole".
To start reinvestigating past contributions to his team's phenomenal successes at club and international level is possibly going a bit far, but it does seem clear that this season's Iniesta is a pale shadow of his most effective former self. There is still plenty of time for a comeback, or to reinvent himself, but the numbers so far this season do not look good