Five Best Acts of Sportsmanship
                        "There are victories of the soul and spirit. Sometimes, even if you lose, you win."
Sportsmanship is like a layer of cream on the top of a cake, which makes the game all the more beautiful. Sportsmanship for some people is more than a medal and more than a shiny trophy. A very few follow the code where Honor is more than a metal. It's not about whether you win or lose, it's about how you play the game. But the question is, can we save the dying spirit of Sportsmanship?
In today's world, the agenda  is to 'Win at any cost', with sportsmanship being given little or no importance at all. But even today, there are men who respect their opponents and keep the image of Sportsmanship alive. It is rare, but not extinct yet.
In 1997 in a Premier League match between Arsenal and Liverpool, the match Referee awarded a spot kick to Liverpool for a foul on Robbie Fowler, by the Arsenal goalkeeper David Seaman inside the penalty box. Fowler tried to convince the referee that there was no contact between him and David, but the referee did not agree to reverse his decision. Left with no option, Fowler stepped up to take the penalty and  tamely hit a shot straight into the hands of Seaman. His act of sportsmanship earned him a Uefa Fair Play award.
In 1987 during the second test match between India and Pakistan, Kris Srikanth was called LBW by what looked like a wrong decision from the umpire. Pakistan's captain, Imran Khan called back Srikanth to bat, while the latter made his way back to the pavilion cursing. Kris was however caught behind, the very next delivery by Waqar Younis. Imran set the bar for the future India and Pakistan matches by his act of sportsmanship. Sadly the Pakistan fans from across the border, did not learn this lesson from their captain on good sportsmanship that day, they still use this issue to berate the Indian fans on forums and blogs across the internet.
It was the final of US Open, men doubles. Rohan Bopanna and Aisam-Ul-Haq-Qureshi were playing together for the first time in a tournament, but more importantly, they played for peace, in other words. They said, "If we can be friends, so can our countries".  They added saying, "we are trying to give a message of peace to people of India and Pakistan.It is the beauty of the sport that's above culture, politics and religion."  Pakistan player Qureshi said, "It feels very good to see the Indian fans taking autographs from me and Pakistani fans taking Rohan's autographs. Rohan always points out that even if we change the minds of 3% or 4% of people, it's worth it. And if we two can be friends together, then why can't other Indians and Pakistanis be friends?"
This shows how a sport can bring people together when two individuals set their countries differences aside and joined hands.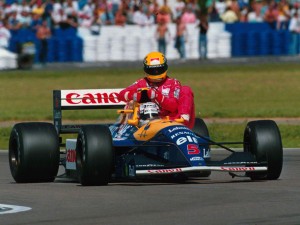 Nigel Manson and Ayrton Senna are fierce competitors with 69 race victories between them. They fought for the FIA drivers championship particularly in 91&92 that saw the title change hands between the two. In 1992 when Senna's car stalled on the final lap of the British GP, Manson pulled over his car to help his stranded rival. This happens to be one of Formula one's most Iconic moment in the sport, when Manson  allowed Senna to ride on the Williams side-pod, back to the pits. Surprisingly Senna was awarded with a 4th place finish for just crossing the finish line, without his race car.
On 19 April 1989 (the Wednesday after the Hillsborough disaster), a European Cup semi final between AC Milan and Real Madrid was underway. The referee blew his whistle  after 6 minutes to stop the play and hold a minutes silence for those who tragically lost their lives at Hillsborough . After a few seconds of silence, the A.C. Milan fans broke into a chorus singing Liverpool's anthem "You'll Never Walk Alone". It was very warm gesture which deserves a salute from one and all.
These are some of the examples showing that Sportsmanship is alive, rare, but still alive.
Edited by Leela prasad