We will have a look at the five famous world cup goal celebrations. World Cup is just round the corner and it's fever has already grabbed the globe. It is the biggest carnival on the planet which is celebrated by billions of people. The ultimate mission of every team participating in the tournament is to have their hands at the trophy, and to achieve this each and every goal scored takes lot of efforts and when the ball reaches the back of the net, the moment is priceless. We have witnessed many celebration to cheer the goal over the years, but out of those some have got really famous.. Let's check them out: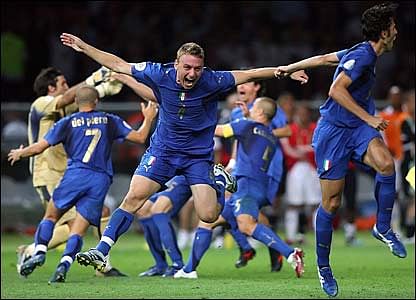 Bebeto's Cradle Move
After striking the second goal for Brazil against Holland in the World Cup 1994 in USA, Bebeto ran swinging his arms like a cradle to celebrate the goal. This was done to celebrate the birth of his new born baby. Bebeto recently recreated the moment with his son who has turned 20 now.
2. Sisphiwe Tshabalala's Macarena
A great celebration is surely expected if a low rated team takes an unexpected lead in a World Cup match. Tshabalala's goal for hosts South Africa in the 2010 World Cup was followed by a South African style dance Macarena by him along with his team mates.
3. Diop's Jersey Go Round
Papa Bouba Diop netted the goal for Senegal against France during the 2002 World Cup co-hosted by South Korea and Japan. And this only goal of the match which stunned Les Blues was celebrated by Diop in an unique manner. He ran to the corner, took off his jersey and laid it down on the turf, and then he along with his team mates danced in circle around the jersey.
4. Roger Milla's Hips Don't Lie
Every goal by Roger Milla of Cameroon in World Cup 1990 was loved by audience in Italy not only because of his football talent but also for his dancing skills. After every goal Roger Milla ran to the corner and moved his hips to celebrate the goal. Cameroon were on a dream run in Italy.
5. Finidi George's Doggy Style
Finidi George scored a goal against against Greece in a group match of the 1994 World Cup in USA, and started running towards the corner flag. It looked like an usual celebration until he suddenly crouched like a dog and started moving on four limbs and then also immitated an urinating dog.
---