Five fixtures that could decide the I-League title
1.36K //
22 Mar 2013, 20:12 IST
The I-League resumes in full force tomorrow after a break of more than a month, and four teams are still in contention for the title. Churchill Brothers(19 matches, 42 points) lead the way, with East Bengal not far behind (20 matches, 40 points), while holders Dempo (19 matches 35 points) and Pune FC (18 matches 33 points) also have an outside chance. Consistency will be the key in the final weeks, while teams will also have to keep their nerves during some vital clashes.
Sportskeeda lists five fixtures that could decide the outcome of this season's title race.
Prayag United vs East Bengal (Friday, March 29)
Five of East Bengal's remaining six matches will be played in Kolkata (some of them in Kalyani due to the unavailability of the Salt Lake Stadium), and on paper this is the only tough game. Newly crowned IFA Shield champions Prayag United won't be able to win the I-League this time, but they could hamper East Bengal's hopes with a positive result in this game. Prayag took four points off East Bengal in last season's I-League, and have already beaten the Red-and-Gold brigade twice this season, including the 1-0 win in the I-League earlier in the campaign. East Bengal's remaining four home matches are against bottom-half teams, so a win in this fixture would certainly give them a massive chance of winning the title, while the likes of Churchill Brothers, Dempo and Pune would hope that Prayag get something from this game.
Churchill Brothers vs Pune FC (Friday, April 5)
Pune FC still have an outside chance of winning their first-ever Indian domestic title, but they must take maximum points in their clashes against fellow title contenders. This match gives Pune the ideal opportunity to get themselves back in the reckoning, but Churchill Brothers' home advantage could give them the edge. In the reverse fixture earlier in the season, Churchill won 1-0 in Pune, thanks to an injury-time winner from the spot, and a similar result will certainly keep the Goan club in the driving seat. The problem for Churchill will be the fact that this game comes in between their AFC Cup double header against Singapore's Warriors FC, so Pune FC will be looking to profit from the Goan side's fixture congestion. This is a must-win for Pune, while a draw won't be the worst result for league leaders Churchill.
Churchill Brothers vs Dempo (Wednesday, April 17)
This Goan derby has proved to be an important clash in the context of title races in recent seasons, as the two giants have consistently fought for the league crown. Five-time champions Dempo are not in a great position this time, but are still very much in contention, and could strike a decisive blow if they take all three points from this game. Churchill Brothers have lost only three games in this campaign, and the first of those losses came in the opening weekend against Dempo. In recent years, Dempo have raised their game for high-pressure clashes against Churchill, and Armando Colaco's side would be aiming for the same this time as well, as they must beat their direct rivals to retain the title. For Churchill, this game will come after an away trip to Singapore in the AFC Cup, so technical director Subhas Bhowmick will have to use his resources properly to get a positive result.
Mohun Bagan vs Churchill Brothers (Sunday, April 21)
Two of Churchill's seven remaining fixtures are against Mohun Bagan, and results of those two encounters could prove to be vital at both ends of the table. But it is the match in Kolkata where Churchill's job will be really cut out, as Mohun Bagan would not only have home advantage but also a break of eight days before this clash. On the other hand, Churchill will have to face Dempo four days prior to the tie and have a home AFC Cup game against Hong Kong's Kitchee SC three days later. Although the AIFF is yet to confirm whether there will be any relegation this season, Mohun Bagan for now know that they have to fight for their survival, and thus will give everything to get maximum points from this fixture. Churchill have won all three of their matches in Kolkata this season, and if they pass this test too, then they will have a massive chance of lifting their second I-League crown.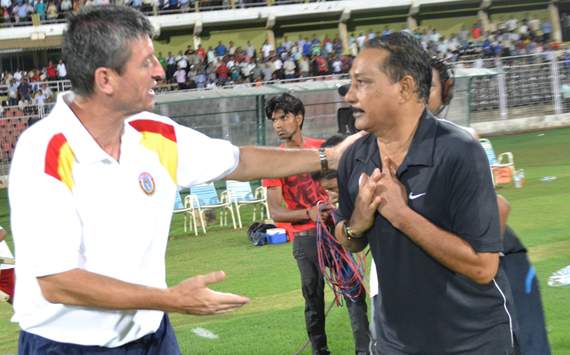 Dempo vs East Bengal (Saturday, May 4)
This fixture takes place on the penultimate weekend, and thus the whole scenario might change by then. One of the sides might well be out of contention by then too, but the team(s) still in with a chance will have to take all three points. East Bengal will still have a couple of games remaining after this, while for Dempo this match will be their penultimate fixture. Crucially, East Bengal will be playing this fixture after an AFC Cup game, while Dempo will have 17 days to prepare for this potential title decider. Going by the team's current positions on the table, this is a must-win game for both, and recent history is against Dempo, as they haven't beaten East Bengal in the I-League since Trevor Morgan took over in 2010. This is East Bengal's only remaining match outside Kolkata, and they will be desperate for all three points. A goalless draw in this fixture was enough to secure Dempo the title last season, and a similar result this term could end the title hopes of both clubs.