Five players likely to leave Arsenal over the summer
5.04K //
27 Jan 2013, 19:29 IST
With the Gunners not yet guaranteed a Champions League berth next season, several players might not want to drop into the Europa League to ply their trade.
Even if Arsenal do qualify for Europe's elite competition, there may be players who seek pastures greener.
Here – according to me – are five players who could leave North London over the summer.
1. Thomas Vermaelen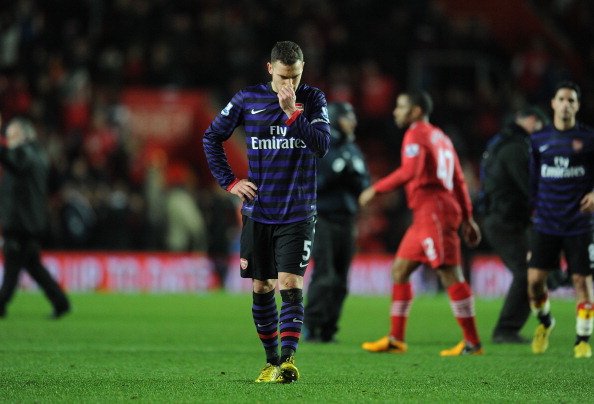 Patrick Vieira, Thierry Henry, William Gallas, Francesc Fabregas, Robin van Persie.
Five players, five Arsenal captains, five players who left Ashburton Grove in search of new clubs, new challenges.
Thomas Vermaelen could be the next player to join that infamous list of captains who have left Arsenal.
Arriving in the summer of 2009, this is the Belgian international's fourth season with the Gunners. In that time, little has been done to assure him silverware, which is surely one of the reasons he left Ajax.
Being appointed skipper after the departure of Robin van Persie to Manchester United, the man Gooners affectionately call 'The Verminator' has struggled for consistency this season.
Despite the obvious presence of quality in the Arsenal squad, the morale to get the job done seems to be sometimes lacking in Arsene Wenger's men, and Vermaelen could seek a move to another club as he seeks to win trophies.
That, coupled with an inability to adjust to the role of captain at a club where fans are known for being fickle, despite him being loved by all, could see him leave Finsbury Park come summer.
2. Andrei Arshavin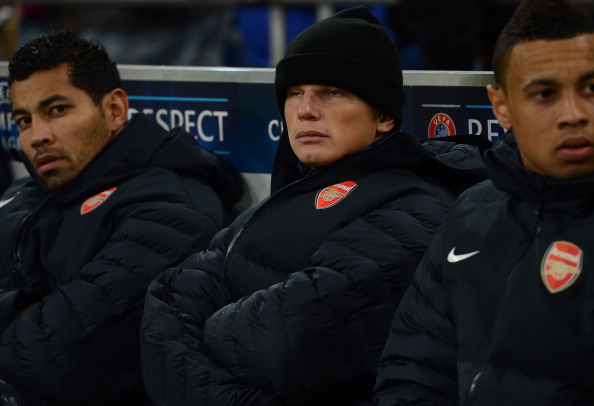 Arsenal fans will most fondly remember Andrei Sergeyevich Arshavin for those four goals he scored against Liverpool at Anfield in the winter of 2008.
That salvo summed up a half season in which Arshavin was in excellent scoring form, being voted second in the Arsenal Player of the Year Polls behind Robin van Persie, despite only playing five months of that campaign.
In the absence of playmaker Tomas Rosicky, Arshavin ensured the Gunners qualified for the Champions League.
The next season, despite not making the same waves he did when he first arrived on British shores, Arshavin continued to perform well, even leading the line when Robin van Persie and Nicklas Bendtner were injured.
Unfortunately, since then, his performances seemed to have tailed off. Accused of being lazy and lacking the work ethic to track back and aid his team in their defensive duties, Arshavin has seen himself become the scapegoat for the Gunners' inability to get all three points out of a game, despite manager Wenger stating that the diminutive Russian gives it his all in training.
That, coupled with him being slightly overweight and the loss of pace that one naturally encounters as they age has seen him relegated to the bench. It is clear he is no longer part of Wenger's first-team plans at the Emirates and will obviously look to move.
Wenger has also hinted at Arshavin's mind and body not working in tandem.
Both Reading and Fulham had expressed an interest to take the Russian on loan for the rest of the season, but his wages proved to be too high and it is quite clear he will be out this summer.
3. Marouane Chamakh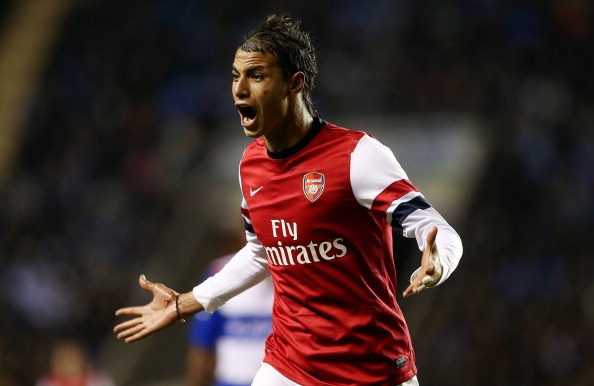 Morocco international Chamakh was considered a steal when he first came to the Emirates. Arriving on a free, having won titles with Girondins de Bordeaux in France, and offering Arsenal an alternative to their on the floor method of playing, he took full advantage of Robin van Persie's well documented injury woes to lead the line for his new team, scoring ten goals and assisting many more in the first half of 2010.
Complaining of burnout and niggling injuries, Chamakh was rested for a couple of weeks, with the player himself stating it would be a month or so till he was able to get back his goalscoring form.
In that time, however, van Persie had nailed down a first-team berth courtesy his free-scoring capabilities, which means Chamakh lost the sharpness he was so accustomed to in front of goal.
Scoring just two goals in all of 2011, one against Leyton Orient in the FA Cup and another away to Blackburn Rovers in the League, the Moroccan watched from the bench as van Persie collected individual plaudits en route to scoring 37 goals last season.
Despite being one of the driving forces behind Arsenal's Champions League qualification in the 2010-11 season and doing the dirty work up front to ensure his team scores goals, Chamakh has fallen from grace, with Wenger questioning his attitude.
Now on loan to West Ham United, it seems obvious that Chamakh will leave for another club this summer.
4. Sebastien Squillaci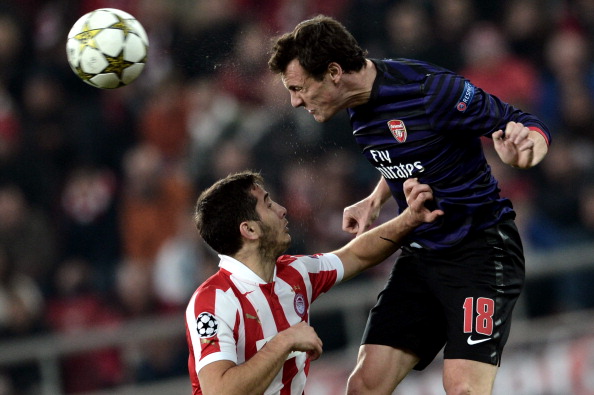 Like Chamakh, Squillaci also came with proven pedigree both at domestic and international level. After hearing good things about Arsene Wenger's side during the 2010 World Cup from Bacary Sagna and Gael Clichy, Squillaci put pen to paper on a three-year deal as ten million Euros exchanged hands between the Gunners and Spanish side Sevilla.
One of the few French players to not go on strike against Raymond Domenech during France's ill-fated World Cup campaign in South Africa, Squillaci's experience for a while demonstrated new-found steel in the Arsenal back line as the team held together narrow wins against the likes of Everton and Blackburn Rovers.
But at 30, he was left with precious little time to adapt to the physicality of the English game. Having plied his trade in the more flair-driven leagues of Spain and France, the English Premier League was a bridge too far in terms of the rugged nature of play one finds in Britain.
Guilty by association over high-profile errors that cost the Gunners crucial points in vital games against West Bromwich Albion and Wigan Athletic, Squillaci's presence on the field was greeted with bated breath by Arsenal fans as he failed to adapt to the English game.
Although he had a fairly positive first season, it was quite clear he was too old to metamorphose into the centre-back that could hold the line against the likes of Stoke and West Ham. Loan moves were sought for him by both Evian Thonon-Gaillard and FC Bastia in France, but they could not afford to pay his wages despite Arsenal offering to subsidise a portion of them.
Having only played thrice in the last year, Squillaci's contract expires this summer and he will surely not be offered a new deal at Ashburton Grove.
Ju-Young Park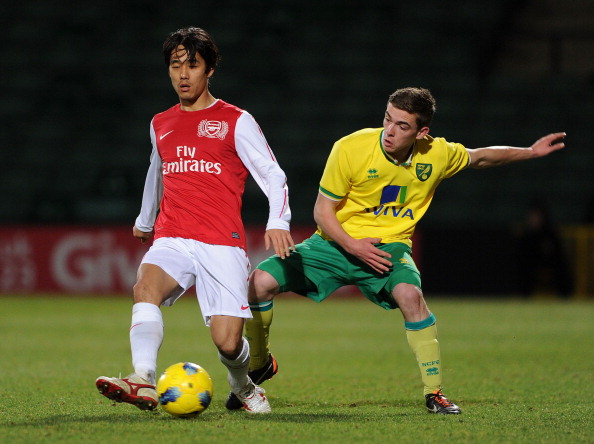 The arrival of Ju-Young Park to Arsenal was greeted with raised eyebrows. Although prolific at both international and club level for the Republic of Korea and AS Monaco in France, fans wondered whether he would fit the bill at Arsenal.
It was later revealed that while Arsenal were looking for an attacking option, Ju was the only player willing to move so close to the transfer deadline day with his club Monaco having been relegated to Ligue 2 the previous season.
With Lille circling for his signature, they were expecting him for a medical in the north of France. He never turned up, and by the time Lille could figure out what had happened, he had signed a contract with Arsenal for whom he would wear the number 9 shirt.
After going through a period of 'acclimatisation' at Arsenal, Ju started the Gunners' Carling Cup tie at home to Bolton and scored a gorgeous, curling goal to give his side the win.
That was to be his only goal at the Club. He only played three more games for the Gunners, one a start against Marseille at home in the Champions League, the other two substitute appearances against AC Milan and Manchester United.
Another to be sidelined by Robin van Persie, Park apparently didn't take his chances and didn't work hard enough for a place in the Arsenal starting eleven. Despite scoring hatfuls of goals for the reserves and his national team, he was stripped of the captain's armband and dropped from the Korean side's starting eleven due to a lack of game time.
After his number 9 jersey at Arsenal was assigned to newcomer Lukas Podolski, it was clear there was no place for Park in Arsenal's first-team squad. He was shipped out to Celta Vigo on loan, where he has rediscovered his goalscoring touch and should be on his way out of North London this summer.
What do you think? I'd love to know in the comments section below.