European giants Real Madrid have often been criticised for not utilising their academy players effectively. The discussion came to the fore after their arch rivals Barcelona thrived in the 21st century due to the brilliance of some of their academy players.Some of Real Madrid's academy players like Alvaro Arbeloa and Dani Carvajal were sold before making an impression with the first team, but were brought back to the club as a first team player after successfully delivering with another club. A few like Roberto Soldado and Juanfran were unable to break into the first team, but went on to have great careers with other top European clubs. In contrast, there are also those who wrote their name into the Los Blancos folklore.As part of Sportskeeda's Best Academy Products series here is a list of the 10 best players to have been schooled at the La Fabrica academy as it is known as.Read: Best Academy Products: 10 greatest graduates of all time from Manchester UnitedRead: Best Academy Products: 10 greatest graduates of all time from Barcelona's La Masia
#10 Juan Mata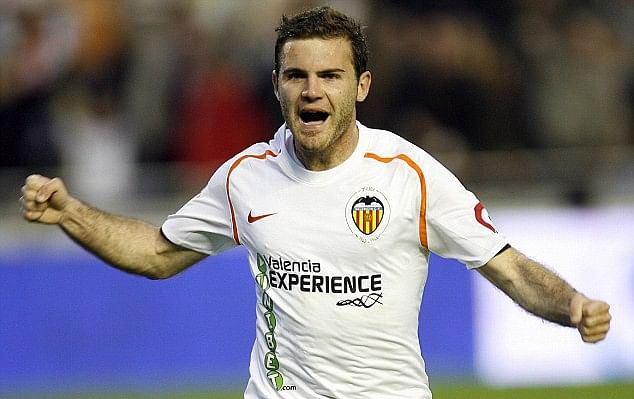 Former Chelsea star and current Manchester United ace Juan Mata is a World Cup and European Championship winner with Spain and also a youth product of Real Madrid's academy.
The Spaniard joined Real's youth set up from Real Oviedo before going on to play for Real Madrid Castilla in 2006/07. He scored 10 goals during that season.
Despite an impressive season with the Castilla, Mata didn't get a chance to play for the senior side and was transferred to Valencia in 2007 where he made a huge impact along with the likes of David Silva and David Villa.
After few impressive seasons with Valencia, Mata moved to England with Chelsea and was named as the Blues' 'Player of the Season' in back to back seasons. The dimunitive Spaniard played a crucial role in helping them win the Champions League in 2012 and the Europa League in 2013. In fact it was Mata who assisted Didier Drogba's late equaliser against Bayern in the 2012 CL final. When Mata left Chelsea to join Manchester United, he had 33 goals and 58 assists in his Chelsea career.
Mata' success was down to his great vision, his dribbling abilities and his decent pace. In addition to this, his ability to play as an attacking midfielder or as a right winger proved to be very useful. Mata's brilliant vision also means that he has a good assists record and he has so far racked up 68 assists in league games alone for Valencia, Chelsea and Manchester United. The 27 year old also has a good eye for goal and has 100 goals to his name across all competitions at club level.
#9 Esteban Cambiasso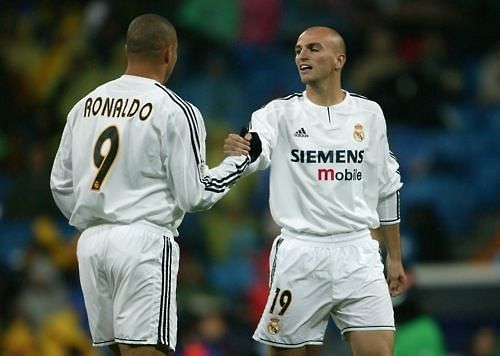 Esteban Cambiasso joined Real Madrid's academy from Argentine outfit Argentinos Junior in 1996 before leaving the club two years later to return to Argentina to play for Independiente and later for River Plate.
In 2002, four years after Cambiasso left Real Madrid, he returned to the Spanish capital as one of the very few Real Madrid academy players who were brought back to the club after impressing elsewhere. However in his two seasons with the senior team he played a backup role and left for Internazionale.
It was at Internazionale where Cambiasso became the renowned star he is today. He played regularly as a defensive midfielder for the Italian club and after his debut season in the Italy he was named as the outstanding player for the 2004/05 season.
During his 10 years with Inter Cambiasso was a regular in the side and played a pivotal role in helping Inter win the treble back in 2010.
Cambiasso quickly became well known for his tactical awareness, his stamina, his technique, his passing range and vision. These helped him to bring the ball out from his own half and play it forward to try and create chances for his teammates. He also possesses a great tackling ability which allowed him to thrive as a defensive midfielder.
The Argentine is a very talented player, but it was his determination and hardwork that made him extremely successful. In addition to all the aforementioned attributes, Cambiasso has a sweet left foot and has chipped in with a decent number of goals for a defensive midfielder. He scored five for Leicester City last season and played an important role in helping the Foxes escape relegation.
#8 Chendo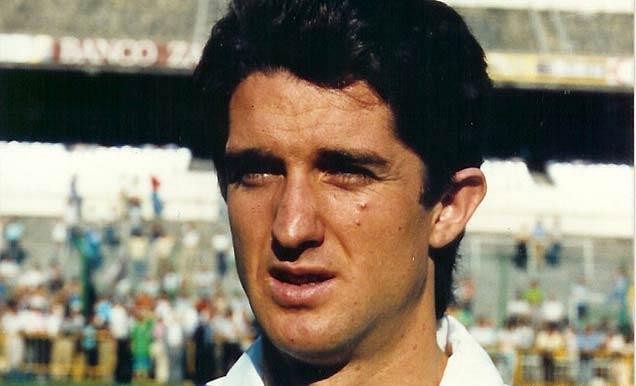 Before the likes of Michel Salgado and Sergio Ramos went on to cement their place in the Real Madrid squad as a top right back for many years, Chendo owned that role in the Los Blancos side for over a decade.
Chendo or Miguel Porlan Noguera is a one club player who spent 21 years with Real Madrid as a player between 1977 and 1998. He became a first team player in 1982 and retired as a Real Madrid player in 1998.
The Spaniard made the right back position his by displacing the dominant Juan Jose. During a period from 1985/86 to 1991/92, he started 297 out of a possible 320 games for the club and played an important role in helping Real Madrid win five league titles on the trot.
Chendo became a Real Madrid hero due to his hardworking nature and determination. In 1987 he marked Diego Maradona out of a game against Napoli and even dummied the Argentine in a historic European game.
#7 Guti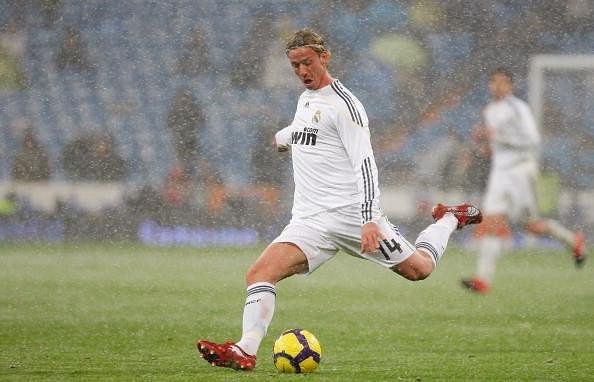 Many amazing midfielders have donned the white of Real Madrid, but very few have gone on to win the hearts of the fans like Jose Maria Gutierrez Hernandez or Guti.
A Real Madrid fan himself, Guti joined the youth set up at the age of 8 and went on to make 542 appearances for the club while scoring 77 goals. In the process he won five league titles and three Champions League trophies among other titles.
Although an attacking midfielder, his versatility was one attribute that led to his success. In one of his best seasons for the club (2000/01) he played as a striker which was the position in which he started his career and he finished that season with 18 goals.
It was Guti's extraordinary passing range, breathtaking skills and eagle like vision that helped him hold on to his place in the Real Madrid squad in an era where the team was full of stars. He could also dictate the tempo of the game well and was brilliant at keeping possession.
One of his finest performances came in a league game against Sevilla where he came on with 32 minutes left to play while Real were trailing by one goal at home. He set up Ruud van Nistelrooy for Real's first following a wonderful turn; set up Robinho for the second with a defence splitting reverse pass and Nistelrooy again with a cross field pass. The result was very late in the season and proved to be crucial as Real Madrid would only win the title due to a better head to head record against Barcelona.
#6 Manolo Sanchis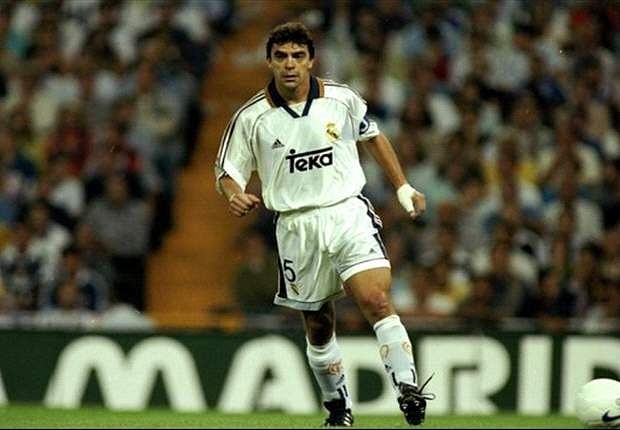 La Quinta del Buitre is the moniker given to the five homegrown Real Madrid players who helped the club dominate Spanish football in the 1980s. The five players were Emilio Butragueno, Martin Vasquez, Michel, Miguel Pardeza and Manolo Sanchis.
Sanchis watched his father play for Real Madrid and was thus encouraged to join the club's youth set up. He made his way through different age categories before making his debut with Martin Vasquez under Di Stefano.
The Spaniard played as a center back or as a sweeper in those days and it was his excellent defensive skills that made him stand out. He was very calm, his positional sense was brilliant and he was very agile for a defender. He set a new standard for Real Madrid defenders with his quality and professionalism.
Sanchis made over 700 appearances for Real Madrid and together with the other members of the La Quinta del Buitre he guided the team to five consecutive league titles. He is the only member of the five to have spent their entire playing career with Real Madrid and also the only one among the five to win a Champions League title after Real ended a 32 year drought by winning the title in 1998.
Sanchis also captained Real Madrid for 13 years before retiring in 2001.
#5 Vicente del Bosque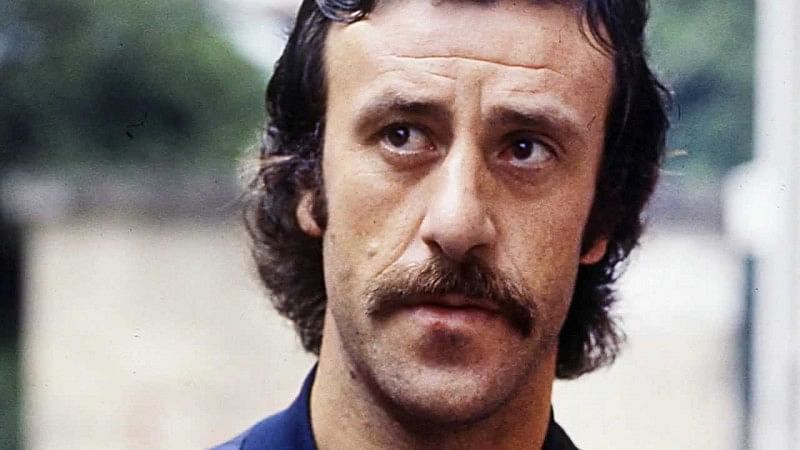 Before Vicente del Bosque made a name as World Cup, Euro and two time Champions League winning manager, the Spaniard had a stellar career with Real Madrid from the late 1960s to the mid-1980s.
Del Bosque's blend of humility, hard work and quality made him a Real Madrid legend as a player. He was a midfielder who had the ability to dictate the game and he honed his skills with the Castilla before testing them at Castellon and Cordoba during loan spells. Upon returning to Real Madrid he was a regular for all the coaches who managed him at the club.
He made his first team debut in the 1973/74 season and played for 11 seasons with the club while winning nine trophies during that period. During this period he formed an excellent midfield partnership with Netzer, Velasquez and Pirri.
He played for Real Madrid in 445 league games, scoring 25 goals and winning five league titles. He also lifted the Copa del Rey four times, but the European Cup eluded him as a player.
Del Bosque represented Spain internationally in 18 games and appeared for them at Euro 1980.
#4 Michel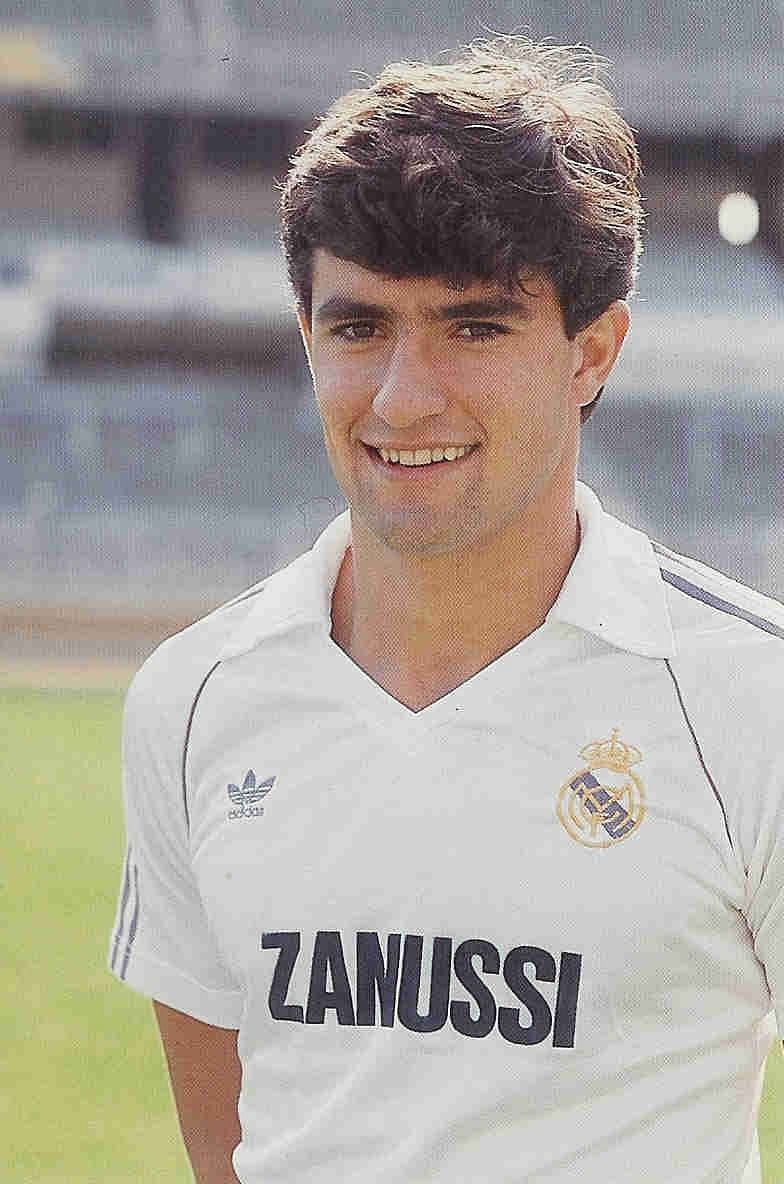 Michel was one of the five players that formed the La Quinta del Buitre. He played for Real Madrid from 1976 to 1996 for the youth and senior teams before leaving for Celaya in Mexico.
The Spaniard was a talented midfielder who provided lots of assists and chipped in with a considerable number of goals. In fact, he scored 128 goals for Real Madrid's senior team across all competitions.
Michel possessed extraordinary skill and was good with both feet, but could wreak havoc with his right. The beneficiaries of his talent were Hugo Sanchez and Ivan Zamorano who scored many goals from Michel's pin point passes. His passing was so good that fans would say Michel had a glove on his right foot.
He formed a great partnership with Emilio Butragueno and this partnership would become one of the most spectacular partnerships of the 1980s when Real Madrid dominated domestic football in Spain.
Like many of the greats of the Real Madrid side from that era, Michel was also a regular in the Spanish senior team. He represented them in 66 games and scored 21 goals.
Michel is currently the manager of Olympique Marseille and managed Olympiacos and Sevilla before that.
#3 Emilio Butragueno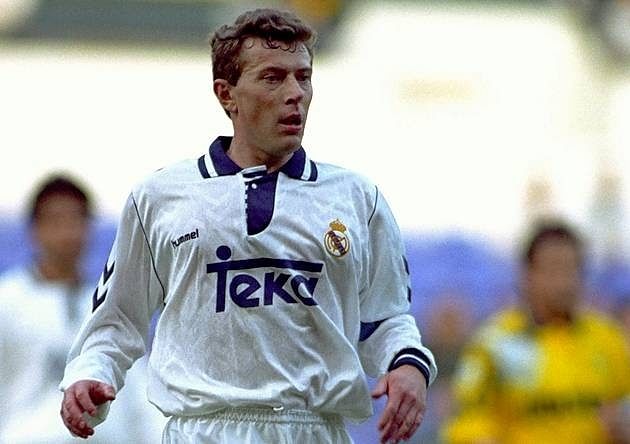 Although La Quinta del Buitre was a name given to the five Real Madrid academy players who represented the team in 1980s, the name was derived from Emilio Butragueno's nickname El Buitre (The vulture).
Butragueno was considered as the most charismatic and prominent player of the group. He was unassuming, industrious and a gentleman on and off the field. He was a free scoring forward who shone brightly for both club and country in an illustrious career.
He had several attributes that made him a brilliant player. His dribbling was sublime, his vision was spectacular and his finishing was out of this world. He was truly a football genius.
The Spaniard initially gained attention while playing for the Castilla and this prompted Di Stefano to call him up to the first team. He made his full debut against Cadiz in 1984 and turned the game around on its head by scoring two goals and setting up the third.
There was no looking back for Butragueno after his impressive full debut and went on to play a decisive role in Real's back to back UEFA Cup triumph in 1985 and 1986. He formed an extremely impressive partnership with Hugo Sanchez and the duo is considered as one of Real Madrid's legendary attacking partnerships. He scored 171 goals for Real Madrid before leaving the club.
He won several team and individual honours in his career and even came third in the Ballon d'Or polls in 1986 and 1987.
#2 Iker Casillas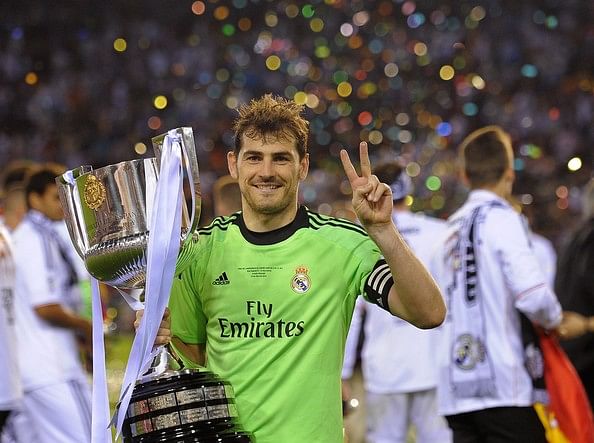 This man needs no introduction. Iker Casillas was Real Madrid's undisputed number one in goal for over a decade and that alone speaks volumes about the man's abilities. If that isn't enough, he is also Spain's number one and has kept players like Pepe Reina, Victor Valdes and now David De Gea on the bench.
Iker Casillas' profile on the official Real Madrid website reads "The best goalkeeper in our history". He joined Real Madrid's academy at the age of nine and went on to represent the team for 25 years.
Casillas was called up to the senior side for the first time when he was just 16 and in 2000 he became the youngest goal keeper to play in a Champions League final.
The former Real Madrid captain isn't very tall for a goalkeeper, but he still managed to become one of the all-time greats. Casillas was known for his incredibly quick reactions, his confidence in dealing with one on one situations and the way he commands his defence. He spent 16 years with the first team and played for the Los Blancos in 725 games winning 19 titles including five league titles and three Champions League trophies.
Casillas was named as the World's best goal keeper on five consecutive occasions between 2008 and 2012 by IFFHS which is a record and he was also named in the FIFPro XI in all of these five years.
The 34 year old was also instrumental in Spain's World Cup and back to back Euro triumphs. In the final of the 2010 FIFA World Cup, Casillas stopped Arjen Robben in two one on one occasions to keep his team in the game.
Casillas is one those players who reminded everyone that goalkeepers can also win you matches.
#1 Raul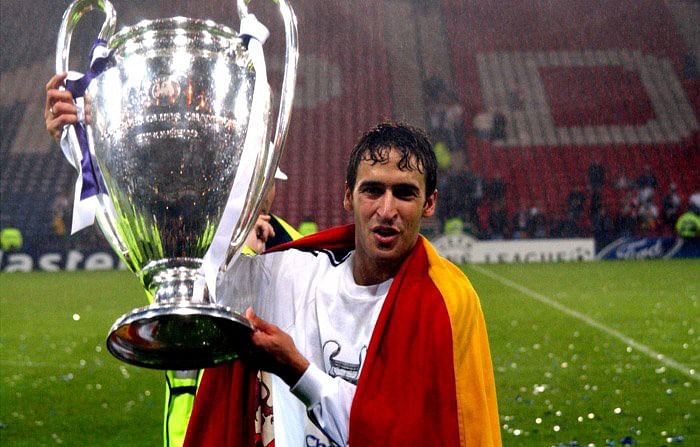 One of the all-time greats and arguably the best player to have come through Real Madrid's academy is Raul Gonzalez Blanco and he was a Real Madrid icon.
Raul was a footballer who gave his all in every game irrespective of the opposition. His contribution for Real Madrid can be highlighted by the sheer volume of goals he scored. He scored 323 goals for Real Madrid in all competitions and is second in the club's all-time leading goal scorers list, only behind Cristiano Ronaldo. He is also one of the very few Spanish players with over 100 caps for the national team and he has scored 44 times for the La Roja.
The Spaniard was not just a prolific and consistent goal scorer, he was also a very creative player as well. His work rate and his ability to create chances for his teammates were amazing for a forward. He was capable of playing anywhere in the front line, but often played as the main striker or the support striker. He possessed excellent ball control, good shooting ability and was also good in the air.
Raul is also known for his leadership skills and his discipline. He was never shown a red card in his career and was rarely booked.
After leaving Real Madrid, Raul played for Schalke in Germany and was instrumental in taking the club to the Champions League semi-final in 2010-11. In the same season he also helped them win the Domestic cup competition which was the club's first trophy in a long time.