Real Madrid have always been known for their tendency to splurge in the transfer market as part of their Galacticos policy. This transfer policy has worked very well for them, as they have been able to attract the best footballers in the world such Zinedine Zidane, Ronaldo and Cristiano Ronaldo.However, what also comes with this policy is the fact that many of those signings turned out to be duds. We look at 10 Real Madrid transfers in the last decade that failed to impress.
#1 Walter Samuel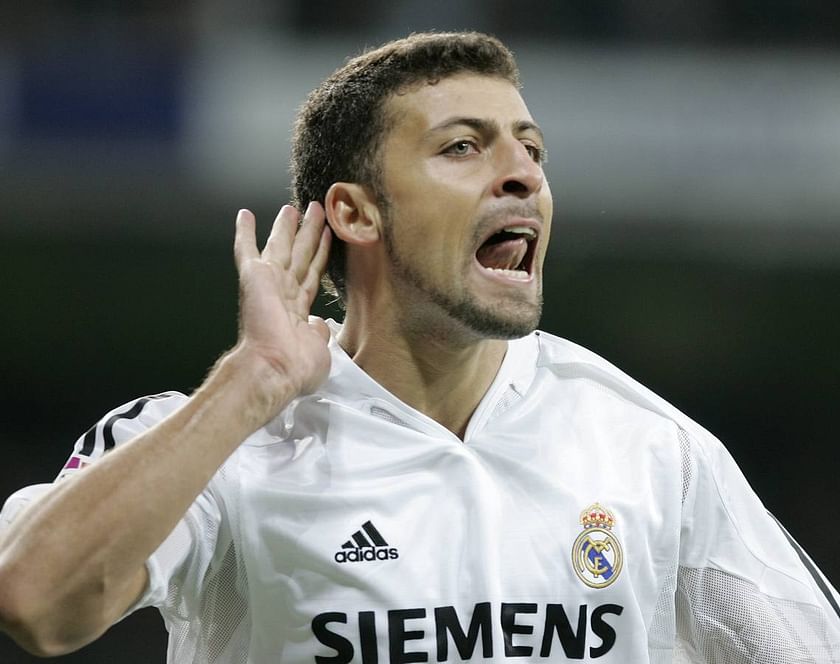 Samuel last played for Swiss champions Basel, but the veteran is known for his time with Italian club Internazionale, for whom he played for nine years and was also part of Inter's treble winning squad in 2010.
The Argentine defender's first club in Europe was AS Roma, for whom he played from 2000 to 2004, before completing a move to Spanish giants Real Madrid. Real Madrid paid €25 million for his transfer in 2004, but Samuel failed to make any sort of impact at the club and he was sold to Internazionale for €16 million just a year later.
Samuel was one of the key players at Inter during Jose Mourinho's stint with the Nerazzurri and, during the same period when Samuel was on the top of his game, former England manager Fabio Capello, who coached Samuel at Roma, said it still surprises him that Samuel did not make it at Real Madrid.
#2 Rafael van der Vaart
Many top Europen clubs like AC Milan, Juventus, Chelsea, Atletico Madrid, Arsenal and Liverpool were interested in Van der Vaart when the Dutchman was playing for Hamburger SV. But when Real Madrid entered the race, his final destination was clear.
Van der Vaart moved from Hamburger to Real Madrid in 2008, and he spent two seasons at Real Madrid. He made 73 appearances for them and found the back of the net 12 times in the process. But he was used mainly as an impact substitute in many games, which also led to speculation that there was a rift between him and coach Juande Ramos.
In the very next summer after his arrival, it was speculated that he would leave Real Madrid because new manager Manuel Pellegrini did not have a place for Van der Vaart in the squad and his jersey number 23 was assigned to Esteban Granero. An agreement was reached later for him to stay at the club and his original kit number was handed back to him.
The Dutch midfielder had to wait for four games to even make the matchday squad, but an injury to Kaka helped him regain his place in the team. His up and down career at Real Madrid came to an end in 2010 when he completed a move to Tottenham Hotspur. After two seasons at Spurs, he returned to his former club Hamburger.
#3 Royston Drenthe
Generally, a player Real Madrid sells is good enough to play for many top clubs across Europe, but that was not the case with this particular player. The club secured the services of Royston Drenthe from Dutch club Feyenoord in 2007 for €14 million and this was a sizable fee for a 21-year-old player. His presentation at Real Madrid was made alongside his compatriot Wesley Sneijder and there were huge expectations from him.
Drenthe used to play regularly at the start of his Madrid career but later found himself out of the 18-man matchday squad. When he was dropped from the squad for a game against Valencia, he stormed out of the training ground.
In the next season, he featured in 15 of the first 18 fixtures but suffered anxiety issues as he was booed by the Real Madrid crowd and he would not feature for the first team for a long time. Manager Juande Ramos offered the player his assistance but revealed that the player asked not to be picked for three games.
Real Madrid sent the player on loan to Hercules and later to Everton but, at both clubs, he had a fallout with the management after arriving late after the granted duration of his leave.
Drenthe was a player who showed a lot of promise during his time in Netherlands but his career graph went downhill after his move to Real Madrid. He left the club officially in 2012 when his contract expired.
#4 Pedro Leon
Pedro Leon played for Spanish clubs Murcia, Levante, Valladolid and Getafe before moving to Real Madrid in 2010 for €10 million, but he rarely figured for them and was even ridiculed by his own manager Jose Mourinho.
During a press conference, Jose Mourinho said, "I don't have to justify his absence. If the president [Florentino Perez] asks me, I'll tell him, but he hasn't asked me. You talk of Pedro Leon as if he was Zidane or Maradona or Di Stefano, he's a player who not long ago was playing at Getafe," said Mourinho.
"He's not called up for one game and it seems like you are talking about a great player. When he works how I want him to, he will play, and when he doesn't, it will be harder for him to play.
"I've already said Benzema will play, why not ask me what other 10 will play alongside him? That should be your first question but you ask about Pedro Leon."
Leon never started a game for Real Madrid in La Liga and played just 132 minutes of football that season and he later revealed upon leaving Real Madrid that he felt humiliated by Mourinho's comments.
"Mourinho's words about me not being Maradona or Zidane hurt. More than the content what bothered me was the way he said it. You can say the same thing but in a better way."
Real loaned Leon out for two seasons back to his old club Getafe and after his loan spell ended the move was made permanent in 2013.
#5 Alvaro Negredo
Negredo is a known name to football fans worldwide, but what is relatively unknown is the story of his time at Real Madrid. He came through the academy of Rayo Vallecano and made his first team debut with the club before moving to Real Madrid.
He spent two seasons with the Castilla and impressed first team manager Fabio Capello who called Negredo to the first team several times albeit as an unused substitute on every occasion.
After Castilla dropped from the Segunda Division, he was sold to Almeria with an option to buy back the player. Negredo scored 32 times for Almeria in two seasons and in 2009, Real Madrid used their option to buy back the player.
Surprisingly Real Madrid purchased the player and then decided to sell him to Sevilla because their manager Manuel Pellegrini couldn't guarantee him first team football. Interestingly, Negredo later played under Pellegrini at Manchester City.
#6 Julien Faubert
Faubert played for French clubs Cannes and Bordeaux before joining Premier League side West Ham in 2007. He had an injury ridden first season with the Hammers and he followed that up with an average half-season with the club in the next season.
But on transfer deadline day in January 2009, he made a shock move to Real Madrid on loan until the end of the season with Real having an option to purchase the player permanently after the loan deal ended.
What was surprising about the move was that Faubert had not produced any sort of performance which was worthy of a move to a club of Real Madrid's stature.
He had an extremely disappointing season with Real and made just two appearances for the first team and was once pictured falling asleep on the bench during a game against Villarreal. During his time there, Faubert also missed a training session with the club because he thought it was a day off.
If anyone is still wondering, Real Madrid did not make the move permanent.
#7 Antonio Cassano
Having started his career with Bari in Serie A, the Italian moved to defending champions Roma in 2001. Although Cassano had a very productive time at Roma, his time there was marred with controversies, of which the final one was a contract dispute and, due to this, he eventually left the club in January 2006 for just €5 million as he had just a few months remaining on his contract.
After just four months into his career with Real Madrid, he started gaining weight substantially due to his eating habits and this resulted in Real Madrid fining him for every gram he gained over his playing weight. He was later suspended by the club for disrespecting manager Fabio Capello and later on was benched due to a dressing room argument. Capello coined the term Cassanata to associate any behaviour that hinders team spirit.
Cassano expressed his desire to return to Roma due to his difficult spell at Real Madrid but remained with the club until the end of the 2006/07 season. He was loaned to Sampdoria for the next season and the Italian club made his move permanent after the loan.
Cassano managed just 29 appearances overall for Real Madrid and was a big failure at the club and his attitude didn't do him any favours.
#8 Thomas Gravesen
Gravesen was known for his time at Premier League club Everton and the Dane was a fan-favourite at the Merseyside club. But in 2005, he was purchased by Real Madrid.
The Dane was acquired to fill in the defensive midfield role at Real Madrid, but he was quite unused to the position. He found himself benched very quickly into his career in Spain and following the sacking of the manager and Sporting director who had purchased Gravesen in the summer, the Dane wanted to leave the club in the very next transfer window.
However, new coach Lopez Caro revived his career. But towards the end of the season, he was once again forced to sit on the bench. During the next pre-season, he was involved in a scuffle on the training ground after a tackle on Robinho.
Gravesen joined Celtic in 2006 after just one full season with Real and would return to Everton on loan before hanging up his boots with the Toffees at the end of the 2007/08 season.
#9 Jonathan Woodgate
Woodgate was a consistent and impressive performer for Leeds United during his time there and was regarded as one of the best players to have come through the Leeds academy. But as a result of Leeds' financial problems, he was sold to Newcastle in 2003 in a controversial move.
In August 2004, he completed a €13.4 million move to Real Madrid which was quite surprising because of Woodgate's frequent injuries. In fact, he was injured at the time of his transfer.
Subsequently, he did not make a single appearance in his first season in Spain but would establish himself as a regular in the team during the first half of the very next season. Even his debut was a nightmare as he scored an own goal and also got sent off after receiving a second yellow card.
However, further injuries dented his playing time severely, and he was loaned to Middlesbrough after his second season with Real Madrid.
#10 Michael Owen
Michael Owen was a Ballon d'Or winner in 2001 and till date is the last English player to receive the award. He started as a prodigy and quickly established himself as one of the most prolific strikers in the game. And he was also Liverpool's top scorer in every season from 1998 till he left the club.
In 2004, after the sacking of Gerard Houllier, his future at Liverpool was in doubt and he moved to Real Madrid for just £8 million. But things didn't go well for Owen in La Liga. He was often put on the bench during the initial phase of his career there and was criticized for his lack of form, even though he finished the season with 13 goals and had the best minutes to goal ratio in the league.
Following Real Madrid's acquisition of Robinho and Julio Baptista in the next summer, there was speculation that Owen would return to the Premier League and eventually, he joined Newcastle United for £16.8 million.