Football and Twitter: How to enhance your match-day experience
1.16K //
09 Apr 2013, 23:09 IST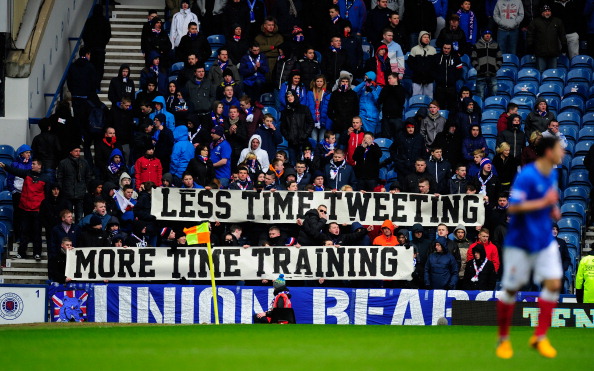 Keeping up with the latest trends, it seems like football and beer have been replaced by football and twitter. Tweeting while watching a match is something that is second nature to Twitter addicts who are also into football. There are a couple of clichéd things that you can tweet to make it look like you deserve to be the next footie pundit. However if you're too dense and your clarity of thought is known to strike you after more than a millisecond of an event happening, you should ditch your hopes of tweeting all together.
Twitter is extremely real time oriented and only the most sharp witted, not-stoned people with exemplary reaction time and adequate football knowledge (unless you want to tweet about stuff such as Monreal's six pack abs) should attempt to juggle their phone and their TV sets. These are 5 steps you should follow to join the entire twitter-football army, possibly the only place where you'll have friends.
Step 1: Start warming your Twitter up by tweeting encouraging tweets inspiring your team to clinch those three points. Use lots of hash tags related to the game and post match predictions. Nobody really cares, take Piers Morgan for instance, but it gets you into the football twittersphere and friendly (or not) banter is always fun for the rest of us.
Step 2: You don't have to stress upon creativity because there are a number of standard football template tweets that you can use for the following instances:
a) If there's a goal, the most common tweet is the word 'goal' accentuated by multiple o's and a's and sometimes even l's by the sloppy fingered tweeters ie. Gooooaaaaaaaaaaal! Don't forget to add a bunch of exclamation marks for that extra effect just to show how excited you are, while in reality you're just sitting on your couch, calmly eating crisps.
b) Another alternative to a goal being scored is to tweet the name of the player who scored it in the same finger-frenzied zone.
c) If someone misses a shot on target, be ready to type out the F word multiple times. The same rule about being generous with the usage of letters applies.
d) Other tweets that don't put stress on your creative cells are certain commonly used exclamatory words such as OMG, and WTH and adding the score line, even though people all over the world have access to the upper left corner of the screen like you do too.
Step 3: Being indignant and annoyed like the world ceasing to function on your terms comes as a big surprise to you, should be imbibed into your tweeting personality. Protest against everything you think is going wrong and not according to you, to the extent that people start thinking that you're haunted by the spirit of a very frustrated manager on the sidelines. " That was/was not offside!", "That was/was not a foul!", "He should've scored/saved that!" and the not so uncommon "They should've focused on that MILF in the stands a little more longer!".
Step 4: Try getting a RT i.e retweet from one of your football idols. Footballers are known to RT anything ranging from "It's my birthday can I get a RT" to "I'm gonna consider your RT as a sign from god to ask that guy out finally". If you're lucky enough to be spotted and retweeted from that labyrinth of mentions the player gets, you'll have a bigger list of followers in no time, worshipping you for being noticed by a player they've spent a good chunk of their lives dreaming about.
Step 5: Lastly, there are a lot of things apart from the game that go on in a football match and can be tweeted about. You can dissect something that the commentator said, or comment of any of the player's appearances, or a certain chant being carried out by a group of fans or even tweet about extreme events, such as streaking on the pitch by a maniacal fan.
Twitter makes the entire match day much more fun by introducing that added flavour concocted by player and team statistics, predictions and the rapidly rising trolling trend.  What is the common Twitter behaviour that you notice before a match or follow?