Football Federation Australia vs Football Australia - Who really kicks harder?
677 //
11 Mar 2012, 21:11 IST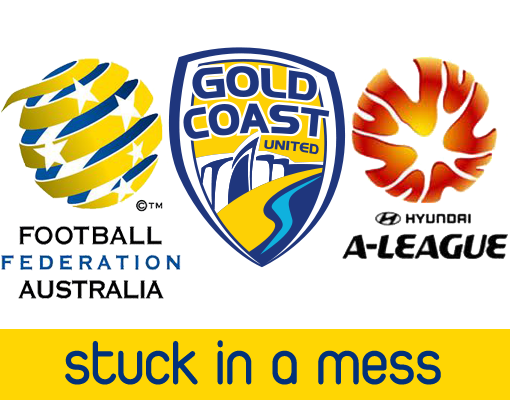 Things don't seem to be that good in Football (Soccer) down under. Last week was the most embarrassing week in Australian football that has dented the reputation of the game and also may affect Australia's bid to bring the world cup down under.
The incident that put Australian football in full-on crisis meltdown after one of football's loudest mouths, along with his club, got the boot out of the A-League. The person in reference is Australian billionaire Clive Palmer and his team (A-League leaders Gold Coast United)
Who is Clive Palmer?
Clive Palmer is a wealthy businessman from Queensland with major interests in Mining. Clive is Australia's fifth richest man and the wealthiest in Queensland. His estimated worth is between AUD 3-6 Billion.
What's all the fuss about?
This is a case of ego battles of two billionaires one who run Football Federation of Australia (FFA) and the owner of Gold Coast United FC. Clive Palmer is known for speaking his mind and doing things his way without caring about anyone. In a series of ongoing mouthing's between him and FFA, the ultimate comments and actions that lead suspension of Gold Coast United FC were soccer Down Under is "a hopeless sport," "rugby league is a better game" and that the club is "insignificant." – Such comments from a club owner cannot be tolerated and for these reasons and more the license was taken away. To understand the cause for this an Australian newspaper put together a timeline leading to the fall out between Clive Palmer and FFA:
June 2008 - Palmer signs an agreement with the FFA to field a team in the 2009-2010 season.
August 2009 - Gold Coast United win their first A-League game against Brisbane Roar 3-1.
October 2009 - Palmer decides to cap attendances of GC United home games to 5000 to save money. But, after only 2616 fans attended the next home game, the FFA intervened and changed it back.
April 2010 - Palmer threatens to end his financial support of GC United, but ultimately retains control.
January - Palmer closes Skilled Stadium's western grandstand to punish out-of-control supporters.
February 16 - Palmer appointed 17-year-old Mitch Cooper as captain against coach Miron Bleiberg's wishes. Palmer suspends Bleiberg for his less than enthusiastic response to the move, and two days later he is permanently removed from the position.
February 26 - Palmer refuses to remove unauthorised signage from Skilled Stadium. GC United plays against Melbourne Victory with an illegal uniform strip saying: Freedom of speech.
February 29 - Palmer loses his A-league license.
March 1 - Palmer forms his own football association to take on the FFA.
Rebel league: Football Australia
On the basis of FFA being incompetent at both a domestic and international level, Clive Palmer has set up a rebel association aptly called Football Australia (FA). Football Australia hired former Hyundai A-League boss Archie Fraser as the CEO, however it seems that they have impulsively set up a rebel association that has no clear intent of what do next. Ideally their main aim is or should be setting up a breakaway league, however within a few days of formation Football Australia has done a u turn and now claim they will play a role of being the watch dogs over the badly managed FFA – This clearly shows FA 's lack of intent and aimlessness in direction.
What to expect next
Keeping in mind Clive Palmers reputation (60+ pending cases on his head) and his comments about the game clearly indicates his confused state of mind. This I reckon is not the most positive way to take the rebel association forward. Archie Fraser coming in may be the only hope of landing loyalty from teams who would want to breakaway for reasons like more money, money and only money or will FFA intervene and lay down strict policies and slap dire consequences on rebel teams just like how BCCI got in to kick out the rebel league and form IPL. FFA has a tough task of booting FA out use this opportunity to work on strengthening reforms and improving the league – it's all up to them but in this ultimate example of fantasy football management of the super rich it's certain that football fans in Australia are the victims and no fans really deserve to be dragged into the what seems to be a battle of two associations.