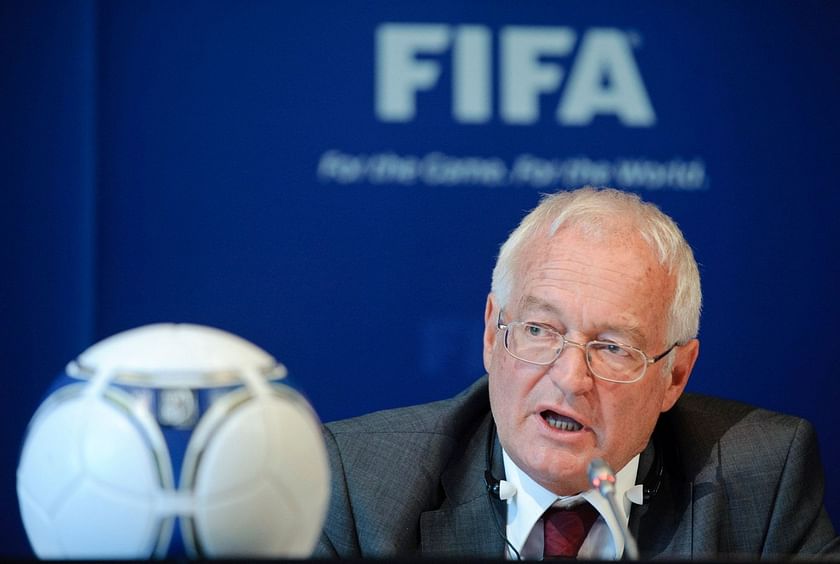 It's a bad time to be a FIFA official these days. Football administrators having allegiance to the Zurich-based organization are being handed out cautions, expulsions, fines, or are resigning to pre-empt a similar fate, a fall-out of various corruption scandals that have erupted from time to time.
Among those who have faced the music in the recent past include controversial vice president, Trinidad & Tobago's Jack Warner (of 'Ticketgate' fame), executive committee members Reynald Temarii (Tahiti), Amos Adamu (Nigeria) and Mohammed Bin Hammam (Qatar), a one time supporter of Sepp Blatter who dared to run against him in the last FIFA presidential elections.
The most recent casualty is former FIFA president Joao Havelange who resigned on health grounds from the International Olympic Committee before its Ethics Commission was due to rule on allegations that had received $ 1 million in kickbacks from FIFA's former marketing agency International Sport & Leisure (ISL). The IOC Ethics Commission also handed out a "yellow card" to Issa Hayatou (Cameroon), FIFA vice-president and president of the Confederation of African Football for pocketing 100,000 French francs from ISL.
Both ironically have not been sanctioned or investigated by FIFA for their alleged offences. The 95-year-old Brazilian double Olympian, dubbed the "godfather of greed", has also not resigned as honorary president of FIFA, a decorative post he got when he handed over power to Blatter in 1998.
All these guys have got away lightly — they are not being criminally prosecuted for their misdemeanours, unlike our own stalwarts Suresh Kalmadi, Lalit Bhanot & Co who landed in jail over corruption charges related to the 2010 Commonwealth Games New Delhi.
Havelange is the man under whom the "moral descent" of FIFA into a "den of thieves" reputedly started while under his Swiss successor it progressed to an outfit peopled by experts on the ways of 'how to steal the game'.
FIFA's 24-man executive committee comprises some long serving members, just like the top officials of our sports federations have warmed their seats for ages. Warner was around for 27 years, senior vice-president Julio Grondono (Argentina) for 22 years, Hayatou (22 years) and Herr Sepp himself is 12 years on the job. The IOC, which has taken a hard line on corruption following the 2002 Salt Lake City Olympics bribery scandal, should insist on fixed tenures for the top FIFA posts by way of good practices, in the same way our Sports Ministry intends to bring in a bill ushering in some positive changes in sport, which incidentally our federations are resisting.
Several of FIFA's ex comm members have dubious credentials while its various other committees comprise of crony clubs of backslappers and freeloaders. While several pikes have been trapped in the goal nets of justice of late, several whales are still swimming around freely in FIFA's murky waters (look up the website www.transparencyinsport.org for some juicy details). But as long as the "Wolfman" (Blatter) remains, there is faint hope of the Augean Stables being cleansed!
FIFA is yet to come clean on its biggest ever scandal where its officials are believed to have pocketed (165) bribes worth about $100 million from ISL which went bust in 2001 with debts of $300 million. The ISL case was trailed in a Swiss criminal court in Zug which allowed the recipients of the kickbacks to repay the money — $ 6.1 million was repaid — on the condition that their identities would remain anonymous; it suited FIFA immensely.
FIFA recently announced it would release the court report at its executive committee meeting in Tokyo on Dec 17 as part of Blatter's anti-corruption measures. But it reneged on its pledge because of "legal measures…taken by one of the parties involved". The BBC's Panorama programme has alleged that Havelange got $ 1 million from ISL. His former son-in-law Ricardo Teixeira, a FIFA ex comm member and president of the Brazilian Football Confederation (CBF) and chief organizer of the 2014 World Cup, was named as another recipient. So was Nicolas Leoz, president of CONMEBOL, who allegedly nicked $ 730,000 from ISL. In all some 165 bribes are alleged to have been paid. Anti-corruption activists have also petitioned the Swiss court to get these details out. Let's see what happens…
Ace investigative reporter Andrew Jennings, whose seminal book 'Foul! The Secret World of FIFA: Bribes, Vote-Rigging and Ticket Scandals' exposes how its officials made an ugly spectacle of 'the beautiful game', told the Brazilian Senate a couple of months ago that Havelange may have amassed over $ 50 million through a front company called Sicuretta while Teixeira may have snatched $9.5 million from ISL. In 2001, the Alvaro Dias Congressional commission on the state of the game in Brazil had accused Teixeira of 13 crimes like tax evasion, mismanagement, illegal gratification etc.
The clock is however ticking on 'Tricky Ricky' and others on FIFA's 'roll of dishonour', all of whom are however protesting their innocence. At the moment Grondona, president of the Argentina Football Association, seems to be a man no one can touch in the Pampas – 'Don Julio' escaped charges that he has stashed at least $30 million is secret offshore accounts.
Chuck Blazer, ex comm member who doubles up as executive VP of the US Soccer Federation and general secretary, CONCAFAF, may not get away so easily. The FBI is investigating the over $500,000 in confidential payments made by the Caribbean Football Union to offshore accounts operated by him among other charges.
A New York judge had passed severe strictures against the portly Blazer in the Mastercard-Visa sponsorship dispute in which FIFA had to shell out $ 90 million to Mastercard as compensation.
Ironically, Jerome Valcke, then director of marketing and television, was one of the four officials fired for the fiasco. He was reinstated as FIFA general secretary six months later. Former FIFA VP, Chung Mong-joon, a scion of the Hyundai family, has observed in his recently published memoirs that "this only reinforced the suspicion that Blatter himself and Valcke were behind the whole thing".
Ironically, it was Blazer who initiated an investigation against bin Hammam and Warner, who allegedly tried to bribe officials of the Caribbean Football Union to vote for the Qatari in the FIFA presidential elections. It led to Hamman's pull out from the race and allowed Blatter to get elected unopposed. Hammam was later banned for life from all football related activities and Warner resigned in a jiffy.
Executive committee members Manilal Fernando (Sri Lanka), Worawi Makudi (Thailand) and Abo Hany Rida (Egypt) who accompanied Hamman on his private jet to Trinidad with a bagful of cash, are also being investigated by the FIFA ethics committee.
Our former AIFF president, Priya Ranjan Dasmunshi, was a great Blatter fan and how he jumped up at the FIFA congress in Seoul 2002 to orchestrate a chorus of support for the Swiss official is the stuff of legend.
With the swirling clouds of scandal threatening to engulf most of FIFA's officialdom, it is a matter of conjecture whether Blatter, who is himself facing several charges of malfeasance, will emerge unscathed and complete his fourth term. Some time ago, there was a reported move by FIFA's American corporate sponsors to sweep him aside because the unbearable stench of scandal was casting a cloud over their association with the sport.
Blatter has so far survived but will he and his coterie still be on the pitch in the near future? Expect more wickets to fall – pardon the cricket analogy – as the New Year unfolds…
Mario Rodrigues is a senior sports journalist and football writer. He is the author of the acclaimed biography of Ranjitsinhji titled 'Batting for the Empire'.
Also read: FIFA World Cup History