Football meets fiction – Part I
2.40K //
08 Nov 2012, 09:23 IST
The world of fiction is a heady cocktail of fun, fascination, and mystery. From awe-inspiring adventures to rib-tickling sketches, fiction concocts an intoxicating brew that few dare resist. In the world of football, there are certain enigmatic characters who display personalities, and traits that are stunningly similar to those shown by some of the most popular characters in the world of fantasy. Here, we portray our first set of football personalities, and their corresponding characters, for your perusal.
Busquaman – Sergio Busquets + Aquaman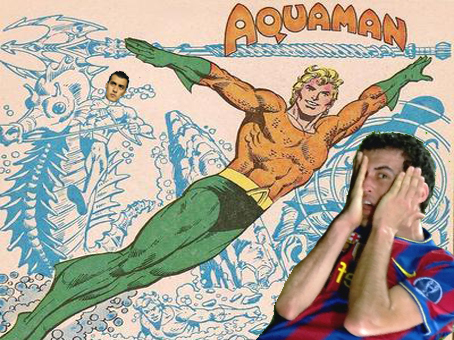 Aquaman, The King of the seven seas, was first created as a comic book character by DC Comics, and has featured in multiple riveting comics since his introduction in 1941. On the other hand, we have master midfielder Sergio Busquets, who seems to believe that technology is still stuck in the 1940′s, and his multiple dramatic escapades on the pitch will go unnoticed by the cameras. Aquaman's superpowers include the amazing ability to communicate with marine animals, and the strength to dive to extraordinary new lows; something which Busquets does week in and week out for the Blaugrana.
Aquaman also possesses the ability to remain underwater for infinite periods of time without suffering any ill effects, but grows increasingly weak the longer he remains on land. This is quite akin to Busquets, who seems to become more tired the longer he stays on his feet and finds it more comfortable to take a dive, though the Spanish midfielder seems to prefer rolling around in the grass instead of water. Aquaman is a founding member of the Justice League of America, which means that he is surrounded by a stellar set of superheroes, who enhance his reputation with their performances. Busquets is also surrounded by a few superstars at Barcelona, such as Javier Mascherano, Manuel Pinto, and Alex Song whose performances propel Barca to new heights, along with Busquets' reputation.
Speedy Hernandez – Javier Hernandez + Speedy Gonzales
Both Mexican, both fan favourites, and both speed demons, Javier Hernandez and Speedy Gonzales have a multitude of things in commmon. First making his debut in 1955, Speedy Gonzales has since flummoxed Sylvester, Daffy Duck, and a host of other rivals; quite similar to Hernandez, who has outwitted defenders on the stages of Mexican, English, European, and international competition. Speedy is sometimes shown in situations where he has to rescue his cousin, Slowpoke Rodriguez, and does it very well. Hernandez himself has rescued United from the jaws of defeat on several occasions already, with some crucial headers, as well as excellent finishing.
Declared The fastest mouse in Mexico, Speedy is known for beating his detractors with sheer pace, without having to resort to many of the elaborate tricks that other characters like Jerry, or Tweety often use. Similarly, Chicharito, or the 'little pea', as Hernandez is known, is adept at beating the offside trap, and running off the shoulders of defenders, and does not really have the trickiest of feet. In fact, Hernandez was officially the fastest player in the World Cup of 2010, a feat that Speedy would have been proud of.
Droopy Redknapp – Harry Redknapp + Droopy McPoodle
Droopy, one of the cartoon world's most underrated gifts to the world, made his debut in 1943, just 4 years before the birth of the grand old man of English football, Harry Redknapp. Playing the role of a police dog/detective in most of his cartoons, Droopy is well known for being one step ahead of the criminal, especially in hilarious escape scenes where the villain reaches his destination, only to find Droopy dropping him that trademark line, "What's up, bub?" Similarly, Redknapp has been a step ahead of the competition on most occasions, especially in his managerial career, and could very well have made an excellent detective, if he had chosen to do so.
Apart from all the features, these two gentle giants from their respective worlds look strikingly similar, with Redknapp's weathered face quite matching that of an affable Basset Hound, a breed which Droopy is believed to be. Droopy also has an adorable son named Dripple, who assists him in solving crime in some of the more recent episodes of the show; something which can be related to Harry's son, Jamie Redknapp, who is also associated with the football world.
Count Berbula – Dimitar Berbatov + Count Dracula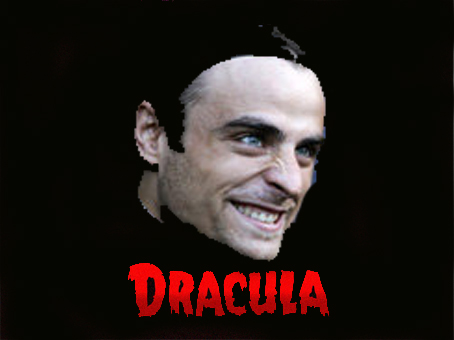 On this day, in 1847, a literary genius, Abraham Stoker, was born. He would go on to write one of the most chilling tales ever written; that of Count Dracula. Here, the prime antagonist is the suave, and classy Lord of Transylvania, who is simply inscrutable, and operates in the most mysterious ways. In some ways, this is quite comparable to the Bulgarian star, Berbatov, who appears to be in a constant state of emotional distress, while no one can really be sure of it. Dracula is known for his sense of dressing, and is also feared in his country, where no one dares cross his path. One can be quite certain that back in Bulgaria, at least on the football pitch, no one looks forward to facing Berbatov, who also dresses remarkably well, off the pitch.
The Count, on account of his being a vampire, is unable to tolerate sunlight, and chooses to sleep in his coffin all day, only appearing at night. This is perhaps the trait that is most common to Berbatov, as watching his languid style of play is almost as exciting as watching an old man asleep in a coffin, until he bursts into life when he sees a substitute waiting to replace him near the touchline. If we keep in mind Dracula's tendency to slip out at nights to drink the blood of innocents, we might finally have an explanation for why Dimitar Berbatov was missing from the squad for that Champions League final against Barcelona. There was a red moon in the sky that night, wasn't there?