Four things that worked in Athletic Bilbao's favour
6.37K //
09 Mar 2012, 15:46 IST
Despite repeated assurances from the gaffer and Rio Ferdinand that Manchester United will be taking the Europa League seriously, they continue to underestimate the size of the visiting teams coming to Old Trafford. What started as a season for Man Utd to end Barcelona's dominance in Europe, is now on the verge of ending in tears. The last time Man Utd lost back to back home games in Europe was way back in 1996. Last night's 3-2 loss against an overachieving Athletic Bilbao, showed that United has not learned anything from their recent defeat to Ajax at home.
Poor team selection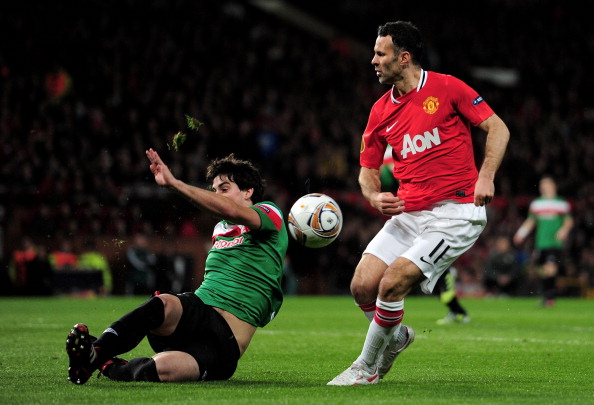 Sir Alex Ferguson has made a poor choice in starting Ryan Giggs and Phil Jones in central midfield. Ryan Giggs made a substitute appearance in last week's win against Tottenham Hotspur and Jones started the match as a right back. Giggs back pass towards the end of the game found Spurs forward Defoe, as he took two touches of the ball before shooting past David de Gea from outside the box. Last night, Giggs made his 902 appearance for the club, equaling Paolo Maldinis' record of being the longest one club player. It seems that Giggs hasn't learned anything from the 2008 final against Barcelona in Rome. Like against Barcelona, Giggs exposed United's defence to the opposition attack last night while he was playing high up the field. Rooney gave away the possession thrice in the first half and Giggs was nowhere near the ball as Bilbao launched a counter attack. Jones was also guilty of letting Bilbao equalise through Llorente's header after he failed to track him back when the cross from Susaeta came into the box. Due to the poor positioning of both Giggs and Jones, Bilbao pushed their midfield up the field and sometimes found themselves four on four against United's defence.
Fielding Smalling straight after Injury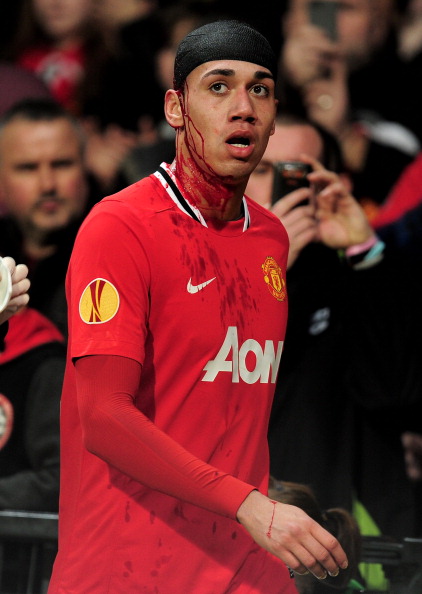 Smalling had a gash on his head after he clashed heads with Huntelaar last week during a England-Holland international friendly. He was left out of the squad  against Spurs in the weekend. But putting him straight into the starting XI after a head injury was baffling. Smalling shouldered the blame for conceding the first two goals against Holland and putting him to the task of marking Bilbao's top scorer Fernando Lolerente could only mean that one player would be winning the aerial battles. You cannot expect a centre-back to fearlessly win high balls with fresh stitches on his head. Smalling's stitches were cut open and he was left bleeding on the pitch before being taken off for Carrick in the second half. Carrick's introduction brought some balance into United's midfield with Jones shifting to right-back.
Disgraceful home support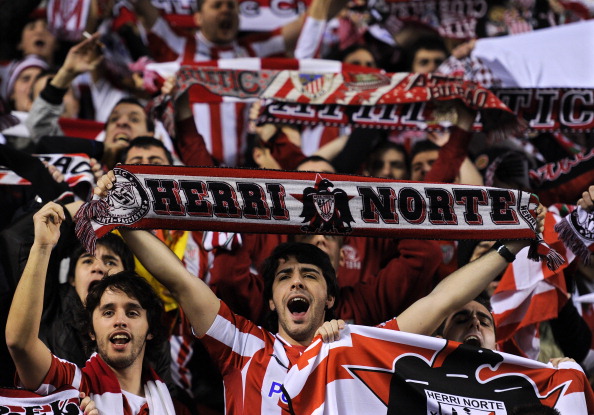 Old Trafford these days, gives you the feeling that the crowds have gathered to witness a hanging or a Victorian styled audience attending an evening Opera. If you look at the Ajax game, United has lost the game both on and off the field. The Ajax away support were boisterous and the decibel levels reached a never-heard-before noise from the away end. Part of Ajax's daring display was due to their fan support. Athletic Bilbao also traveled to Old Trafford in huge numbers as  over 7000 fans landed in 27 chartered flights at Heathrow. United fans filled the empty seats but Athletic Bilbao filled the stadium with chants. After Bilbao's, Iker  Muniain scored in the last minute, the United fans were seen heading towards the exits even before the referee blew the final whistle. This was something which was never seen before at Old Trafford.
Unable to hold onto leads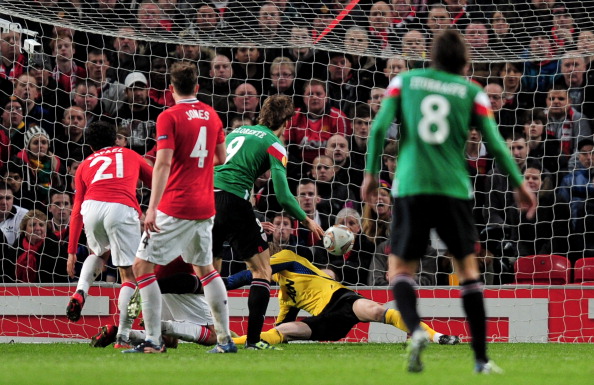 Manchester United once had the record of holding the longest unbeaten run of 25 games in Europe (UCL). And last night's loss at home was only their fourth defeat in 58 European home games. This season they have been poor in holding onto leads as they allowed teams to come back to level the game or lose the game entirely. Notably Basel, Benifica, Ajax and now Bilbao came from behind to win or draw the games. Man Utd's defensive frailties were exposed time and time again in Europe this season. Even with the towering Vidic in defence, the goals kept coming in numbers. Patrice Evra looked insipid all season and particularly last night when he was unable to control Susaeta's runs from the right.