The month-long football carnival came to an end on 15th July, with France defeating Croatia by 4-2 to take the trophy back home. This World Cup was marked by last-minute goals, tense results, unforeseen upsets. The World Cup 2018 witnessed several twists and turns, with some of the title favourites, such as Germany, Brazil, Argentina, Spain going home earlier than expected.
A lot of records have been broken at the 2018 World Cup, and many new were created. After every four years, the World Cup provides a stage for world football's biggest stars to imprint their name in the history sheets, and as a result of which plenty of records tumble down.
The 21st edition of this quadrennial tournament saw a record increase in the number of penalties awarded, own goals, and late goals, and this sudden influx added more drama to a World Cup that was already bursting with overflowing emotions and excitement.
Let's have a deep look at some of these unbelievable facts that made the 2018 World Cup different from the rest.
---
---
#1 Most number of own goals scored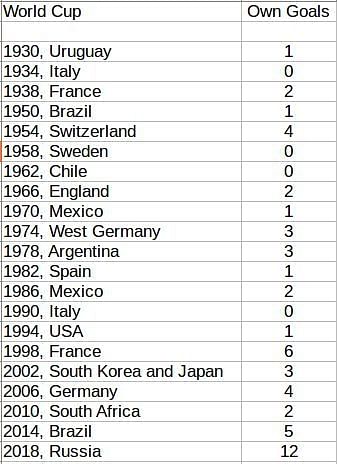 Scoring an own goal is the most embarrassing thing that can happen on the pitch. In addition to its enormous effect on the game, it breaks the player's confidence.
A lot of goals were scored in the World Cup, but some of them did not go in the right net. A record number of own goals were scored at the 2018 FIFA World Cup.
Croatia forward Mario Mandzukic made the headlines after he became the first player in the history of the World Cup to score an own goal in the final. This year's tournament has officially surpassed the previous World Cup own-goal record from the 1998 World Cup.
If Own Goal was a player, it would have taken the Golden Shoe.
---
---
#2 The Rise of Penalties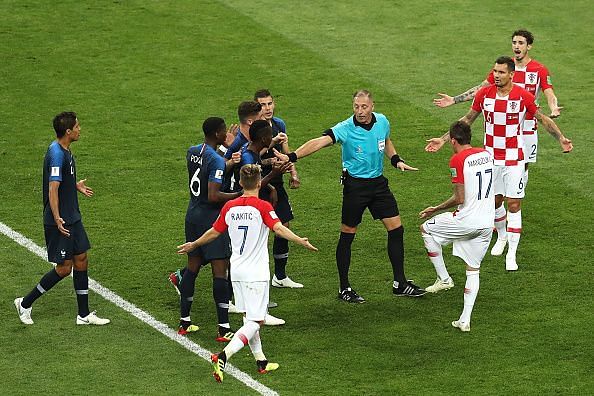 FIFA introduced Video Assistant Referee (VAR) for the first time in in the 2018 FIFA World Cup. Thanks to VAR, a record number of 29 penalties were awarded. Out of the 29 spot kicks awarded, 22 were converted into goals.
Introduction of VAR has ensured to some extent that defenders can't get away with anything. VAR ensured that none of the slips goes unaccounted. Penalties are match-changing and this sudden influx of them certainly added more spice to the already dramatic World Cup. There was a lot of drama, and it only increased the pressure on referees as they had an important role to play.
This sudden influx in the number of penalties awarded, meant that there were a lot of controversies and more entertainment was there for the neutral fans.
The previous World Cup record for penalties was 18, set in 1990, which was then equalled in 1998, and in 2002.
#3 Most engaging World Cup in history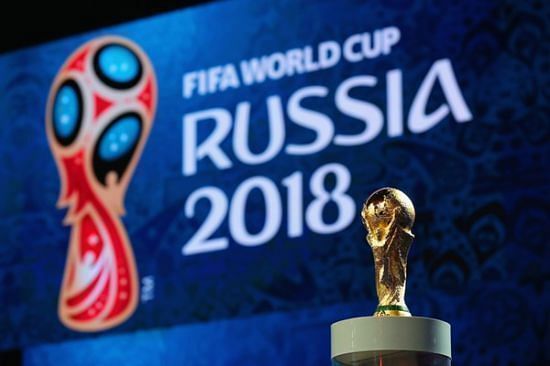 The 2018 FIFA World Cup Russia was the most engaging World Cup ever. FIFA official videos generated over 1.25 billion views during the World Cup, with four million new subscribers to FIFA's YouTube channel. The FIFA official application for the tournament became the number one sports application in over 128 countries.
According to Alexa Internet, a US-based company that provides commercial web traffic data and analytics, FIFA official website was the most visited sports website during the World Cup period.
FIFA social media accounts generated over 580 million interaction, and the number of followers increased to 128 million.
All these stats confirm how exciting and engaging the 2018 World Cup was for any football fan around the globe. It had everything, from emotional moments to nail-biting extra time, penalty shootouts to last-minute goals, out-of-the-box goals to super penalty saves. Russia and Croatia journey's were the perfect Cinderella story. Countries like Spain, Brazil, Germany went home earlier than expected and it only added more spice to the drama.
#4 Late Goals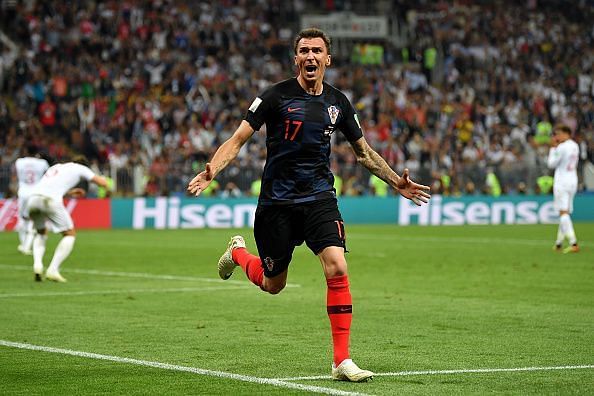 In 2018 World Cup, a lot of games lasted longer than people expected. Underdog teams like Russia, Sweden, Croatia surprised everybody. More than 23 goals were scored after the 90-minute mark. This is more than the last three editions combined.
Football is already a tense game, and these late goals only made it more unpredictable and spectacular. The last-minute goals ensured that no team could take the result for granted. Belgium winner against Japan in the injury time shows that how unpredictable this World Cup was.
In fact, the number of such goals has almost doubled as compared to the 2014 edition of the World Cup. Every minute counts at the Fifa World Cup, and this is not a matter of real debate. But in Russia 2018, a lot of those minutes in injury time ended up counting more than ever.
Edited by Sudeshna Banerjee