From Champions League winner to Old Trafford conundrum: Tracing Angel Di Maria's decline
3.99K //
22 May 2015, 04:22 IST
It's strange to think that it was almost exactly one year ago when Real Madrid, marshalled by a fantastic performance from Angel Di Maria, won the Champions League. Showered in confetti and champagne on that evening of excitement, the most successful club in the continent were back at the pinnacle of European football they like to call home, and the Argentine was at the epicentre of it all.
Fast-forward 12 months and the most expensive player in British football history has had a so-so season at Old Trafford, more of a disappointment than a revelation. An inspiration and the man of the match at the Estadio da Luz that night in 2014, the current Manchester United star was the driving force behind Madrid's famous 4-1 victory over their cross-town rivals in the big European final as Los Merengues hoisted the "trophy with the big ears" for the 10th time in their history.
It was a fitting end to a fantastic season. Seemingly indispensable at the time, it was difficult to envision exactly how Carlo Ancelotti's team would become the first side to successfully defend their European crown without the 27-year-old's vision, eye for goal and lightning-quick pace.
Indeed, one look at how the Los Blancos faltered against Juventus just a few weeks ago goes some way to proving the point that they are not the same team without his services, and have already paid a heavy price in showing him the exit door all those months ago.
Now, with the summer upon us, it's interesting to delve into the myriad of reasons behind Di Maria's apparent slump. Just where has it all gone wrong for the player himself? With one full season under his belt in England, the majority of people are continuing to question his real value to the team as well as his ability to perform under the rigours of the English game.
Pressure of a new start has hampered Di Maria's returns
Rarely has it been easy for anyone to make a new start, and the curious case of Di Maria is evidence of this fact. Drafted in as the marquee signing and expected to give them the boost they so desperately needed, many United fans could hardly contain their excitement at his arrival. And who could blame them? Having managed to maintain his place in Madrid's starting XI, he had already proven his ability beyond doubt for most fans, pundits and neutrals alike.
For four seasons, he made the glowing white No. 22 shirt his own. Exuding an air of artistry that often knew no bounds, he soon mastered a variety of different roles. At one moment, he could be a pacey, left-footed winger who could out-run and bamboozle the best of the best with his fanciful footwork. The next minute, the man born in Rosario demanded the centre stage with the pomp and exuberance of a conductor in a finely-tuned orchestra as he laid on assist after assist for his goal-hungry team-mates. Showing incredible versatility, he worked hard across the park to help his side win, and win regularly.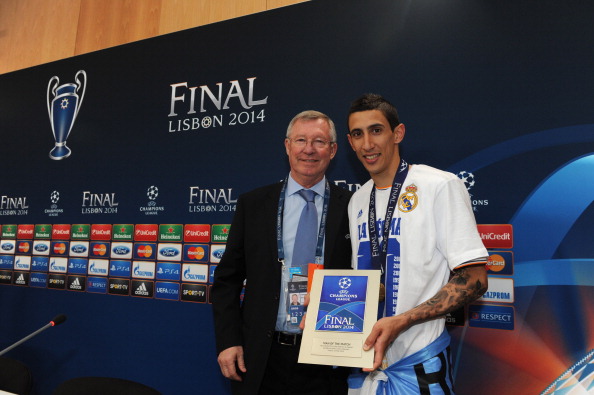 Indeed, it was his desire for success that caught the eye more than anything else. Possessing a penchant for victory, as well as the capacity to rise to the big occasions, it was no wonder he took home so much. Aside from that special UCL medal, he also captured a La Liga title, two Copa Del Rey trophies and a UEFA Super Cup, all alongside his impressive exploits with his country.
So far, however, it hasn't worked out so well at Manchester.
Despite nabbing 10 top-flight assists, a number of key constraints have hampered his journey thus far. Most notably, a mixture of time and a lack of squad cohesion have both conspired against him. Although he wasn't the only new signing at the beginning of the 2014/15 season, he was the biggest name on the roster and was forced to carry the team, at least symbolically, for quite some time – a burden foisted unfairly upon him which will take time to be corrected.
Muddled team philosophy contributed to underwhelming season
Much has been made of the apparent philosophy which the ex-Netherlands boss has attempted to instil in his players this season. Even more has been made of just how little it has worked, despite their late-season resurgence, with The Guardian's Daniel Taylor describing it as a "work in progress."
Discussions circling around his ideas, thought processes and desires have been plentiful as the Dutch supremo has seen himself battle bravely against a wave of injuries, suspensions as well as the remnants of a squad tainted by two managers before him. Getting Di Maria was his attempt to put his stamp on proceedings from the get-go.
However, with a paltry three Premier League goals to speak of this term, the star affectionately dubbed Fideo has seen his effect limited by the constraints of a very particular system, one so convoluted that it's often been difficult to pin down.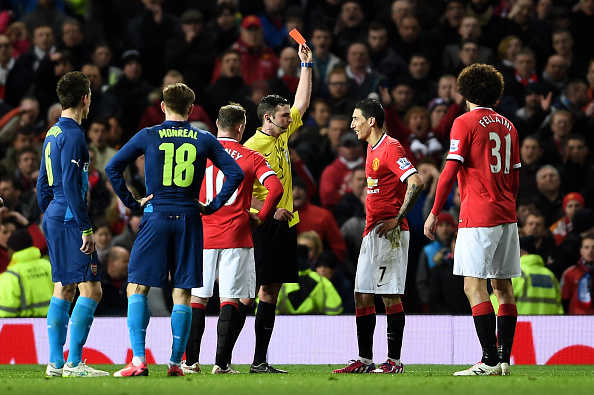 Normally a free-spirited performer who works best roaming about the field in search of the ball to create chances, be proactive and instigate some excitement, the ex-Madrid attacker has received something of a culture shock since landing on British shores.
Van Gaal is intent on getting his team to play a certain way as a team, with a definite mindset, but it seems odd that he would ask his most versatile and dynamic performer to follow suit so rigidly. Di Maria is the spark of creative genius the former European champions have craved ever since Sir Alex Ferguson departed, but he and his self-belief have both been suffocated by a system that refuses to get the most out of him.
Moreover, his conviction has been hampered even further by a lack of fire-power up front to aim for. With Radamel Falcao experiencing a nightmarish season sporting the famous red shirt and Robin van Persie plagued with injury for extended periods, it's been Wayne Rooney who has bagged the most goals, and even the Englishman's 12 is well below par for him.
Decline can be overcome with new perspective
There can be little questioning Di Maria's natural ability. Despite his disappointing season, it's clear that many of the reasons behind it have been very much beyond the realm of his control. Ousted from the Bernabeu against his will, where he was very happy, the motivation behind his move was lacking from the very beginning; clearly not a very good basis for a fantastic, flourishing relationship.
Credit to Di Maria in the way he has battled to improve his current situation, but if the powers at United want to get the best out of their star buy, it's vital they aim to resolve the conundrum with a new perspective. Because the one they have now is clearly not working.
The best way to do that is to start afresh, create an environment where the player feels appreciated and start to build more coherently during the off-season with some top-notch signings that will work well in tandem with him.
Who knows? Come the 2015/16 campaign, Di Maria could well be fuelling United's push for European glory.