They say statistics don't lie and if there is one stat that highlights Manchester United's brilliant start to the 2017-18 Premier League season, it has to be this one: Henrikh Mkhitaryan has now played a role in more Premier League goals this season (6) than he did in the whole of 2016-17 campaign (5).
During his three-year spell at Borussia Dortmund which preceded his move to United, the Armenian staked his claim as one of the best-attacking midfielders in the world and he underlined his credentials in his final season at Signal Iduna Park with an astounding tally of 23 goals and 32 assists from 52 games in all competitions.
Given the kind of consistency that Mkhitaryan had shown during his time with Dortmund, especially the prolific numbers he racked up in his final season over there, bigger opportunities were around the corner and it eventually came in the form of Jose Mourinho who signed him for Manchester United in the summer of 2016.
In Mkhitaryan, Mourinho had not only got United the best playmaker in the Bundesliga over the last three seasons but also found a player who is at the peak of his prowess.
A slow start that can be forgiven
Mkhitaryan's €30 million move to Old Trafford came with its fair share of expectations, perhaps more than he had ever handled during his time in Germany. On the back of the kind of performances he managed in the famous black and yellow jersey, the Manchester United faithful had every reason to believe that they now had a match-winner who could help them re-find lost glory.
However, amidst the euphoria of Mkhitaryan's arrival, the one thing that was forgotten all too easily was the fact that the Premier League is a different kind of a ball game as compared to the Bundesliga, or any other league in Europe, owing to the sheer speed and physicality of the English game. And while a number of players have made a name for themselves in such conditions, it certainly isn't everyone's cup of tea with as was proven by the respective failures of Radamel Falcao and Angel Di Maria, both of whom had brief spells with United.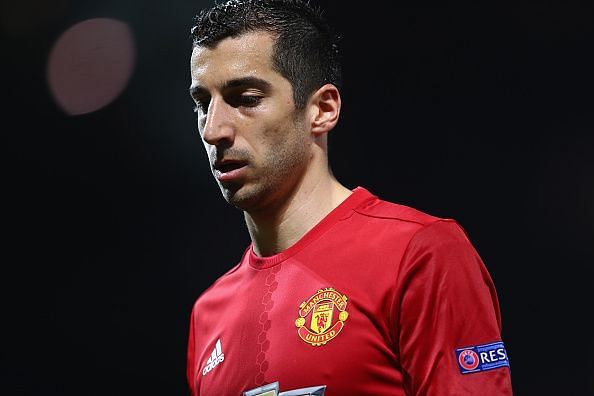 Given this scenario, Mkhitaryan's ability to adapt was bound to be tested in the Premier League and even the 2015/16 Bundesliga Player of the season struggled to come to terms with how the game is played in the English top flight.
Mkhitaryan's initial plight was highlighted in last season's Manchester derby wherein he struggled to keep pace with the proceedings. And his miserable start to life at Old Trafford was capped off by an injury in that game which forced Mourinho to take him off as United eventually went down 1-2 to their 'noisy neighbours'.
After this horror show, Mkhitaryan missed the subsequent 4 league games through injury and was not picked in the squad for the next few games which meant that he spent a good amount of time away from the first team.
As the season went on, though, Mkhitaryan did begin to find his feet at his new club and his performances in the Europa League were a testament to this fact as he played an integral role in leading United to their first ever Europa League success as he managed 6 goals in 11 games.
Keeping his word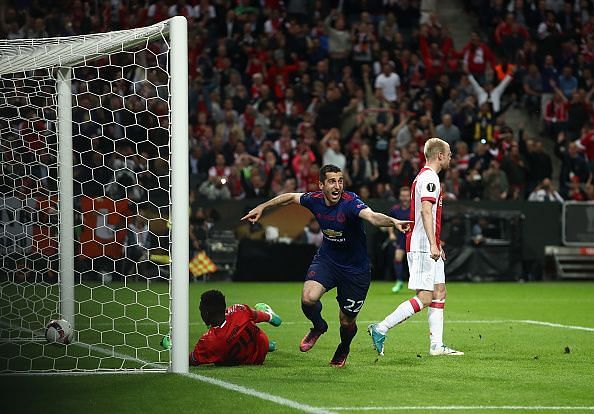 For all his first season struggles with United, Mkhitaryan's performances in his second season was always going to be the ultimate litmus test of his abilities as by May, he was accustomed to the Premier League. Moreover, in his opening campaign, Mourinho fielded the former Shakhtar Donetsk man in numerous positions across the frontline and it certainly took a toll on his creativity as he managed just four goals and a solitary assist in the league all season.
This season though, the Portuguese has played Mkhitaryan in his preferred position; an attacking midfielder in all five league games so far. The results are there for all to see as he has already managed to better his Premier League tally from last season with one goal and five assists so far.
More importantly, consistently playing in one position has also seen the attacking midfielder develop a very good understanding with Romelu Lukaku and the duo have been primarily responsible for United sharing the joint-top spot with City following a great start to the Premier League.
In fact,'Micki's' performances so far this season have been so good that have they forced Juan Mata to see fewer starts than he would like, despite the Spaniard being one of United's most creative players last season.
Though Mkhitaryan's current form is certainly a testament to his undeniable quality as a footballer, what is far more commendable is the fact that he is actually also living up to a promise he made to his late father.
Having taken to the beautiful game following the footsteps of his late father Hamlet Mkhitaryan, all Henrikh ever wanted to do was to make his father proud. And going by what he has managed to do so far, the former Dortmund man has turned his fortunes around at Old Trafford.
One can be rest assured that he has achieved that objective and has successfully transitioned himself from a misfit to a mainstay at Manchester United all in the space of one year. The only question is, can he keep up?