From the vault: Revisiting Eric Cantona's infamous 'Kung Fu' kick
4.62K //
25 Jan 2015, 22:21 IST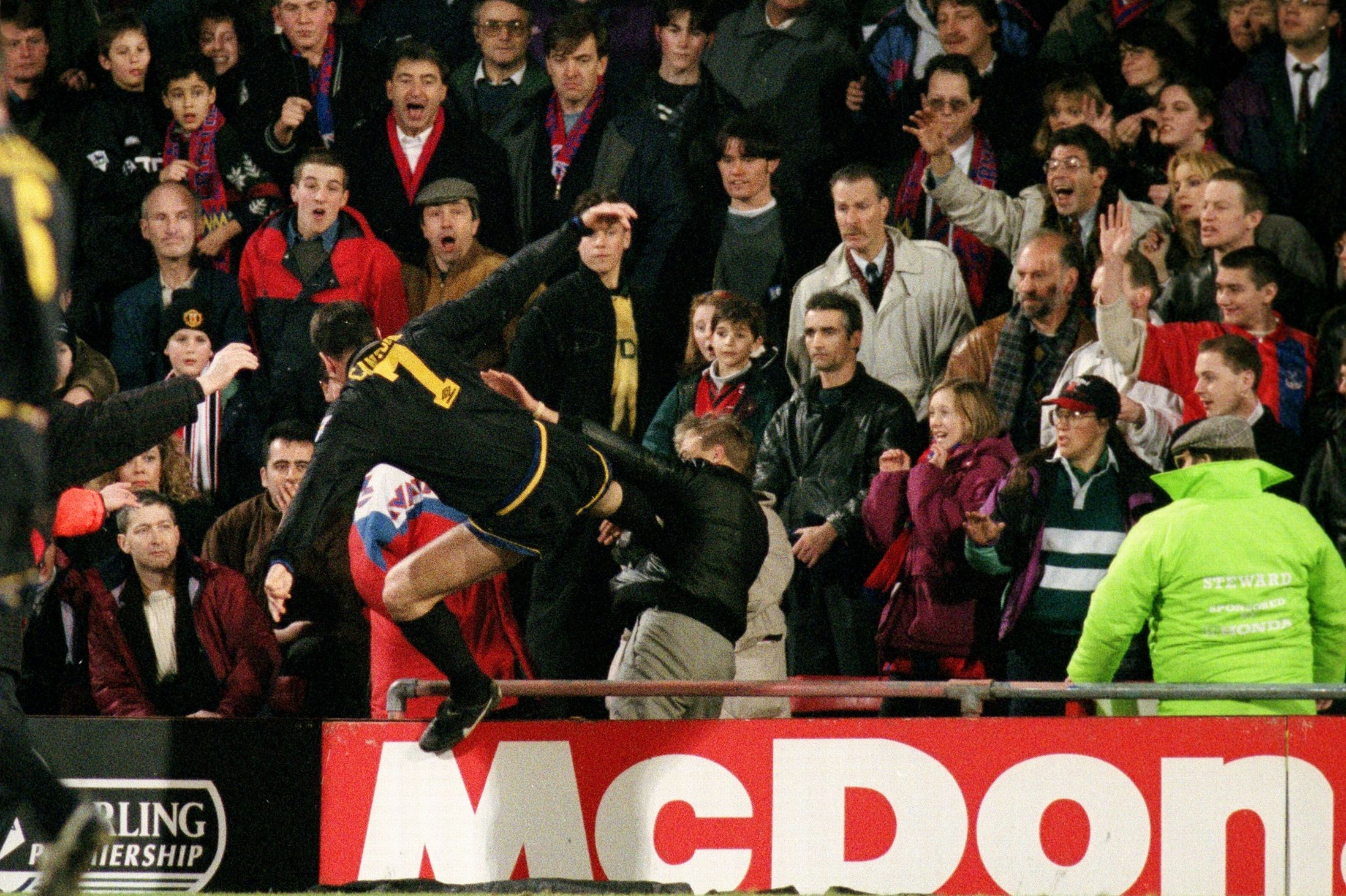 Selhurst Park remains one of the favorite destinations for Manchester United fans. From David Beckham's wonder goal against Wimbledon to Luis Suarez's tears it has time and again produced moments which will be revered for time immemorial. United were given the guard of honour at Selhurst Park by Wimbledon players in the 1992-93 season. They had won the league for the first time in 26 years.
Also Wimbledon was modestly supported at the Park, so United had the liberty to take as many as 25,000 fans that day from Manchester. Though the official allocation was 16,000 tickets, many home fans sold their tickets to make it 25,000. David Beckham scored one of the best goals in United's history, from the half way line signalling the birth of a superstar.
Beckham went on to become one of 'No. 7' legends for Manchester United. His football, his style quotient, his link up with Victoria Beckham and of course his goals made him an icon not only in Manchester but also in the World.
Yes we have seen the Beckhams, the Ronaldos, the Robsons who regularly awed the crowd with their footballing prowess and personality but as soon as they come up against another no. 7 their charisma peters out. He is unofficially known as 'King Eric' because of his attitude on and off the field.
From his open chest celebrations to his collar up play Éric Daniel Pierre Cantona was a person glorified with awesomeness. He scored 64 goals in 143 appearances for United which involved some of the most audacious goals in English football. The chip against Sunderland after weaving past 3 to 4 defenders was an example of his greatness as a football player.
One incident which is sandwiched between the two aforementioned was Cantona's infamous Kung Fu kick on this very day in 1995 at Selhurst park. The Frenchman's leap into the crowd and into the chest of a berating spectator named Matthew Simmons was the defining event for United supporters in the 1990s. It polarised football, not just in England but around the world. You were either against Cantona or with him. Most of the United fans lent their support to the Frenchman.
It was a match between Crystal Palace and Manchester United, who were looking for a hattrick of Premier League titles that season. The game ended in a 1-1 draw between United and Crystal Palace. United's goal was scored not by Cantona or any other forwards but by defender David May, who got his first for the club.
When asked about the incident later, May said, "My first thought when Eric was sent off was, 'You t---, I've just scored my first goal for United. I legged over to see what was going on, but Eric was on his way. Gareth Southgate equalised, and at full time (Sir Alex Ferguson) had a go at me for the equaliser. I thought, 'Eric's just jumped into the crowd and leathered someone, and you're having a go at me for a goal that was nothing to do with me.'
"I could understand why Eric hit that lad," May continued. "There have been many times when I've wanted to chin a fan for giving personal abuse about my family. When Cantona did it I thought, 'Fair play, Eric.'
"The lad on the receiving end became famous for that, but then his life was apparently ruined. Good. It's a great pub question, though, isn't it? Who scored United's goal on the night of Eric's Kung Fu Kick?"
Cantona had been shown a red card before the incident for a kick on Palace defender Richard Shaw after Shaw had pulled his shirt. As he was walking towards the tunnel, Cantona launched a 'kung-fu' style kick into the crowd, directed at Crystal Palace fan Matthew Simmons, a fan who had run down 11 rows of stairs to confront and shout abuse at Cantona. Simmons was alleged to have used the words "F--- off back to France, you French motherf-----". Cantona followed the infamous kick with a series of punches.
It was a defining moment in Cantona's career whose already famous personality sky rocketed within days. Cantona was arrested and convicted for assault, resulting in a two-week prison sentence. This was overturned in the appeal court and instead he was sentenced to 120 hours of community service, which was spent coaching children at United's training ground.
At a press conference called later, Cantona gave what is perhaps his most famous quotation. Cantona said, in a slow and deliberate manner, "When the seagulls follow the trawler, it's because they think sardines will be thrown into the sea. Thank you very much." He then got up from his seat and left.
In accordance with The Football Association's wishes, Manchester United fined Cantona £20,000 and suspended him for the remaining four months of the 1994–95 season, which ruled him out of first-team action as United were still in the hunt for a second double.
The Football Association then increased the ban to eight months (up to and including 30 September 1995) and fined him a further £10,000.
Several years later in 2006 he was interviewed by Andy Mitten, founder of the magazine 'United We Stand'. When asked about his kick, there was no sense of remorse. Instead he said he was upset for not hitting the spectator harder. He was also asked about his best moment during his stay at the Old Trafford club, his answer was inevitable.
"My best moment?" he repeated. "I have a lot of good moments, but the one I prefer is when I kicked the hooligan."
Cantona was – and remains – unrepentant. "I did not punch him strong enough," he said. "I should have punched him harder. I didn't watch it after on television. Because I knew. All I had was journalists around my house. That's all I could see. My house was small. They blocked the light."
Eric Cantona was one of those players who carried his club on his chest. He enlightened the lives of United supporters and gave them a hope of something special whenever he was on the field. Fans at Old Trafford still sing his name after 18 years of his retirement. King Eric truly is one of the greats of Manchester.