Gerrard: I am not an England Hero
883 //
14 Nov 2012, 21:24 IST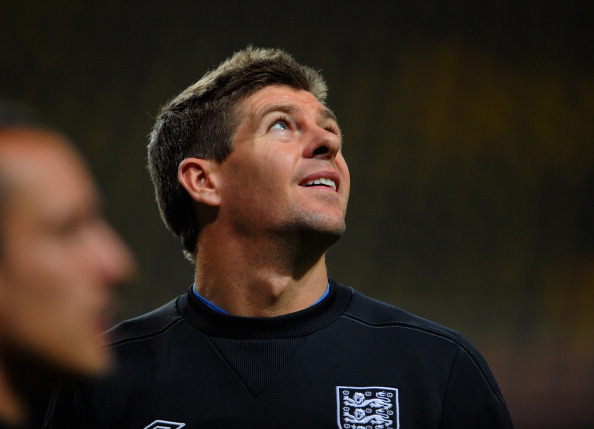 "Don't call me a hero, there are only eleven heroes who have played for England and they won us the Cup," Gerrard told a section of reporters ahead of a historic clash against Sweden at Stockholm.
England face Sweden tonight in an International friendly. The time Gerrard is on his way leading the England side out on the field in Stockholm, he will be on his way to register his name in the history books. This will be Gerrard's 100th game, only the sixth Red Lion to achieve the remarkable feat.
Gerrad has struggled to get himself to where he is now. He was turned down at 14 at FA's National School and failed to make it to the England U-15s. His confidence was dented and he somewhere feared of his ability to earn a single National cap and here he is now, celebrating his 100th. This is what hard work, perseverance can do to you.
"To be here on the eve of 100 is an unbelievable achievement for myself and my family.
"It's difficult to put into words, because when I speak about it the hairs on the back of my neck stand up. It's unbelievable.
"Some of the players I've played with have not got to that milestone. There have been great players before me and ones I've played with who haven't done it. It's a very flattering achievement," claimed an excited Gerrard
Recalling his International days at this point, Gerrard has a sense of unfulfillment, an emotion of grief, having missed a string of chances which have passed by him in his twelve year long career.
Gerrard believes his generation, referred to as the golden generation has been way below par and have underachieved by any stretch of imagination.
He believes for him and a large section of public, the only heroes have been the eleven who brought England the glory in 1966.
When it goes wrong – and, boy, it has gone wrong at times – he feels the pain, furrows the brow and shoulders the responsibility. Asked to rate his international career out of 10, he gives himself a six, then upgrades to a seven, but this is an occasion to savour. There is even a smile. This is way below you would expect for someone who enjoys the stature of a National Legend.
"In football, the hero and legend status is given out far too easily for me. As far as playing for England goes, there are 11 heroes, the rest haven't really delivered, for me.
"How much would I give myself? Six, seven? I have always tried to give my best for England and every time I have played I have given it all I have got.
"I admit that my performances have not always been great but it has not been because of not wanting to be here or lack of effort or it not mattering to me as much as club football.
"I have always applied myself the same for club and country. I just think people know me better now. My relationships are better with you guys. People see how much it means to you. When I used to lose with England in the early days it hurt just as much," a disappointed Gerrard admitted.
The Liverpool midfielder believes there is abundant pressure on the players that have put on that jersey and the pressure of the hopes and expectations take its toll.
"There have been times when I've found the shirt to be a bit of a weight. We get criticism and you have to take it, get on with it, just try and play through it.
"It's one of the reasons why certain teams in my generation have under-achieved. You have a bad game or a nightmare and you know the coverage is worldwide. There are a lot more eyes, a lot more cameras, a lot more opinions, a lot more TV channels covering the game – Sky, ESPN, Al Jazeera – there's social media. It's even bigger than when I came in. It's a lot more difficult for the young lads," opined the Liverpool and England skipper.
The Liverpool talisman admits, the third loss on penalties made him consider hanging up his boots after the Euro 2012, but then he decided to go on.
"It wasn't a close call but when you're that age and you have another setback, it crosses your mind, "said Gerrard.
"But being captain and the buzz I get for England outweighs the thought of knocking it on the head.
"Having players like Jack Wilshere coming through, it's worth hanging about and carrying on and seeing if things change and a bit of luck comes our way."
With an uncertain future ahead for Gerrard, the England Captain has a word of advice for the youngsters, similar to what he got from his father.
"Basically, you get out of football what you put in,' said Gerrard.
"If you work hard and make the sacrifices and you're willing to learn and you have the talent, you'll have a good career. That's the advice I have always tried to stick to.
"Some of them won't be able to. That's fact. Not everyone who plays at this level will go on to be a top international player. That's just the way it is. Some will find it too hard, some won't be good enough. Some won't work hard enough for it," Gerrard stated.
On life after football, Gerrard admits he has to still give it a thought. "I have always said I will only be a coach or a manager if I feel I am good enough. I don't think you go down that road because you've been a decent player. "That's a mistake a lot of footballers have made."
Gerrard's Say-
Best England player played with- Paul Scholes
Best Individual opponent- Zinedine Zidane
England Highs- Scoring at a tournament or winning a tournament.
Best Game- 5-1 drubbing of Germany in Munich, 2001.
Favourite goal he has scored- The goal in the 5-1 win in Munich.
Worst England Performance- The game Beckham scored a 'Worldly' free-kick, I had a day to forget.