Goal scoring goalkeepers
2.60K //
17 Mar 2012, 19:08 IST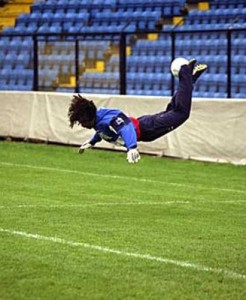 They have a job at hand – to save the goal, to save any shot that comes towards them. But they are always ready to rise to the occasion, they are always prepared to give their best when the team needs them. They are the goalkeepers, and also the goalscorers! It is said that goalkeepers have the best position to understand the game and that is why a lot of teams have goalies as captains. It is also said, quite often, that goalkeepers win you matches. One bad day at office for them means their team may lose which will serve as an invitation for critics to claim their omission from the line-up. Yes, that is why goalies have to be at their best in every match and on their feet every second of the ninety minutes. They know it well enough that the slightest mistake on their part may cost their side heavily.
But goalkeepers are also needed, often, to shadow the failures of the rest of the team, the forwards precisely. Thus they have to rise to the occasion whenever they are asked to score a goal in place of saving one! Here are a few goalies who have been the heroes for their clubs and national sides.
Top 10 goal-scoring goalies
| | | | |
| --- | --- | --- | --- |
| Name | Nationality | Team(s) | Goals |
| Rogerio Ceni | Brazil | Sao Paulo | 103 |
| Jose Luis Chilavert | Paraguay | Paraguay, San Lorenzo, Real Zaragoza, Velez Sarsfield, Penarol,Strasbourg, Sportivo Luqueno, Guarani | 57 |
| Dimitar Ivankov | Bulgaria | Bulgaria, Levski Sofia, Kayseripor, Bursaspor | 41 |
| Jorge Campos | Mexico | Mexico, UNAM, Atlante,Tigres,Puebla,ChicagoFire, Cruz Azul,Los AngelesGalaxy | 39 |
| Rene Higuita | Columbia | Columbia, Deportivo Rionegro, Deportivo Pereira, Guaros de Lara FC, Bajo Cauca FC, Aucas, Atletico Junior, Real Cartagena, Independiente Medellin, Tiburones Rojos de Veracruz, Atletico Nacional, Real Valladolid, Millonarios | 39 |
| Johnny Vegas Fernandez | Peru | Peru, Sport Boys, Union Huaral, Universidad San Martin de Porres, FBC Melgar, Sporting Cristal, Sport Ancash, Cienciano | 39 |
| Hans-Jorg Butt | Germany | Germany,Hamburg, BayerLeverkusen, Bayern Munich, Benfica,Oldenburg | 39 |
| Alvaro MisaelAlfaro | Salvador | El Salvador, Luis Angel Firpo,San Salvador, Aguila, Alianza, Metapan | 31 |
| Dragan Pantelic | Serbia | Yugoslavia, Radnicki Nis, Girondins de Bordeaux, FK Timok Zajecar, FK Graficar | 26 |
| Marco Comez | Chile | Club Deportivo Palestino | 24 |
Rogério Mücke Ceni - He is a Brazilian goalkeeper playing for for São Paulo FC. He holds the record for the maximum number of goals by a goalie (103), most number of free-kicks (55) and most number of penalties (46). In a career spanning close two two decades, Ceni earned the Brazilian international cap 16 times in nine years.
José Luis Félix Chilavert González - Chilavert is a former Paraguayan goalie who was reputed for his free-kick skills and was honoured with the IFFHS World's Best Goalkeeper Award three times in his career. He was a crucial goal-scorer – scoring 9 international goals for his side. He is the only goalkeeper to score a hat trick (against Ferro Carril Oeste in 1999) while playing for Vélez. He scored all three goals from penalties. Always a controversial man, Chilavert retired from international football in 2003 after a feud with the team directors.
Hans-Jörg Butt - He is a German goalkeeper playing for Bayern Munich who is known for his skills in taking penalty kicks. He has 495 appearances for his clubs with 29 goals in his kitty. Butt holds the record for maximum number of penalty goals in a single professional league in Europe (Bundesliga). He also has three goals in the UEFA Champions League which is a record for a goalkeeper.
I salute these goalies who have been the backbone of their team throughout their respective careers.