Have Arsenal finally gone from being a selling club to title challengers?
3.03K //
22 May 2015, 16:15 IST
"You have to maintain a fine balance between hope and despair. In the end, it's all a question of balance."
At the moment, Arsenal lie on this very fine balance as elucidated by this very fine quote by Rohinton Mistry. A balance of what is achieved and what can be achieved. The FA Cup victory last season was a respite for the Arsenal fans, not only was it the first trophy after so long but it also let the fans hope for better things for this season and more. But like always, hopes tend to be exaggerated and it is these greedy exaggerated expectations that lead to despair.
Truth be told, as an Arsenal fan, hope and despair are some things that you usually learn to take in your stride whence you become a Gooner, they are critical in the experience. The faith requires you to hope, prod that romantic inside you time and again and see the world through his eyes rather than believe those pundits who go on pointing about how Arsenal lack the winning mentality, how they are two or three players short of winning titles or reasons of similar ilk. It simply doesn't matter when you believe in the Wengerball.
And despair, the old friend, is not one to shy away from. Not after nine trophyless seasons, seasons that saw exoduses of a critical nature, seasons that have made us realize the old adage of what does not kill you makes you stronger is not wrong after all.
Talking about seasons, the season that was/is, is somewhat ending on an appeasing note. Two games to go and a top 3 finish pretty much in our own hand add to that the chance to retain FA Cup; it seems far less Arsenal-esque season than what the fans might have expected.
Splashing the cash
No doubt the record breaking transfer spree at the beginning of this season set a different sort of precedence in terms of expectations from the team, but signings, and signings in large number particularly, do not guarantee you success.
On the contrary, having so many players to gel so quickly is something not every team can manage. Liverpool and Tottenham, case in point, have struggled recently in their attempt to overhaul their squads and be successful all at once.
Certainly we have moved away from the austere days and can build up on the squad. Transfers this season had a hint of certain brazenness, a certain splashing of cash which was something unheard of at the Emirates since 2011. Even in 2011 the net spendings on Mikel Arteta, Per Mertesacker, Andre Santos and others were not that much. But 2014-15 saw a certain lack of inhibition from Arsene Wenger in terms of money matters. But does the financial prowess matter in the world of Chelsea, City and PSG?
So what lies ahead? Another season of hope and despair ultimately landing us in a place that has now become familiar and hence pleasing in the shape of a league position worthy of Champions' League football alongside a dash for the domestic cups plus the added bonus of not having to auction our first team players in lieu of that treacherous debt? Perhaps not.
Losing the 'feeder-club' tag
There is this sense of impasse after finally breaking the shackles of stadium debt. No doubt we have had a facelift from a 'selling club' to one that is on the up in terms of recruiting players, but have we done enough to challenge the top clubs.
It was sickening, although true, that for the best part of last decade we were a 'selling club'. But Arsene Wenger's 'soccernomics' and his belief in nurturing talent made us withstand with a varying degree of success the moniker as well as the ridicule that accompanied it.
And it is again becoming sickening to be talked about in platitudes such as "they have the potential to do it" or "we know how good Arsenal can be on their day, when they play to their potential"; can we finally convert this potential to something tangible and real? Can we see a great European conquest in the near future; can we outwit the cash-strapped clubs? Can we conjure up the spirit of the invincibles under Arsene Wenger once again? These are the questions that remain.
Agreed, answering questions about the future of the club in binary is difficult but there is no skirting around the topic of Arsenal being title contenders. A solid squad with far more better mix of youth and experience that we have ever seen under the French gaffer, plus the prospect of not having to bow down to the finances of the club surely makes Arsenal a top club. A top club that has issues maintaining the form through the season.
Facing the giants
The 2013-14 season saw Arsenal remain at the top of the Premier League standings for the most number of weeks, yet ended up in a familiar fourth position. This perhaps typifies how the club has evolved from its murky recent history but has not yet grown the bones to lift the biggest of trophies. And it completely shows up in the crunch matches against biggest of opponents, so much so that the biggest victory this season against the last year's titleholder, City, was seen as something seminal in this post 2011 era.
Again these victories, the small head to heads against the contemporaries are not won by having a certain new signing in the shape of Ozil or Alexis adorning the team sheet, rather a certain mentality is required to be gritty enough to win. Even the FA Cup victory last season was all about the resolves and less about the star players.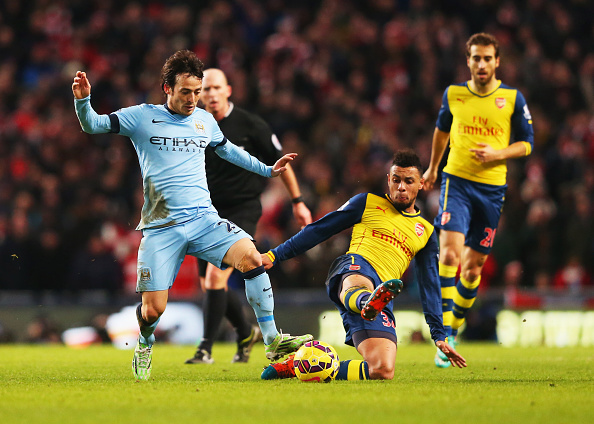 This lack of ingenuity on the team's part has been detrimental this season as well. Not being able to score at Emirates for the last three games might just sound a statistical jibber-jabber but it shows how we can go missing randomly through the season, how we are work in progress rather than the finished goods when it comes to fighting for titles on various fronts.
The gist of it all remains that surely we are on the up and on the prowl for our second FA Cup, but not everything is as rosy as it looks. We have crossed hurdles on the trophy department, but there is a long way to go. And yes we are going to sign top-top quality players but so will all other title contenders. We will surely mount a challenge for titles but mounting challenge and being one of the top contenders for the same are two different things and surely for Arsenal it's not such a long journey rather a question of balance.