Half a century ago, Real Madrid were well into their journey of domestic and continental success. By the end of the 70s, Los Blancos had already won five league championships, two Spanish Cups, and six European Cups. Their sustained success, which has progressed into recent years, saw some of the best players in the world. These include the likes of Ferenc Puskas and Alfredo di Stefano, who made the Santiago Bernabeu their home.
With president Fiorentino Perez and the policy of signing global superstars (Galacticos), Real Madrid blossomed to more success and continental glory. Signing Cristiano Ronaldo in 2009 was the icing on the cake, and Los Blancos went on to win the UEFA Champions League four times in the last decade.
Madrid have had their fair share of goalscorers, perhaps most popularly the current Manchester United star Cristiano Ronaldo. However, Ronaldo is only one out of 11 players on the lineup. Every position, except the goalkeeper, in Real Madrid's history has enjoyed the presence of a brilliant player with a penchant for scoring goals.
In this article, with a 4-3-3 formation, we take a look at Los Blancos' top goalscorers in every position, starting with Iker Casillas.
---
Goalkeeper: Iker Casillas - 0 goals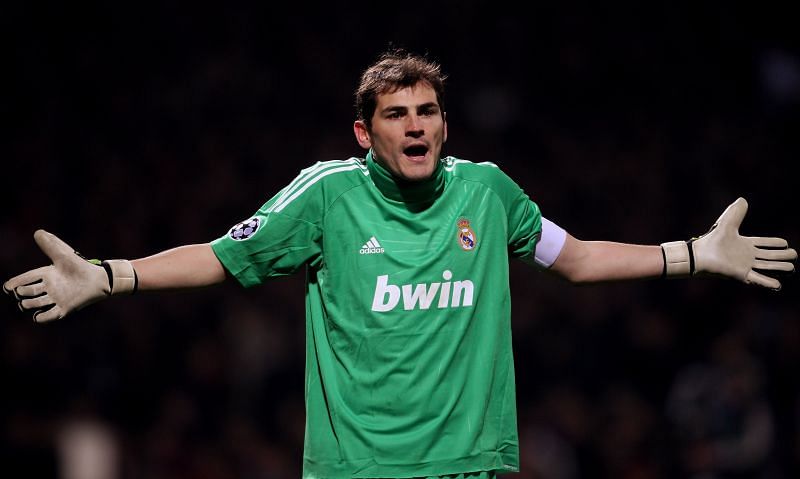 Making his debut at just 18 years of age, Iker Casillas wore Real Madrid colors from 1995 until his exit in 2015. The star goalkeeper, who has recorded 725 appearances for the club, is arguably the best player to ever defend between the sticks for Los Blancos.
Casillas won an astonishing 19 trophies during his time at the Santiago Bernabeu. It made sense when the club offered him a position after his retirement from football. He may not have scored any goals but the Spaniard will certainly be remembered for his shot-stopping abilities and his consistency under pressure.
Essential to Real Madrid's attacking fluidity, Roberto Carlos provided goals and assists with the finesse and skill of a left-wing forward. Joining Los Blancos in 1996, Carlos integrated immediately and spent 11 years commanding the club's left-back position. Arguably the best left-back of that era, it doesn't come as a surprise that Roberto Carlos scored 68 goals with his popular and powerful left-foot.
Carlos' high intensity speeding down the left flank saw him win 13 major trophies in his 11 years at Madrid. The Brazilian star also left Madrid on a high, winning La Liga before his exit in 2007.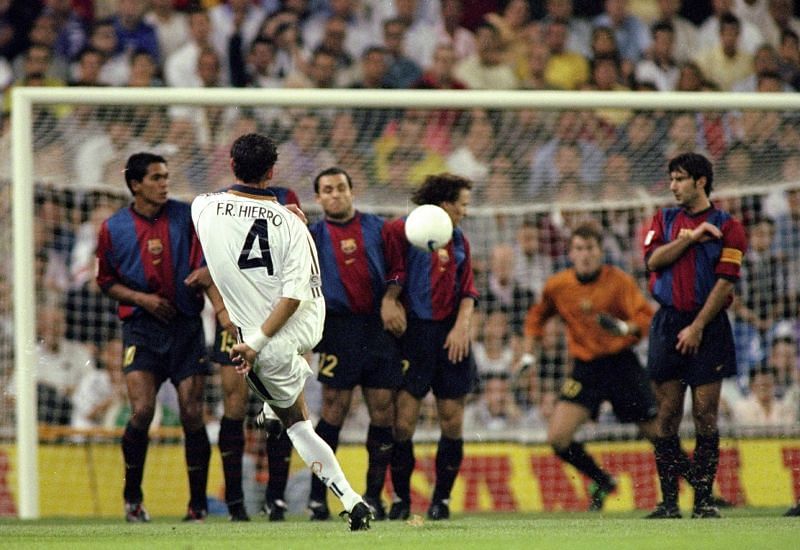 For someone who began his career as a midfielder, Fernando Hierro became one of the best defenders in the world during his prime playing days. Reliable, consistent and skilled with defensive awareness, Hierro's efficiency at the back was overshadowed by his clinical prowess in front of goal. Evolving the role of centre-back to the modern skilled, technical style, Hierro's work in the final third makes him the highest scoring centre-back in Real Madrid's history.
Making his debut with Madrid in 1989, Hierro would go on to spend 14 years at the Santiago Bernabeu, making 601 appearances and scoring 127 goals. He notably won 16 trophies with the club, including three European Cups and two Intercontinental Cups.
Center-back: Sergio Ramos - 101 goals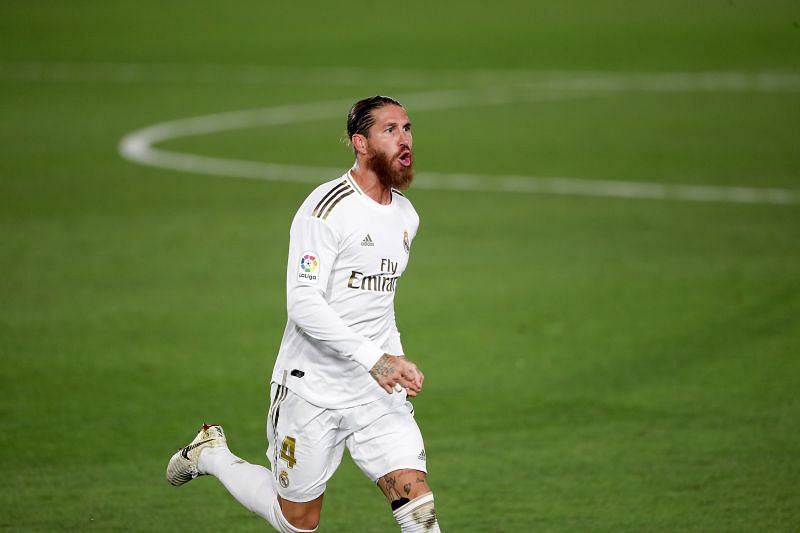 The current Paris Saint-Germain star is one of the greatest players in Real Madrid's modern era. Joining the club after a mass exit by star players in 2005, Ramos cemented his presence in the heart of the Los Blancos defense. Known for his ruthless tackling, aggressive marking, and brilliant defensive output, his goal-scoring nature made him a household name across the world.
Scoring more than a century of goals, the star defender has captained Real Madrid to three successive Champions League trophies. This is also inclusive of the 22 trophies he won with Los Blancos during his 16-year stint. Sergio Ramos appeared in 671 matches for Madrid, making him the fourth-highest all-time appearance maker in the club's history.
Right-back: Nacho Fernandez - 12 goals
With Ramos exiting during the summer, Nacho has become the longest-serving first team player currently at the club. Starting in the academy, the versatile star worked his way up to the first team and became a frequent face at the Santiago Bernabeu. So far, he has spent 20 years at his boyhood club Real Madrid, and with his newly extended contract, Nacho won't be leaving just yet.
And that's a good thing too. Nacho, who is capable of playing in every defensive position, has been a rock in the heart of Madrid's defense this season. So far, his successful career has seen the Spaniard rack up 17 trophies, including four Champions League trophies. In his 233 appearances for Los Blancos, Nacho has scored 12 goals.
Central midfielder: Pirri - 172 goals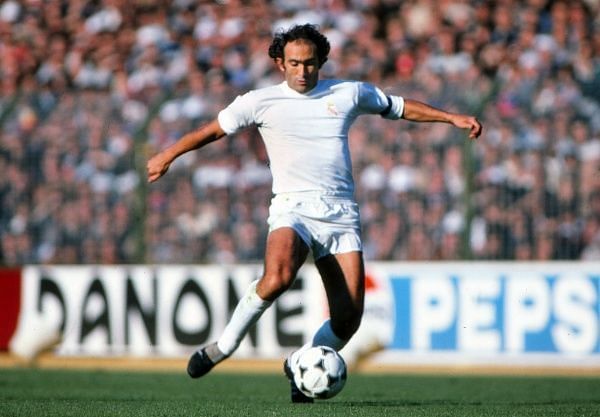 Seen as the true dynamo of the club in the 60s, Pirri was a dedicated and loyal servant of Real Madrid. Playing 561 games for the club, the former star scored an astonishing 172 goals. Notably, he was a highly versatile footballer, playing in midfield for most of his career while ending his Madrid journey as a centre-back. Pirri is also a recipient of Madrid's maximum distinction: The Laureate.
Highly clinical in front of goal, Pirri partly played as a make-shift forward during his time with Los Blancos. However, his workhorse style of play in midfield didn't stop him from racking up goals across all competitions. During much of Pirri's career, Real Madrid had serious dominance in Spain, winning La Liga 10 times.
Central midfielder: Guti - 77 goals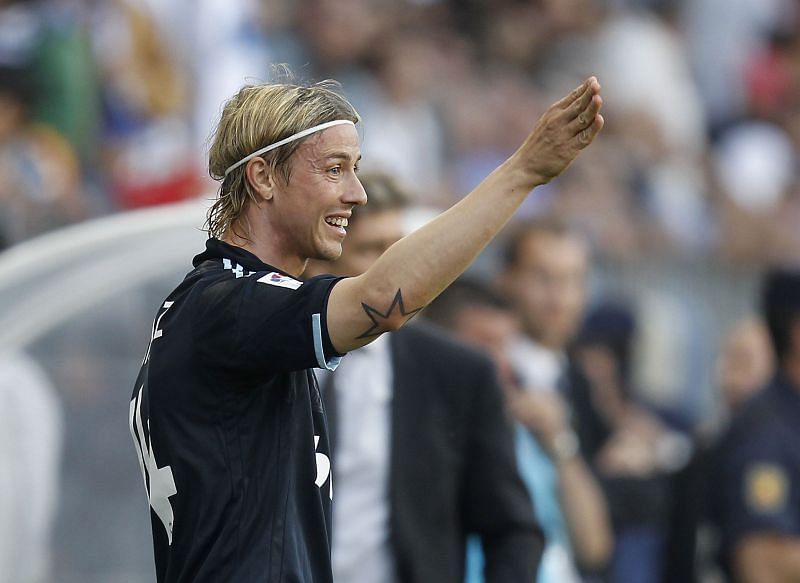 A Madrid-born-and-bred, Guti is a notable inspiration for many academy players who dream of the day they break into Madrid's first team. The star's vision and skill on the ball stood out almost immediately while he was in the academy. It didn't take long for him to make his first-team debut after performing for Castilla. Since making his debut in 1995, Guti went on to play 542 games for Los Blancos.
Committed and loyal to the club, Guti's name quickly became a constant from the lips of Madridistas. His vision and playmaking skills were a delight for the fans, but his sublime precision in front of goal took La Liga unawares. The star scored 77 goals, winning La Liga five times and winning 10 major trophies on the side as well.
Central midfielder: Jesus Alonso - 65 goals
Playing with Real Madrid for 10 seasons, "Chus" Alonso notably scored the first official goal at the new Santiago Bernabeu stadium on 28th of December 1947. He was known for his penchant for driving forward during attacking situations. His ability in the air and his eye for goal ensured he racked up 65 goals in just 159 official appearances.
Although Real Madrid wasn't a world-class team at the time, Alonso's vibrance and energy helped the team to a successful Spanish Cup campaign.
Left-wing forward: Cristiano Ronaldo - 451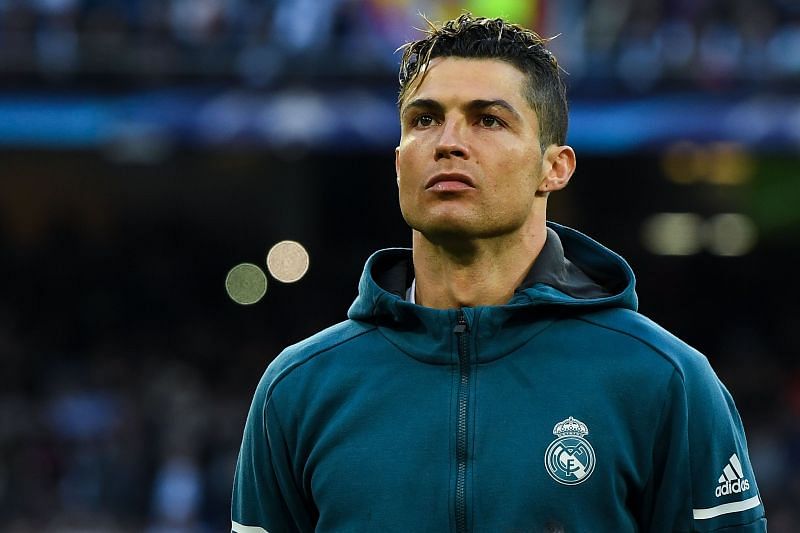 Notably, Real Madrid's all-time top goal scorer Cristiano Ronaldo is a massive part of the club's latest era of all-round success. Staying with Los Blancos for just nine seasons before his exit to Juventus, the Portuguese maestro scored a shocking 451 goals in just 438 appearances. Club president Florentino Perez once called Ronaldo the heir to Alfredo di Stefano, another classic goal-scoring machine.
Barely a season went by without a trophy or Cup of some sort during Ronaldo's era at the Santiago Bernabeu. The star picked up an impressive 16 trophies with Madrid, including successive Champions League triumphs and three Club World Cups.
Center-forward: Raul - 323 goals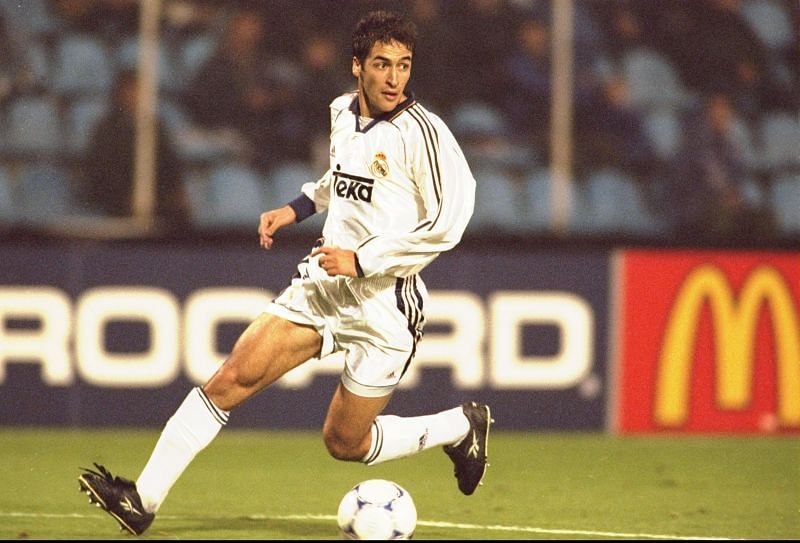 Seen as the symbol and representative of everything Real Madrid did, Raul was arguably one of the best players to ever captain the Spanish giants. Blessed with sublime instinct in front of goal, the former Spanish international was the perfect fox in the box. Playing at the Santiago Bernabeu for 18 years, Raul made a record-breaking 741 appearances, scoring 323 goals for the club,
Raul was also notable for his resolute character and determined mindset on the pitch. His leadership won him plaudits, but his work on the pitch was also impressive. Winning six La Liga titles, the star would go on to bring home 16 major trophies.
Right-wing forward: Alfredo di Stefano - 308 goals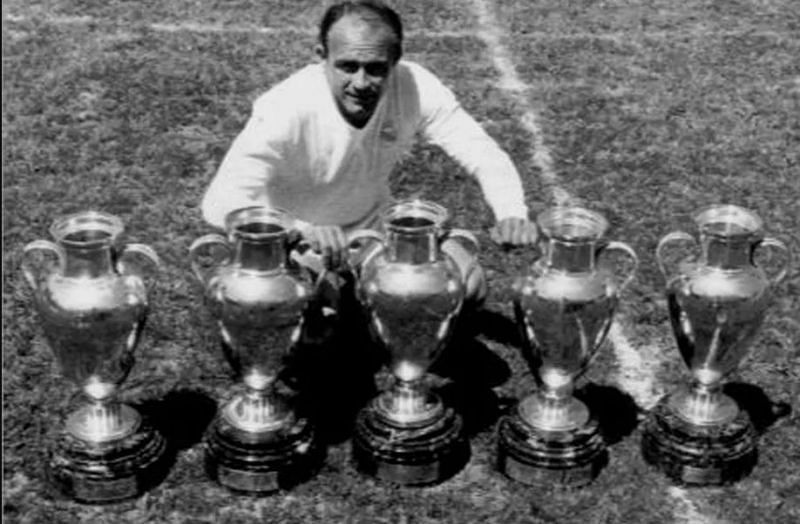 Decades before Raul and Cristiano Ronaldo would break his all-time goalscorer record, Alfredo di Stefano was the undisputed king of football in Spain. The former star spent just over a decade at the Santiago Bernabeu. But his astonishing performances made him an immediate legend with fans. Scoring 308 goals in just 396 games, there would be no one like Alfredo di Stefano for another five decades.
18 trophies in 11 seasons is pure brilliance, but it doesn't even compare to another major record that Alfredo di Stefano's Madrid still holds: the Dream Team won 5 consecutive European Cups. Notably, di Stefano scored in every single final of those five competitions, actively cementing his legendary status in the annals of Los Blancos' history.