How an apprentice trudges through on his road to footballing supremacy
1.23K //
30 Nov 2012, 22:36 IST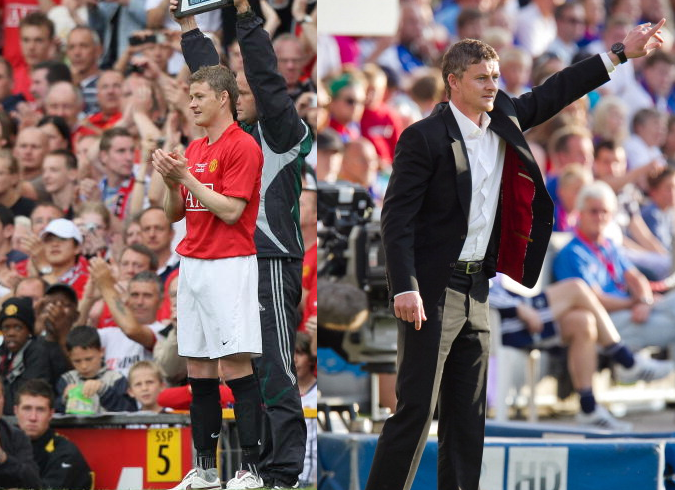 In front of their passionate set of fans stuffed in a 12,000 capacity at Aker Stadion, when Molde scored the second goal on the back of a swift counter-attack in the dying minutes of the game against the Norwegian might of Rosenborg, the sense of that exhilarating narrative was sketched perfectly with a slide on the turf – Fascinatingly familiar to the one which is carved deep inside every United faithful as a revered belonging from that night in Barcelona. Ole reveled another romantic date with football, as he thanked the game in his own special way that capped his back to back triumphant runs to the finish in the Tippeligaen league. Solskjaer had done it..again!
For the Molde contigent, Solskjaer's introduction in 2010 was nothing more than a return of their golden boy who deserved to have a go at it – failure and expectations wasn't something people ever asked from Ole. So again, even being on a trip that marked his homecoming, Ole was immune from pressure, or maybe it was just his persisting aura that overlooked all the matters off the pitch. He started off similar to his United career – The onlookers never thought of him as a headliner, while Ole always treated it as a shot to live his dream; and Molde meant a deep emotional connect for the Norwegian. When he left United's reserves side management responsibility for Norway, he took enough with him to build what he calls a 'mini Manchester United' at the heart of his hometown. The likes of Magnus Eikrem, now an integral part of Molde's midfield engine, who like Ole had infused a part of United DNA. He had his muti-faceted backroom staff, Mark Dempsey and Richard Hartis, and a first-hand experience to study the evolution of Manchester United under the wings of its prime catalyst, Sir Alex Ferguson – Solskjaer was ready for his testing homecoming.
What the Norwegians looked for was an identity to provide a footballing model close to the locals' expectations at Molde. With Ole, they had nothing one would not like about the man – A person you'd give a job at times without even giving a look at a CV. He embodies a sense of humility that demands respect and gratitude from every part of his surroundings with minimal exertion of his authoritative persona. His ambitions spoke more about his intentions than anything else, as not many managers before treated it more than a stepping stone – but for Ole it was a matter of living up to a responsibility to deliver at home.
Molde came second in the league 7 times before Ole's tenure, but had never won the league. Ole believed that he had what it took to push a good unit to its utmost potential. He unlike many other upcoming managers decided against major renovations in the side but believed in putting unlimited faith in the available resources. He understood that breaking the stranglehold of the Trondheim side Rosenborg off the league crown would need an unchanged foundation, which as in United manager Ferguson's case, had to be reliant on experienced shoulders. He kept faith on Daniel Hestad, his veteran skipper and once teammate, to pull the strings at the hub of the midfield, while the likes of Davy Angan, Diouf and Daniel Chima shouldered the responsibilities of keeping the goals coming for the Norwegian Blues. With a host of options upfront, Solskjaer, who triggered his Molde reign with a traditional United-esque 4-4-2, was tempted to switch to an adaptable 4-3-3 that could assist full backs scampering forward on the flanks. He has always been in favour of football that yielded goals and still could consistently scrape the results every week – to be precise, he had put together a system that battled for points and promised to improvise at will.
OGS' managerial fact-file highlighting his '

United DNA'

- Solskjaer's Molde scored a total of 51 goals in a 30-game Norwegian league, this past season.

- 20% of the total goals in the past two seasons under OGS have been headed past their opponent – talks a lot about their wing-play.

- Molde were relentless in the dying moments of their league games as they scored 10 goals in the last ten minutes phase – a stat reminiscent to any United season in the past two decades.

- Solskjaer may not have a threatening hairdrying treatment as his revered master, but he does make an impact at half-time. His side has scored 8 league goals in the first 10 minutes after the break – and that cannot be mere coincidence.

 - OGS, like Fergie, rotated its squad to full effect, with 16 of the 25 squad members racking up more than 1o league appearances in a 30-game season.
It's his fervour to manage and control change with an effervescent guile of fiddling with his resources that amazes the fans, and most of it is seen when he's in the midst of training routines. He wouldn't leave it all on the coaches, as he cares too much to be doing that. It's still that perfectionist side of him as a striker, an avid on-field learner that makes him feel so restless at every lost opportunity, even if it's on a training pitch. And if you still find it difficult to picture a mild mannered Solskjaer going berzerk at the training sessions, this short clip may help.
However, that's just one side of his man-management. He could still be a friend by your side when things refuse to work your way or your first critic on days when you look for an honest opinion – Ole is a role player par excellence.
Ole's aspirations to be a manager from a very young age made him keep a log of every training session, team-talks, and even the dietary plans in a diary during the entire span of his playing career. It's fascinating to see a manager taking a cue from his own experiences, and it's these minute details that separates him from other elite managerial talents in Europe.
"That manager was always in me. I was at a stage when I wrote what we did in every single training session and then there was a period in my career when I wrote a mental diary as well. It was quite interesting because I struggled with low confidence at times and I used to write about how I reacted mentally to Roy Keane giving me a b******ing, for example, or missing a chance. I was more alert to how I was thinking."

 – Solskjaer, on his tendency to keep a mental note 
Of course, with his Old Trafford connections, one cannot stop comparing him to his idol that recently completed 26 years being a focal figure at the heart of Manchester; and to be fair, there are some striking similarities between them. While Ferguson came to the fore after breaking the Old Firm dominance, attaining Scottish league glory with Aberdeen, Ole, now has back to back titles in a league that has seen Rosenborg winning 17 times in the last 22 seasons. Moreover, Ole has been notably appreciated by his league rivals on inducing an efficient rotation policy at Molde – another leaf out of the Scot's managerial rule book. While the learning Norwegian apprentice admits that he tailored many of his managerial attributes on Fergie's tested measurements, one just cannot envisage him being anything close to his master as the two hold possess a completely different set of ethics.
"I can't compromise and be someone else. 'When I was a player I could never be Giggs, Scholes, Beckham, Cantona or Keane. It's the same with the gaffer. He's got a few traits that suit me but others that don't. I try to make that into Ole Gunnar Solskjaer the manager."

–  Solskjaer, on his comparison with the United gaffer 
With the media indicating his name after every managerial sacking of late, it's rather inevitable that Ole will make a journey back to the English shores in the near future. Several quadrants of Manchester also believe in him to be the rightful successor of his master at Old Trafford, but that may well have to wait for some time. For now, let the man enjoy his time on the sidelines of the footballing drama and prepare for his date with destiny.
Though, it would be fitting if we find him crossing our path on the Busby way with his managerial toolbox, gunning to deliver another football-bloody-hell moment.