How Arsenal became this season's 'Comeback Kings'
702 //
08 Mar 2012, 00:21 IST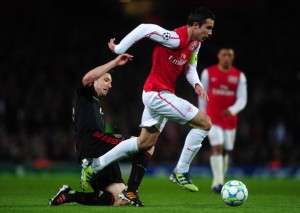 After 7 games this season, Arsenal had only 7 points which included 2 wins and 4 losses. No team has ever come back from such a stuttering start to get into the top 4 of the Premier League. Yet, that is where Arsenal find themselves with 11 games left to play. A club that has often seen its season derailed almost every year by the time February or March comes around, has suddenly been galvanized into a resilient fighting unit that has now accumulated 16 points from losing positions this season – more than any other Premier League side this season. So the question on everyone's mind is; what on earth happened at Arsenal?
Captain Vantastic scores when he wants
The Flying Dutchman has soared to new heights this season, already accumulating 25 goals in the League and 32 goals in all competitions. Wenger was questioned when van Persie was given the captain's armband but he has led from the front and inspired his team to some terrific performances. Events that come to mind are the hat-trick at Stamford Bridge, the comeback against Spurs in the North London Derby and, more recently, a brace against Liverpool at Anfield (which was Liverpool's first loss at home all season). Arsenal haven't had such a prolific goal scorer since Thierry Henry, and van Persie looks all set to beat Henry's club record of 30 goals in a Premier League season. He already has one hand on the Golden Boot award as his nearest competitor is Wayne Rooney with 18 goals. To put his scintillating form into perspective, Liverpool have scored only 30 goals this season.
But it's not only his goal scoring that's being talked about, it is his ability to create goals as well. With 8 assists to his name, he is the only striker with more than 2 key passes per game. His leadership qualities have come to the forefront many times this season and he epitomizes the fire and passion of a leader that wants his team to perform to their fullest and get results, something that was missing with previous captains like Cesc Fabregas and William Gallas. Simply put, Robin van Persie is enjoying the best year of his club career; as a player as well as a leader.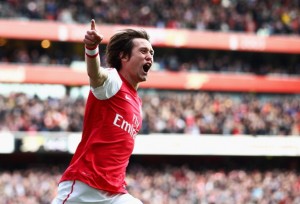 Mozart's Second Symphony
Tomas Rosicky's second coming could not have come at a better time for Arsenal. Arsenal's midfield 'Mozart' has in the past couple of months exorcized the ghosts of his injury plagued years and has been the key player in the middle of the park for the Gunners. For being criticized for his lack of commitment to the cause at the beginning of the season, the Czech captain has suddenly shown that he may be a force to reckon with this season.
Replacing an inconsistent (and now injured) Aaron Ramsey in the eleven, Arsenal's midfield suddenly looked more fluid and attacked with a purpose. His surging runs, crucial tackles and ability to keep the ball and hold off his marker, and his sudden pirouettes to change the direction of the attack has been a delight to watch. Fans could see what it meant to him when he scored a Premier League goal after almost 2 years that put Arsenal into the lead in the derby. The only aspect of his game that he needs to work on is his final ball. But he can now lay claim to the attacking midfield role in the remaining fixtures this season.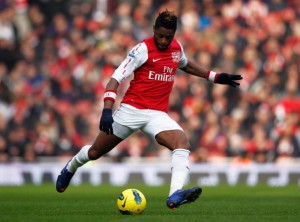 Arsenal has only one Song
Chants of "We've only got one Song" reverberated around the stadium when Alex Song wriggled past Borussia Dortmund's back line and laid it on a plate for van Persie to score. There is no other defensive midfielder in the League who possesses such creativity. For instance, he leads the table in accurate through balls per game (0.7), ahead of players like Luka Modric and David Silva. In fact, if you compare his passing stats with those of Cesc Fabregas at Barcelona, they are almost on par! Although Fabregas has more goals, Song has made more tackles and interceptions.
His tireless runs through the midfield and across the pitch, his ability to break up play and protect the back four has seen him become a cult figure at the Grove. And he has forged a great partnership with Mikel Arteta in Jack Wilshere's absence.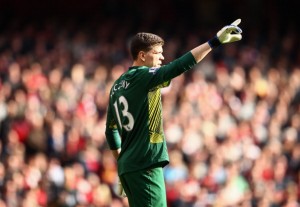 The Pole between the poles
In a season that has seen a mad goal rush, the goalkeepers have not had it easy. But even after conceding 8 goals at Old Trafford, Wojciech Szczesny seemed unfazed. It was his crucial penalty save against Udinese's Di Natale that propelled Arsenal into the group stages of the Champions League. And more recently, his world class double save off Dirk Kuyt's penalty showed the world his potential talent.
At the young age of 21, he has a long career ahead of him and he seems to be getting only better. His honest demeanour and a need to improve on his performances every game has seen him mature into one of the best shot stoppers in the League. He is still prone to the occasional mistake or mix up with the defence. But his instant decision making skills when it comes to clearing the ball, gathering it or even come off his line has seen him out perform his counterparts between the sticks.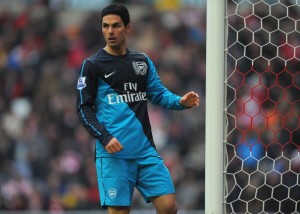 Summer reinforcements
As Wenger ran through the aisles of the transfer market on the last day of the transfer window, fans were pleasantly surprised to see some experienced players join the squad. Two notable mentions are Mikel Arteta and Per Mertesacker (I've already written about how important an addition Mikel Arteta is to this side). The composure in the midfield and the organization in defence was a welcome sight. For a change, Arsenal fans did not avert their eyes when they conceded a set piece with the tall figure of Mertesacker being a big confidence booster with his positional skills.
Their abilities coupled with their vast experience aided van Persie in the dressing room, something this young side lacked in the past few seasons. With the feisty Belgian Thomas Vermaelen as the vice-captain extending his contract at the beginning of the season, the side now had a rich mix of experience and youth which led the team out of dire straits and set them on course in the right direction.
The Gunners looked demoralized after a remarkable 3-0 win at the Emirates against AC Milan. Again, like last season, they were just one goal shy of having a chance of qualifying for the quarter-finals of the Champions League. But they can take heart in the fact that they are currently on a winning streak. Four consecutive wins in the League while the other sides have dropped points have now made Arsenal firm favourites to secure a top 4 finish.
It will be up to Arsene Wenger and Robin van Persie to lift this side that now has self belief entrenched in them. And with just a 4 point gap separating them and Tottenham, they look like they could reel them in and take the 3rd spot too, thereby securing automatic qualification to the UEFA Champions League. Going by their performances in the Champions League this season, where they topped a difficult group with a game to spare and giving the Italian champions a run for their money, one can safely say that it is where Arsenal belongs.
It is where they have belonged for the past 14 years.
Stats from WhoScored