How can the 4-1-4-1 rejuvenate the Gunners?
1.49K //
11 Mar 2013, 16:23 IST
 "What does this Frenchman know about the game? He wears glasses and looks more like a schoolteacher. Does he even speak English properly?"
This was the first reaction when influential captain Tony Adams and Mr Arsenal when Arsene Wenger was first appointed Arsenal manager in the August of 1996. While many criticized the decision hinting "a non British" manager would never succeed at the Gunners, The Evening Standard greeted the Frenchman with a subtle headline "Arsene Who." Many claimed Wenger had been handed the job due to his close relations with the then vice-chairman David Dean. What followed could only be deemed as a match made in heaven. Together with assistant Pat Rice, Wenger forged an era of the invincibles on whose shadows the current azure skies of Emirates are turning grey. With influential players like Cesc Fabregas and Robin Van Persie leaving for greener pastures and several of his first team players injured, the frowns on the forehead of Wenger look curvier than ever. Sitting seven points behind perennial rivals Tottenham and five behind The Blues from Stamford Bridge, securing a Champions League spot next season looks tougher than ever. Only Arsene would know it's not easy as it currently seems to be. With many of the Emirates faithful contemplating whether the Frenchman would be in charge next season, I surely feel the departure of Mr. Wenger could only worsen the current situation. Surely, Arsenal can't even dream of moving forward without Mr. Arsenal himself.
Trophyless since their FA Cup triumph in 2005, Arsenal's trophy cabinet doesn't have anything to boast about. Well it's sad to say they haven't been real Premier League Contenders since and questions over whether the current crop can emulate the Invincibles has only one answer. They haven't won a domestic cup competition and recent losses to lower tier teams like Bradford and Blackburn Rovers haven't helped the cause either.
Here we take a look at what Wenger can come up with if they are to come anywhere close to challenge for silverware next season. They have always been criticized for not playing the formation they have are best suited to even when they have the right crop of players. So let's start by taking a look at a new formation which if implemented, can surely muster the success they have been looking for.
The new look 4-1-4-1
While attacking: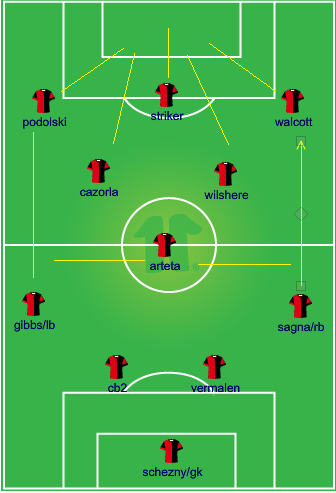 The basic 4-1-4-1 formation is clearly shown in the pitch map; with a regular back four, a central defensive midfielder, two central midfielders (one with more attacking mindset), two wingers and a clinical striker. The flexibility of this formation helps to play two wing backs who can charge down the wings and help the attackers. As the above pitch map shows, the team can deploy a 5 man attack supported by the two wing backs. While Arteta plays the defensive midfielder role, Wilshere is the crux of the team and Cazorla with his attacking instincts is the focal point of attack. Having Podolski and Walcott on the left and right wing will help when they cut inside against the weaker foot of the opposing central  defenders. This allows acres of space for the wing backs to deliver crosses. The pitch doesn't have the striker's name for I don't think Oliver Giroud is suited for EPL. Arsenal need to spend in this department and have to rope in a clinical striker who can score about 25 goals in a season. Now having said that, we are not sure whether Mr Wenger is going to break the bank, but top strikers like Soldado, Lewandowski or Edison Cavani look realistic targets.
Style of play:
When it comes to keeping possession, there is no team better than Arsenal in the EPL. But having said that, these young players need to be very patient just like Barcelona, who draw opposing defenders out of positions and  eventually make them wilt under pressure. One main feature of the Invincibles was that if they were immaculate while going forward, they were outstanding and untouchable during counter attacks.
Replicating the counter attacking strategy with this current crop and playing the Viera role.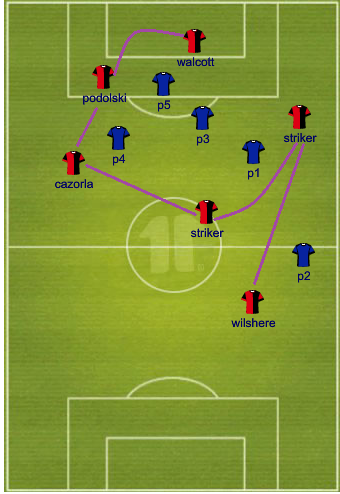 The above counter attack shows Wilshere playing the Viera role who passes the ball to the striker who can hold the ball and has the natural ability to skip past a defender. He then plays the ball to Cazorla who sends a through ball to Podolski. The German now lifts the ball to Walcott and the finish is sublime. This style of play makes the pitch wide and players like Arshavin and Oxdale old Chamberlain who haven't been used can come handy in pressure cooker situations.
While Defending: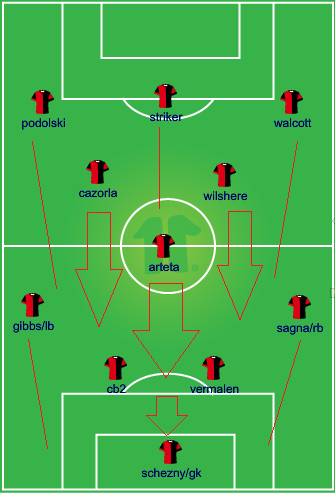 We have always heard that its the attackers who are the first line of defence. Let us go by the popular theory that whenever the opposing team have the ball, the attackers close down the defenders so that they are forced to clear the ball. Having a packed midfield and deploying the four in tandem means closing down the gaps for the opponents to pass at will. As the pitch map shows, the red arrows show where the other team are likely to build their attack on. If you can close that gap and flood the midfield, it helps the defenders to a great extent. Having said that, however, one requires proper training to implement this philosophy. The wing backs also have close down the gaps for crosses and ensure the opposing wingers can't cut inside.
Some questions which Arsenal face in reality if they are anywhere close to challenge for the coveted EPL trophy :
Who will play the Viera role?
Who will be that chunk of inspiration when chips are down?
Who will take the role of Tony Adams?
When and how are things going to change for the good?
Some possible solutions:
Wenger needs to build around Wilshere just like he did it around Viera. A clinical striker is a must come this summer. He also has to make sure the most important players don't leave for other clubs and what's more important is building the right squad which will have enough depth to beat anyone.
One main feature to Arsenal's inconsistency has been their average shot accuracy which stands at just 47%.  Though they have had a lion's share of possession in most games, they haven't killed those games. With an average pass length of 18 m, there have been times where they have played about 15-20 passes but haven't gotten anywhere. Hence a player who can make darting runs and one who can penetrate deep into the opposition half should be brought in immediately.
Having said that Wenger is an astute coach and knows best what he is doing. But the patience running out for the Emirates faithful. So will Arsene finally change his strategy and play his trump cards next season?
Arsenal fans would be eagerly waiting; surely time will provide an apt answer.