Toni Kroos: How good is he for Manchester United?
3.38K //
21 May 2014, 17:45 IST

Less a phoenix rising from the ashes and more a scaffolding around the rubble that was the David Moyes era, Manchester United's new manager Louis van Gaal is in for a busy summer if he is to restore the club to former glories and ensure that last season's seventh placed finish was merely a blip.
First on his list of possible transfers looks to be Bayern Munich midfielder Toni Kroos, with reports yesterday suggesting that Man United have agreed a deal for Kroos. The 24 year-old was one of a number of central midfield players linked to the club over the summer to fill a weakness that has been glaring for much of the season.
Their charitable approach to games at Old Trafford, losing more home games this season than the previous two combined, is well documented and can in part be put down to the lack of a creative midfielder to open up sides that put men behind the ball and break on the counter attack.
Kroos could well be that man, but how does he compare to the other mooted targets linked over the past year? A list of players that United were said to be interested in reads like a who's who of central midfielders in world football, with Cesc Fabregas of Barcelona, Roma's Kevin Strootman and Juventus pair Arturo Vidal and former United youngster Paul Pogba all among those allegedly targeted.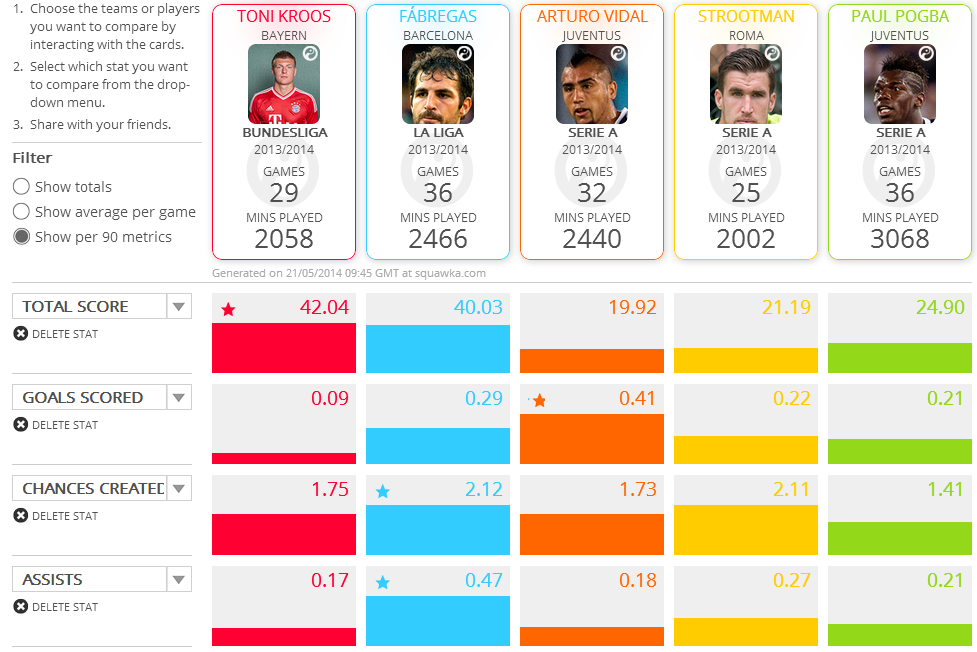 By Squawka Performance Score, Kroos tops the list. The midfield metronome has a performance score of over 42 per 90 minutes played, with Fabregas in second. Part of this can be attributed to Kroos playing for a Bayern side that stormed the league and netted a higher cumulative Performance Score as a team than Roma, Juventus and Barcelona, but even when accounting for their team Kroos scores highly.
His per 90 Performance Score is 10.2% of Bayern's per 90 score, behind only Strootman, whose performances have seen his per 90 score make up 18% of Roma's per 90 score.
Kroos' Performance Score may be higher than his rivals, but in attacking output he is slightly behind. Fabregas emerges as the highest scorer and chance creator per 90 minutes, although he has been deployed as a false nine on occasion, with Kroos lowest on goals scored per 90 and middle in terms of chance creation.
Forty chances created in 29 games is by no means a poor score, especially when compared to five chance Fellaini and the rest of United's current midfield, but Kroos is not as prolific in creation as Fabregas or Strootman based upon the season just gone.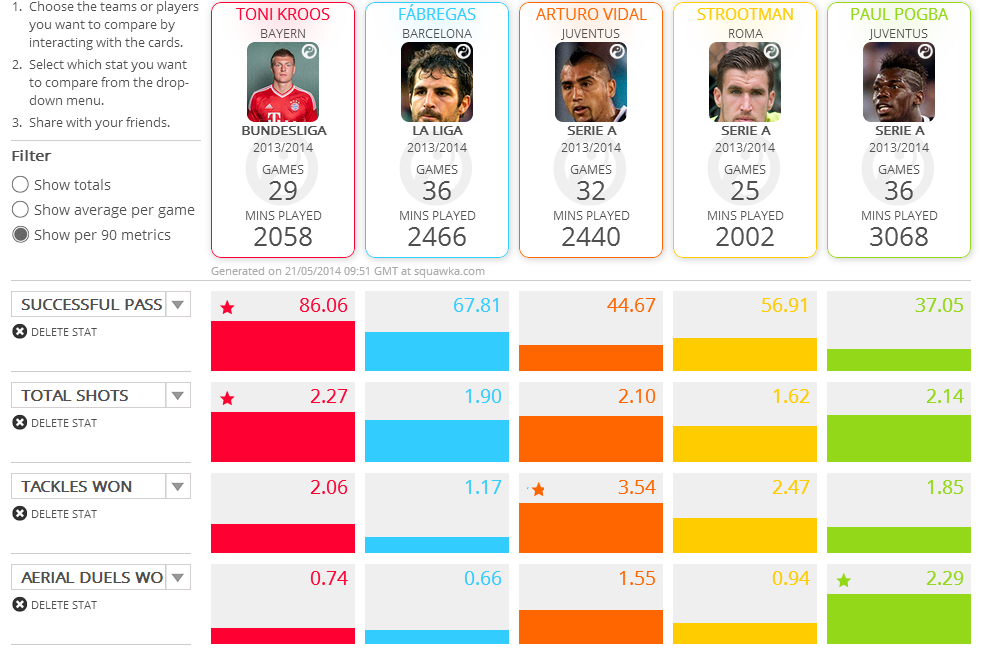 Unsurprisingly, for a Bayern player in Pep Guardiola's current side, Kroos has registered the highest number of passes per game out of the selected quintet. Even for Bayern, his 86 passes per 90 minutes is impressive. Only one player in the Bundesliga has made more passes per 90 minutes than Kroos, who possesses the ability to dictate play in a way that none of United's current midfield can.
Kroos doesn't have the physical box-to-box ability of some of the all action midfielders on the list, having made fewer tackles and won fewer aerial duels than the likes of Vidal and Strootman and won fewer headed duels than Pogba, but does bring a calmness in possession to United that makes it easy to see why he has been targeted.
Against Arsenal in the Champions League last 16 first leg, Kroos completed 144 passes, albeit against a side reduced to ten men, while against United at the Allianz Arena he made 70 passes to Darren Fletcher's 16 and Michael Carrick's 22.
Kroos' stats stand up to comparison with United's other mooted targets, although he is not as physically strong in the tackle and air as some of the other targets. Alongside someone like Marouane Fellaini, or another new signing, this would not be a particularly big problem and with his ability on the ball giving United a new dimension that they have been lacking from central midfield United look well on their way to a successful rebuild with the Kroos signing.
With Premier League experience, more goals and more assists, Fabregas may have been the ideal signing for United, but Kroos looks a good fit and Bayern's loss is certainly United's gain.