There was a time when the debate over who the best trio in Europe was was a battle between Real Madrid's BBC and Barcelona's MSN. No other team really came into the picture.
But Neymar's departure to Paris Saint-Germain and Gareth Bale's injuries have put that debate to bed for good. Neither Barcelona nor Real play with a front three anymore; with both teams playing variants of the traditional 4-4-2.
PSG then tried their luck by bringing on board Neymar to join forces with Edinson Cavani and "loan signing" Kylian Mbappe. The plan seemed to work before egos clashed and ultimately the trio fell apart following the Brazilian forward's long-term metatarsal injury.
Amidst all this chopping and changing, Jurgen Klopp had done what would become arguably the best piece of transfer business last summer - signing an Egyptian forward for £34m.
Outrageous at the time. Pittance now.
There is a lot one can say about Mohamed Salah. But this isn't just about him. The fact that he has dove-tailed perfectly into Klopp's lineup and thrived has eviscerated opinions that the one-time Premier League flop from Chelsea simply could not handle himself in England's demanding top flight again.
With Roberto Firmino and Sadio Mane playing in support of and benefiting from Salah's presence on the pitch, it begs the question: do Liverpool now have the best attacking trio in Europe right now?
Salah was the missing piece in Liverpool's attack
Ever since Klopp's arrival in England, he has been trying to replicate his successful philosophy at Dortmund - playing out from the back, using the forwards as the first line of defence, and the hell-for-leather, pedal-to-the-metal football that has been characteristic of the German manager's teams.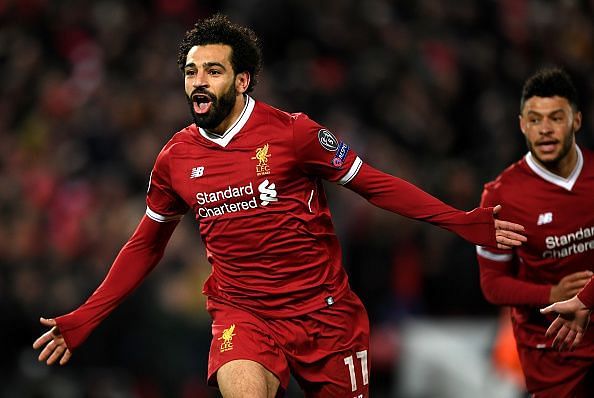 Of course, he did not have the personnel required at first but a few transfer windows slowly fixed that. Philippe Coutinho's departure would have seen managers struggle to maintain the same level of consistency, if not improve it, but Klopp persisted with the 4-3-3 system that has been very successful in the Champions League with zero defeats.
What Salah provides Liverpool is a combination of skills - almost like he has the best qualities of other world-class players rolled into one wiry package of speed and skill. He dribbles like Lionel Messi, has the goalscoring form of Cristiano Ronaldo (albeit with a left foot) and movement in the box like Luis Suarez.
Before his arrival at Anfield, Coutinho was their main threat in attack. But there were instances when he couldn't find a way through, resorting to shots from distance until one of them invariably went in.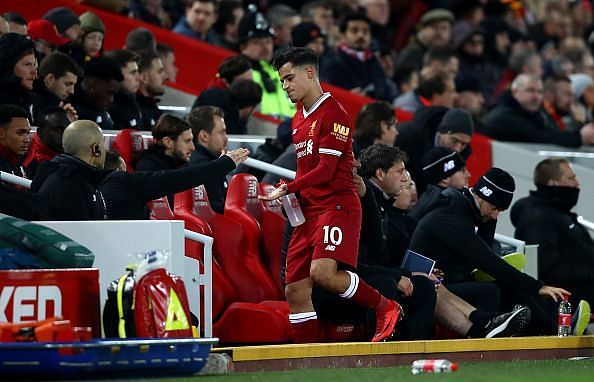 That is not the case with Salah, though. His industry and his clever movements which are in synch with the rest of the team allow him to get into the right positions to take advantage.
How else can one explain 38 goals and 11 assists in all competitions in his debut season?Defenders fear him and only a very low block has so far been effective against the Egyptian as Mourinho proved at Old Trafford.
Also read: 5 players who silenced critics this season
But to score or assist a goal every 66 minutes in the Premier League and Champions League combined is to put him on the same pedestal as Messi and Ronaldo this season.
Firmino and Mane - the ideal pair to support Salah
Mane's importance seemed to have dwindled following Salah's arrival but Coutinho's departure was just the thing he needed. The Senegalese midfielder is now, quite literally, the driving force behind Liverpool's attack.
11% of Liverpool's goals in the Premier League have been on the counter-attack and it is Mane who usually initiates them. His off-the-ball runs also help stretch defences so the likes of Salah can exploit the space left behind.
Be it picking up the ball from defence or running at defenders, Mane's tireless give-and-go approach is one of the reasons why he is able to make runs into the box and score when he gets the chance.
On the other hand, Firmino is one of those players who doesn't get enough praise for what he does on the pitch. Yes, he does get credit for his goals and assists. But there is so much more to the Brazilian's game that goes unnoticed until we watch replays.
Only when the game is slowed down do viewers see what Firmino does in and around the box. Liverpool do not deploy a traditional no.9 that plays on the shoulder of the defensive line unlike other top sides in England and Europe. But Firmino's other abilities make up for a lack of a true centre-forward.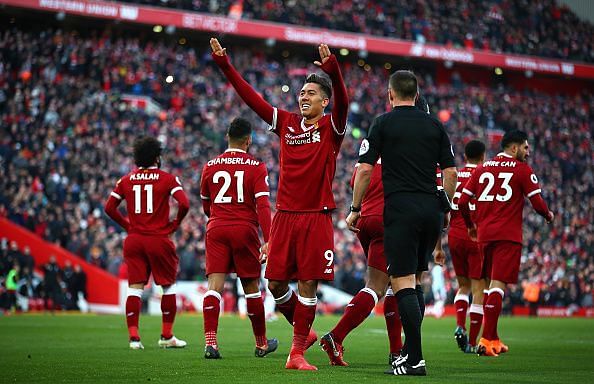 Off the ball, nobody else has better movement in the Reds' side. Whether it is dropping back, making diagonal runs or stealing in behind the defence - Firmino has mastered the art of being at the right place at the right time in the box.
And Klopp couldn't have asked for a better player who can lead their gegenpress when they lose the ball.
Can Liverpool win the Champions League?
The simple answer before the knockout stages was a definitive 'No'. But Klopp's side have come such a long way in the past few months that they certainly are the dark horses - just like AS Monaco were last season.
"Klopp's teams always perform at the highest when they face the best teams. I don't think there was a team remaining who wanted to face Liverpool.
"They work so hard, they play so intense and aggressively with the quality of players they have - especially up front." - Bayern Munich defender Mats Hummels
An overwhelming majority feel almost all quarter-finals are done and dusted with Real Madrid, Barcelona, Bayern Munich, and Liverpool pretty much assured of a semi-final spot. The first three teams are perennial semi-finalists.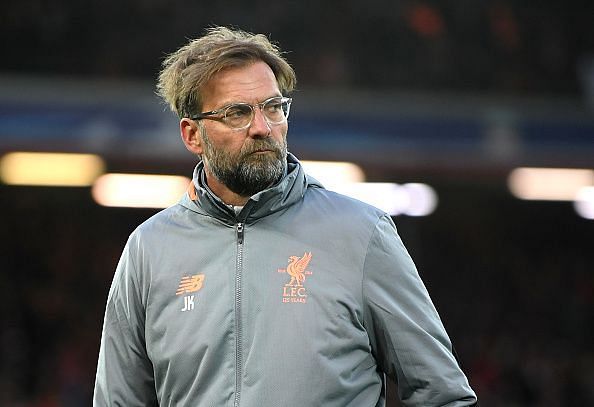 Liverpool, on the other hand, are in their first quarter-final in nine years. Not many teams have beaten Manchester City this season. Liverpool have beaten them twice. A fearless approach to games is what makes them so dangerous.
"We beat the best team in the world. It's always possible to beat them, but really rare." - Jurgen Klopp
Klopp does not demand that they be the best team. But he does make them very capable of beating the very best. And with the attacking trio plundering goals at will, no top European team will want to try their luck against the Anfield side either.