How will the AFC Cup affect East Bengal and Churchill Brothers in I-League?
830 //
10 Dec 2012, 22:06 IST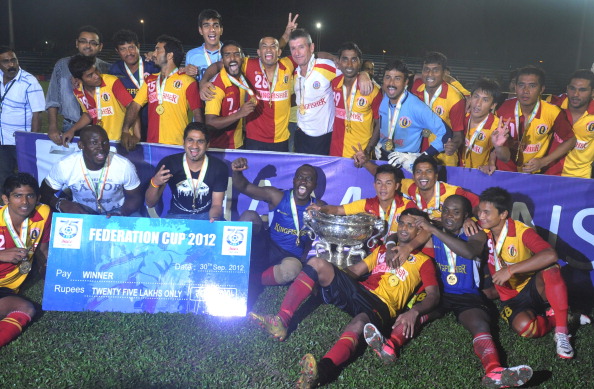 The AFC released the fixture list for the 2013 AFC Cup group stage on Monday as India's representatives East Bengal and Churchill Brothers got to know their schedule in Asia's second tier club competition.
Federation Cup champions East Bengal will be playing in the AFC Cup for the fourth straight edition and will also be making a record equalling seventh appearance.
Churchill Brothers only got into the competition as I-League holders Dempo withdrew due to ground unavailability in Goa. As East Bengal finished runners-up in the I-League, third placed Churchill took Dempo's place to make their second appearance in the tournament, and will be playing their home games at Pune's Balewadi Sports Complex.
Both sides look to be the only threat to current league leaders Dempo in the I-League title race but would now have to play six extra games and deal with international travelling in between I-League matches.
Clubs who have played in the AFC Cup have consistently failed to win the I-League, with Dempo being the last club to win the league title in the same season when they featured in the AFC Cup. The Goan club managed that in 2007-08 when they also reached the last four of AFC Cup.
East Bengal and Churchill Brothers will have their work cut out in order to manage two different competitions, but this term's threats of fixture congestion are not as much as it used to be previously for Indian clubs.
The first two matchdays (March 5-6; March 12-13) are at a time when there are no I-League matches, as the league will have a break from February 10 – March 23 due to the India national football team's participation in the AFC Challenge Cup 2014 qualifiers.
Although that would mean the clubs would be without the national team players, it would certainly not affect their I-League plans.
Matchday 3-5 will be the real challenge for the two sides as they would most probably have to play three games in a week, something which players in Indian football are not used to. Matchday 6 won't be a problem as its scheduled for April 30-May 1, by when the I-League will be over as per schedule.
Sportskeeda analyses the difficulties of the two sides between Matchday 3 and 5.
Matchday 3
I-League matches before AFC Cup games: March 27: Prayag vs East Bengal; Salgaocar vs Churchill Brothers
AFC Cup fixtures: April 2: Churchill Brothers vs Singapore Armed Forces; April 3: Tampines Rovers vs East Bengal
I-League matches after AFC Cup games: April 6: Churchill Brothers vs Pune FC; April 7: East Bengal vs United Sikkim
Analysis: Both sides will get a break of at least six days before their AFC Cup ties with East Bengal, who will be playing away, ideally getting an extra day. Both clubs will also be happy to have home games after their AFC Cup games but as we will already be in April, the coaches might field weakened teams in AFC Cup as there will be pressure to get full points in home matches also.
Matchday 4
AFC Cup fixtures: April 9: East Bengal vs Tampines Rovers; April 10: Singapore Armed Forces vs Churchill Brothers
I-League matches after AFC Cup games: April 14: Churchill Brothers vs Dempo; East Bengal vs Sporting Clube de Goa
Analysis: This program of games will be give both clubs the biggest problem in their I-League title run-in as their round 24 games on April 14 will be their fourth game in 12 days. Churchill Brothers in particular will have a really tough challenge as they will be up against Dempo after playing away in Singapore.
Matchday 5
I-League matches before AFC Cup games: April 20: Dempo vs East Bengal; April 21: Mohun Bagan vs Churchill Brothers;
AFC fixtures: April 23: Selangor vs East Bengal; April 24: Churchill Brothers vs Kitchee
I-League matches after AFC Cup games: April 27: Air India vs Churchill Brothers; April 28: East Bengal vs Shillong Lajong
Analysis: The matchday five fixtures are sandwiched between the final two rounds of the I-League. It will be interesting to see what kind of teams the clubs field in their AFC Cup matches if they are both in title contention and stand a chance to reach AFC Cup knockouts. Both East Bengal and Churchill Brothers have difficult away games before the AFC Cup matches while the red-and-gold brigade also have to travel to Malaysia  in between the I-League games. Overall Churchill Brothers have the added problem of going to Pune for their home matches and thus will have to travel on all six matchdays.
Group E: Kitchee (Hong Kong), Singapore Armed Forces (Singapore), Semen Padang (Indonesia), Churchill Brothers (India)
Churchill Brothers Fixtures
March 5: Kitchee vs Churchill Brothers
March 12: Churchill Brothers vs Semen Padang
April 2: Churchill Brothers vs Singapore Armed Forces
April 10: Singapore Armed Forces vs Churchill Brothers
April 24: Churchill Brothers vs Kitchee
May 1: Semen Padang vs Churchill Brothers
Group H: Tampines Rovers (Singapore), Selangor (Malaysia), Sai Gon Xuan Thanh (Vietnam), East Bengal
East Bengal Fixtures
March 6: East Bengal vs Selangor
March 13: Sai Gon Xuan Thanh vs East Bengal
April 3: Tampines Rovers vs East Bengal
April 9: EB vs Tampines Rovers
April 23: Selangor vs East Bengal
April 30: East Bengal vs Sai Gon Xuan Thanh