Is there an identity crisis at Manchester United?
7.02K //
06 Sep 2014, 09:51 IST
The summer of 2014 will long be remembered by Manchester United fans. It will be remembered as the 10th time that Manchester United, in its history, broke the British transfer record. It will be remembered as the first time in a long time that United signed a whole host of players – most of them first-team ready. It will be remembered as the summer when they got rid of Nani by essentially paying for his departure.
And then, it will be remembered as the summer that Manchester United as we know it – or knew it, rather – lost its identity. Or did it?
Deadline Day shocker
Right until the last day of the transfer window, there was plenty of clamouring for replacements; this, even after the record capture of the player that, arguably, made Real Madrid tick last season – Angel Di Maria. The midfield was reinforced in the shape of Daley Blind who, while not a Vidal or a Pogba, is still a solid addition that is most welcome. The defence badly needed reinforcements and in flew Marcos Rojo, who, again, while not a Hummels, is almost certainly an improvement on Smalling at the very least.
And then there was Falcao. The last minute – literally – loan signing from Monaco had the Old Trafford faithful divided. While no one really doubted his pedigree, there were questions on where he would fit it and whether he was worth it. The long answer to those questions demands a post in itself but the short answers to the two questions are thus: up front, and absolutely.
Then again, Falcao was but one side of the coin. The other, and more intriguing side, was the sale of Danny Welbeck. A side plot to this was the loaning of Tom Cleverley. These two departures, more than any other, have led to this all new buzzword – identity – briefly eclipsing Van Gaal's own philosophy.
Now while I do agree that the two lads were United through and through and that their moving on does represent something, I still do not side with the faction that wails over an identity crisis. In brief, here's why.
Why Tom Cleverley had to leave
At one time, he looked like a world-beater. In those first few games of the season when United lost the title on goal difference, Cleverley quite simply was masterful. Everything he did was brilliant.
He was everywhere. He was outstanding. And then he got injured.
When he returned, things were never the same again. Now some might well call the turn of events unfortunate but then again, what happened did happen, and that, as they say, is that. Last season he was average, to say the least (and I know that I am being charitable here). While he was not the only one to blame for the fiasco last term, he didn't help much either.
There are no two ways about that. With the summer arrivals, he was never going to get a game, let alone a good string of games, this term. And the absence of European football does not help. Simply put, it was time to move on and so he did. Albeit on loan.
We all do wish him well. We really do. But for the time being, there simply was no place for him. Period.
The logic behind Danny Welbeck's move
With that out of the way, it is time to now turn to the more interesting of the two – Danny boy. Manchester born and bred. The local lad who made it big. Or always had the potential to, anyway. The one who was collateral damage in the Van Gaalacticos, or whatever the coinage may be. The boy who was never given the chance he should have been given. The boy who could have been.
I think it is time to stop that rhetoric and pause for a breath. Emotion is a wonderful thing. Logic, however, is more potent.
Welbeck's best position, as is claimed by multiple people who say that he has not been given a fair crack of the whip, is up front. If we were to continue on that line of thought, here is a question. Who would you rather have in your team starting up front – Welbeck or Falcao? Now, of course, the most die-hard of you would say Welbeck. But honestly, put your hands on your hearts – to symbolically remove emotion from the equation – and answer that question.
There is another line of thought. From this season's evidence – from games thus far – both Wayne Rooney and Robin van Persie look off-colour, and Welbeck may well have been given a chance. The season, however, is hardly three games old, and only after the end of this transfer window can anyone realistically expect Van Gaal's tactics to show some sort of signs of coming together.
Honestly, with Rooney, Van Persie, and Falcao fit and in form, Welbeck, for all his virtues, would be hard-pressed to get a game. In either a 3-5-2 or a 4-3-3, he would have to get ahead of not only the aforementioned three but also Adnan Januzaj, Juan Mata and Angel Di Maria, who could play in a number of those positions that Welbeck would have otherwise played in.
These things considered, it simply made sense for him to leave. He has had potential for a long time now, and it is not that he has never had chances to show that potential. The truth, however difficult it may be to admit, is that he has not taken his chances as best as he could have. The story about the miss against Manuel Neuer is a case in point.
Sure, maybe he was not given an extended run up front, but that was not because he was not good enough; it had more to do with the fact that the people ahead of him were better. Van Persie in his first season was a prime example.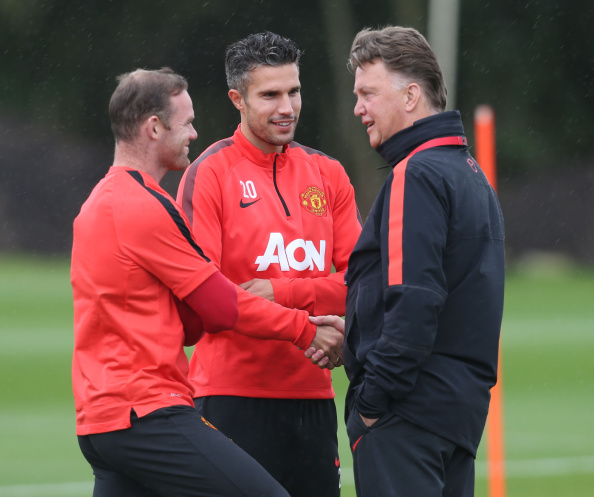 Welbeck is 23; a time in his footballing life when he wants – and needs – to play every week. In all honesty, that would not have happened at United. There are simply far too many players who are ahead of him – either in ability or in the eyes of the manager.
At Arsenal, especially with the injury to Olivier Giroud, he is guaranteed a run in the first team and, in all likelihood, in his preferred position. Also, Arsenal play the sort of football that he would probably thrive on. In a purely footballing sense, it was a perfect move. A move he had to make. One that he did. For footballing reasons, more than anything else.
Welbeck is a very good footballer. But is he a better finisher than Falcao? Not likely. Is he a better target man than Van Persie? Not too sure. Is he more versatile than Rooney? Not quite. Whichever way one looks at it, Welbeck is not quite in the league of the other three forwards. He might well become one. And, as a United fan, I really do hope that he does go on to the next level with Arsenal. But at United, his immediate future did not really look all that bright. Hence, he left. Accept it. Move on. It is time.
Oh, and as for the question of identity, and of bringing home-grown players through or rather, the deviation from it, who do you think Welbeck figured was ahead of him in the pecking order? I'll give you a hint; or a few. He is tall. He is blond. He is one hell of a finisher. He is from the academy. Go figure.