Player Focus: Improving Eriksen firing Spurs back towards top four
1.68K //
21 Jan 2015, 19:27 IST

In all the discussion about Tottenham Hotspur's recent surge of form, and amidst all the drama of so many late goals, there's been one area that manager Mauricio Pochettino has been rather reluctant to touch on - or, rather, a series of individual areas.
The Argentine doesn't really want to get into praising single players, because it cuts across the collective ethic he's trying to create. At the same time, it's been difficult to deny that one individual has been more influential in this surge than most, and seemingly bought into Pochettino's approach more readily than most.
That is of course Christian Eriksen, who is apparently becoming the decisive and dominating player that was long expected when he began to earn so many plaudits coming up through the ranks at Ajax. He's been Tottenham's star, the stand-out individual. Most conspicuously, the forward has hit three impressively late match-winners this season, and his goals - 5 winners as a whole, one equaliser and another in a 2-1 win - have been directly responsible for 13 points. That is more than any other player in the top flight, including the league's standout performers in Alexis Sanchez (12), Sergio Agüero (7) and Diego Costa (5).
It should not be surprising, then, that Eriksen is also the eighth top scorer in the league, with a total of eight strikes overall. That's all the more notable because he was a player who so often seemed so flighty last season, who often suggested better, but rarely followed through with that extra application.
Spurs' chaotic 2013/14 circumstances probably had a lot to do with that, especially for a youngster adjusting to a first year in a new country. Now, a new manager and system appear to have released Eriksen, because it's obviously not just about the goals. Instead, they seem the consequence and culmination of a changed game.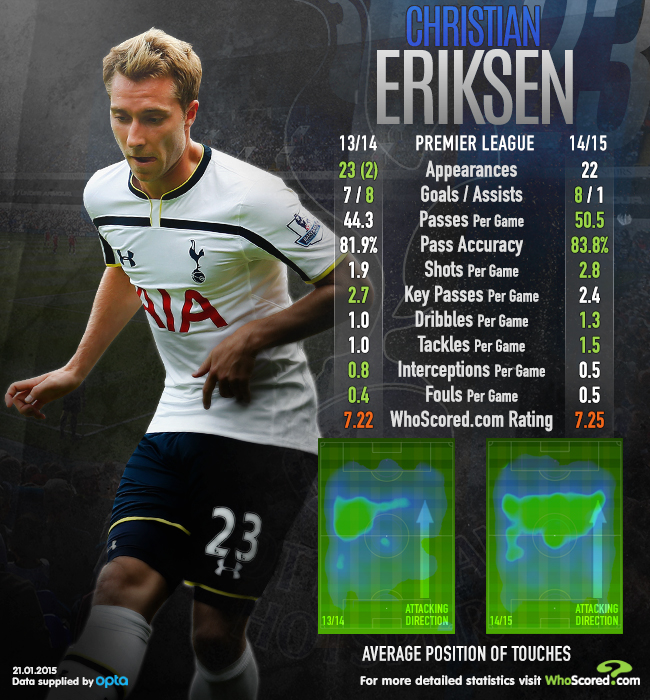 Take his overall contribution, not least to the overriding aspects of Pochettino's entire philosophy: that pressing and energy. Eriksen is offering more tackles (1.0 to 1.5), and fouling that bit more (0.4 to 0.5). If the interceptions have gone down slightly, there does seem more edge to his game.
Spurs' new aggression and abrasiveness evidently starts from the front, but it has also led to much livelier general involvement. Eriksen is simply so much more active. The stats reflect his transition from someone too often on the fringes of play to the team's bona fide star player. The Dane is shooting more (1.9 to 2.8), dribbling more (1.0 to 1.3) and basically just getting on the ball more, playing 50.5 passes per game rather than 44.3.
If his number of key passes and assists have both gone down - although he's still as high as 12th for key passes in the league overall, with 2.4 - it's because Tottenham's more progressive approach more often has Eriksen in the middle of attacks rather than always trying to move them from behind.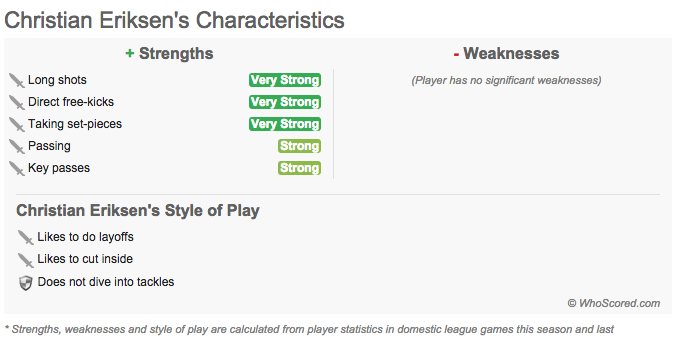 The wonder is how long this can go for. It's rare enough for one player to score so many clutch late goals, and rarer still that a 22-year-old who is not Leo Messi stays so consistent and productive for an entire campaign. At times, it has seemed like Eriksen's extreme run of form has just about covered Spurs, ensuring their inevitable adjustment period hasn't been as checked as it might have been. That is likely to run out at some point.
The other side of that is that there are clear signs that the rest of the team are improving, and it is just that Eriksen has adapted much more adeptly. That is testament to both Pochettino and the Dane. The manager's stated big mission at Spurs this season has been to alter that notorious mentality, to make them hard-edged winners, and the first successful step has been altering Eriksen. He's developed a genuine winning edge.
It may not last, and it probably won't be enough to get top four this season - but real progress has been made. Eriksen looks the real deal. He is an individual inspiring the team to reach a higher level.