In Brendan we trust
959 //
06 Nov 2012, 11:28 IST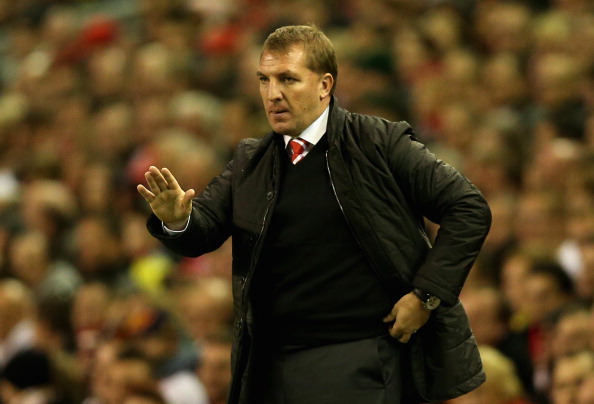 Scattered around a handful of offices and conference rooms in the States across America are the men who control Liverpool Football Club. This band of high rollers, whose decision making has seen them rise to the fore of one of the world's most affluent sports investment companies, need to make one very simple decision this January. To open their cheque books and spend some money.
The man faced with doing the dirty work in restoring Liverpool to their former glory, Brendan Rodgers, has had to start the journey with his hands tied firmly behind his back. Suffering from the claustrophobia of purse strings tightened after the transfer failings of his two predecessors, his first job as manager was to slash the club's swollen wage bill, and in doing so, has had to shed his squad of, among others, four of their  top six goalscorers in 2011/2012.
The club surrendered their League Cup crown last week with a disappointing 3-1 defeat to Rodgers' old club Swansea, and their worst start to a league campaign in over fifty years has seen them stutter to a paltry twelfth position, securing only two wins. Devoid of any real fire power in the final third, they've scored only thirteen league goals. Bottom placed Southampton have scored fourteen.
But it's not all doom and gloom. Brendan Rodgers is often described as a media darling, and for good reason. He is young, British, promotes an exciting brand of football, and has a faith in young players that has left football writers purring at the potential of a long time with him at the Liverpool helm. It is this youth policy that, despite present short comings, affirms Rodgers as the man to redirect this great sporting institution back towards success.
His handling of Raheem Sterling has been nothing short of genius, elevating the seventeen-year-old from academy hopeful to bona fide England squad member in just a couple of months. Jonjo Shelvey has gone from strength to strength under his leadership, Spanish starlet Suso has been retrieved from the wilderness to make a big impression in the first team, and the little known Andre Wisdom has repaid his manager's faith with a string of assured performances in the place of the injured Glen Johnson. The Europa League, of course, has seen so many other young starlets cut their teeth on the first team stage. Such a bold, if perhaps a little enforced, investment in the future of Liverpool FC has been sadly lacking since the Europe-slaying days of  Bob Paisley and Joe Fagan.
The facts and statistics remain, however. Liverpool is a club badly under-performing  and the reason in simple. Whilst other facets of the Rodgers vision are falling into place – possession, movement, control, it all falls into insignificance when you don't put the ball into the back of the net. It's a telling statistic that if you were to take away the goals and assists of Luis Suarez, his side would sit dead bottom of the league with two points. Liverpool don't score enough goals, they don't have enough class in the final third, and it is here that the business men need to dust off their cheque books.
'In Brendan We Trust' the fans say. It's time his employers do the same.