Indian Football: Will We Ever Reach The Promise Land?
1.06K //
27 Jul 2011, 12:57 IST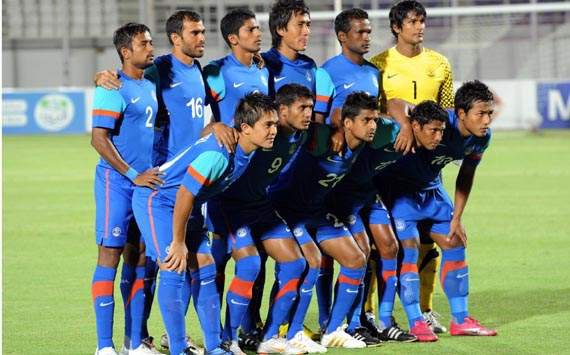 It's been a dream for every Football lover in India to see the men in blue lift the FIFA World Cup at least once. But to lift the trophy we need to qualify first and are we doing enough to match the standards at a Global level?
We have everything in our country: money, man power, resources. But are we directing them properly?
Rewind back to 1983, a Golden year in the history of Cricket in India, we became the world champions. Since then people started worshiping cricket and cricketers, but unfortunately almost every other sport took a back seat in the priority list of our sports culture (Don't grill me for this. I am a cricket fan too).
India won the Cricket world cup again in 2011. Does this mean, a spotlight over cricket for another 27 years?
India is a country with a vast population and undoubtedly, enormous talent. We have talented people in Tennis, in Badminton, in Swimming, in other sports as well, but are we doing enough to identify them?
Let's come to the point, Football in India.
Why the sports ministry is not giving importance to the sport spreading widely among the young blood? The training facilities, the infrastructure for football in India is worse than that of a school or college of any European country. How can we expect to progress with this kind of attitude towards the sport?
Almost nothing is being done on this front to improve the current situation, all the funds allotted for the improvement are going to the pockets of ministers. Why? Well, simply because no one cares.
A cricketer is paid crores of rupees just for hitting sixes while on the other hand, the footballers remain unpaid for months at a stretch. The League meant for promotion of football, I-League is going on 'just like that' without any aim. The teams sign Nigerians and other footballers just to make sure the show goes on smoothly instead of carrying out talent hunts which will help them to bring out the best footballers in the nation. We can surely bring out more Sunil Chettri(s) and more Bhaichung Bhutia(s) and more Subrata Paul(s), but the question is about the intent of doing it.
People do not care about the Indian team because of their performances, but how can they perform without the 12th Man, the fans? Recently, India registered a historic win against Qatar in a friendly. It might not be a great achievement, but it is definitely a statement of intent from the team that they can go all the way if shown the right way.
The team needs us, the team needs support and the sports ministry needs a signal from the football fans that this ignorance will not be tolerated anymore. It's time for Revolution. Revolution begins with actions. Just show them that we are as passionate for our team as any other fans from any other country. Attend matches, buy Indian football team's merchandise. Shout your heart out in supporting the men in blue.
Give them support, they will give us Glory.
No matter what, I will support my team, whether they win, lose or draw. The support will gradually turn into a force that will break the resilient ministry to take a big step to revolutionize Indian Football.
Football for Life, Indian for Life
And Bleed Blue
Indian team is set to face the UAE team in a World Cup qualifier match in Delhi's Ambedkar Stadium tomorrow. Do try and make it to the stadium. And if you can't, do watch it on TV. The match will be LIVE from 19:00 (IST) on Ten Action+ and 24 Ghanta.
Coach Armando Colaco speaks about his team's chances.
India's star striker Sunil Chhetri's opinion on the match.
Edited By: Ambuj Gupta