Interview with goalkeeper Gurpreet Singh Sandhu: I had offers from I-League and ISL, but stayed in Europe
8.13K //
19 Jan 2015, 15:46 IST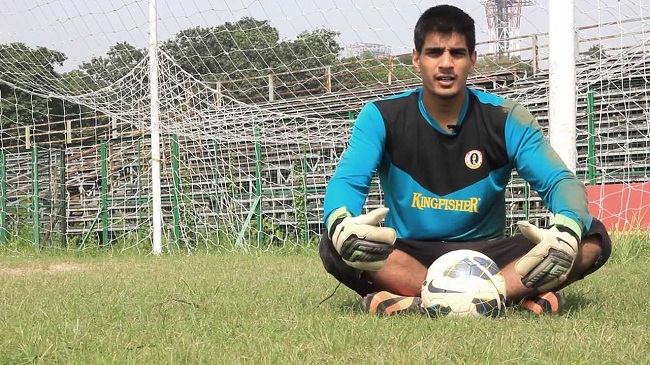 On 15 August 2014, on the day of India's 68th Independence Day, goalkeeper Gurpreet Singh Sandhu penned a deal with Norwegian Tippeligaen outfit Stabaek FC. The move made him only the fifth Indian footballer to ply his trade abroad. After a season with the team as their substitute goalkeeper, Gurpreet finally got his chance to play in the club's 4-1 victory over Follo Fotballklubb this weekend.
India had to wait for 79 years to see another footballer play in the top division of a European league after Mohammed Salim donned the colours of Celtic in 1936. We had the opportunity to talk to the 22-year-old about his time in Norway and his future plans.
How has the Norwegian Tippeligaen and Stabaek FC experience been so far?
It has been a privilege to be here and experience the standard of European football. I'm glad that I'm here and cherish every moment of it. Every single training session helps me learn something new and, in turn, makes me a better player.
After making more than 100 appearances for East Bengal, how has the transition from Indian football to European football been? What are the differences, when it comes to training?
I think I'm lucky to be able to make more than 100 appearances for a club as prestigious as East Bengal. I thank them for everything they have provided me with.
The level of football in Norway as compared to India is very different; the atmosphere and the amount of professionalism in every single department are very high. Over here, every single player is nurtured so that they can move forward and become an asset to the club in the future.
You are the only Indian footballer playing in a top flight club in Europe right now. Could you explain to us how it all happened?
I had already made up my mind after finishing the 2013/14 season that I will try my chances with Europe, at any cost. Budgie (John Burridge) knew Espen Granli, the Stabaek goalkeeping coach from the days when he sent Al Habsi to Norway.
So thanks to him I got a shot at coming down here to take part in the trials. I came and trained with the first team and the club was happy with my development. In a month's time, they offered me a contract. But I couldn't sign at that point because the transfer window in Norway didn't open till August. I signed as soon as the window re-opened.
You left at a time when the Indian Super League (ISL) was at its planning stage. Do you feel the decision to play in Europe has been justified so far?
Yes, it has. Otherwise we wouldn't have been sitting here and talking to each other, don't you think? (laughs). I wanted to chase my dream, so I took the gamble of ignoring the offers in India. I think the risk has paid off, so I'm extremely happy.
What are the new goalkeeping aspects that you have inculcated into your game?
Since I have arrived, I have been working on all the aspects of my game. The aim is to try to and adapt to the European style of play. Also, I do whatever is required to perform consistently. A keeper can't rely on one aspect to further his game – he has to maintain all of them.
Did you have any role model, while growing up?
I used to follow Edwin Van Der Sar a lot and, of course, our very own Subrata Paul.
Paul bhai has guided me throughout my career since my East Bengal days. His relentless support has not stopped even after I moved to Norway.
Bob Bradley's move to the Norwegian league surprised a lot of people, considering his experience with the USA national squad. So how is the experience of being coached by him?
I think I'm very lucky to play and train under Bob. He is a true professional and has a strong character. He always supports the team through thick and thin. Bob keeps up with all the developments of every player in the team. He is extremely detailed in his approach.
How are you dealing with the cold conditions in Norway?
(Laughs) It's only a matter of time, I'm already getting used to the conditions here.
Has the language been a problem, considering Stabaek has many different nationalities in their squad?
No, it hasn't actually, everyone here speaks good English and it's easy to communicate with the staff and players.
You climbed your way to the top through the Indian football youth structure. How different is the system in Norway?
In Norway, if they notice young talent, the clubs try to develop and nurture them. The training methods provided to the kids is professional in nature. They are provided with all the basic amenities which even professional players in our country are not able to garner.
Sayouba Mande, the team's first choice goalkeeper was a part of the Ivory Coast World Cup squad. How has the experience of working with him been?
Mande is a great guy and I have learned a lot of things from him. From training to matches, he has always helped me out. Since Mande has been here for over three years, he has developed a lot and I feel proud to be the teammate of a World Cupper.
Did you receive any other offers during your time in Europe and before that?
Yes, there were offers from India, specifically from the I-league and the ISL. However, I knew my future was in Europe. If I didn't sign for Stabaek, I would have tried to sign for a Spanish club as some interest was shown from there. Everton were also interested.
What do you miss about India the most?
Of course, the thing I miss the most is Indian food. Apart from that, Norway is a very quiet place, so I really miss the noise as well (laughs).