Interview with Yogesh Joshee, CEO MatchWorld Limited
9.83K //
03 Mar 2011, 15:55 IST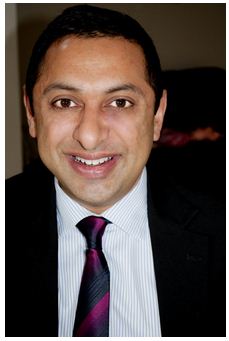 India had Mohammed Salim playing for Celtic in the early 20th century and the icon of India, Bhaichung Bhutia playing for Bury FC towards the end of the 20th century, but in the age of 24/7 media, in the 21st century, it has been Sunil Chettri's tryst with QPR and the Kansas City Wizards that had Indian soccer fans captivated in 2010. The man behind that deal was his agent Yogesh Joshee, the CEO of the Match World Limited. Mr Joshee is currently one of the most famous football player agents in India.
To understand more about how international transfers work, we spoke to Yogesh who was generous with his time.
Harmit : Please tell us about your family, childhood and formative years.
Yogesh Joshee: I was born in India but my family is actually from East Africa. My grandfather moved to Kenya in 1940 and to Uganda 5 years later. In 1965 he moved back to Kenya and then to England in 1972. Whilst in Uganda, my grandfather was the General Secretary for the Indian Gymkhana and arranged a match for Mohun Bagan. So there is some family history in the game.
My family moved to England again when I was just 18 months old. I was brought up in England and in school days I played football a lot as I always loved it.
Harmit : How did the transition from an investment banker to a football agent take place?
Yogesh Joshee: My brother-in-law is a professional poker player and he once took me to a PFA event where I spoke to many players and coaches about Asian and Indians in football. It was then that I decided to get involved. The transition was not easy. In the process I met with Kenny Moyes, brother of Everton coach David Moyes, and we decided to work together. Kenny had a lot of experience and  contacts in UK and had the understanding of India and Indians. So the partnership went well.
Harmit : Before we talk about the possibility and process of Indian players being signed to play overseas, can you share with your thoughts on why we have not had a British Asian break through in the EPL? Is it a case of traditional Indian parenting holding the kids back?
Yogesh Joshee: This is not entirely true as one of my clients in Michael Chopra and he has made it to the EPL and has played Champions' League football! Now he wishes to play for the Indian national team too. However, it's true that traditional Indian parenting in the 70's and 80's hindered more involvement in football. But at present there are many third or fourth generation Indians here. I believe this will change the scenario as the Indian people are more integrated into the UK society now.
Harmit : Does Match World Limited only operate in the player transfer market? What is a typical day or project in the life of a player agent?
Yogesh Joshee:: As such there is no typical day in the life of an agent. We work on player transfers as well as match arrangement. We also work on branding for clubs and corporate. For example, if an EPL club wants to attract more fans in India or an Indian firm wants to use the EPL as a platform to market their brand they consult us. We have many enquiries from the Indian business firms to buy or invest in the EPL clubs. Look at how much mileage the Venkys have got from buying a premier league club- they are now a national or may be even a global brand!
Harmit : Why should players only work with a recognized player agent and what should they look for in an agent? Do clubs even bother to look at the emails or DVDs that they probably get bombarded with?
Yogesh Joshee: When the bigger clubs get bombarded by emails, they only look for things only from the agents they have previously dealt with and have faith on. Believe me, trust goes a long way in this profession. There are many agents who promise a lot of things seldom deliver in reality.
Harmit : Typically, at what age groups do clubs in Europe sign players for their main squads?
Yogesh Joshee:: It varies depending on the situation. But normally a player would get their first professional contact at 18. It can sometimes be even 21 depending upon the perseverance of the player.
Harmit : For players from India who are not in the national team, is it realistic to expect that they could ever land a deal with a club in Europe?
Yogesh Joshee: : Unlikely, they have to play in the national team to prove they are one of the best in the country.
Harmit : Given that India's FIFA ranking is held against it (as in the case of Chettri and QPR) when it comes to playing in the UK, should Indian players be looking at other leagues rather than the UK? Which countries would be ideal for Indian players to play in and prove themselves?
Yogesh Joshee: : I think the player needs to prove themselves in India first, but I can understand some of the players are frustrated with the way in which the clubs in India are run or are being managed and the lack of infrastructure. The good players deserve the opportunity and outside India there are many good places where they can ply their trades like the USA, Australia, Korea, Middle East and even some of the European countries.
Harmit : What would your advice be to young urban kids in India who harbour the dreams of playing in the leagues of Europe?
Yogesh Joshee: : Work hard, don't give up, find a good club and prove your worth on the pitch, I would welcome any questions they have to enquiries@matchworld.tv.
Harmit : Many thanks for taking the time to speak to us.
Edited by Soumitra kapri