Is Kevin Strootman the next Owen Hargreaves?
2.78K //
11 Mar 2015, 19:50 IST
Think about Dutch football and certain generalizations prop up in your head. The beautiful seamless football of the total variety, the phalanx of youth academy products raring to be the next big thing and last but not the least the lack of trophies for all their footballing supremacy.
This dearth of silverware has been questioned time and again considering how the national team as well as the Dutch Eredevise has been able to churn out talented players even after the heydays of the Cruyff led total football and their last major trophy (1988 European Championship) that had plethora of big names including Van Basten, Koeman, Gullit and Rijkaard.
Talent has never been an issue but chiming in all these wonderfully talented footballers has been. From ego issues that saw the much celebrated Clarence Seedorf hardly play for the national team to injuries cutting short career of some of the crème de la crème Dutch talent (a list that has illustrious names like Marc Overmars and Marco Van Basten) have stopped them from achieving the glory that we all know they are capable of.
Injuries have been the bane for quite a few current day Dutch players as well, from Robin Van Persie to Arjen Robben who have had their constant issues with injuries in past to the latest case of Kevin Strootman.
The AS Roma midfielder has been in the news in the past few weeks for all the speculations surrounding his recurring injuries and him being able to sustain a long-term career. Strootman, having recuperated from the knee injury that sidelined him from the world cup, was touted to be back to his normal self by this time of the year. But what has transpired into a sorry story sees him being operated once again for the dreaded anterior cruciate ligament injury.
Anterior cruciate ligament (ACL) related injuries are dreaded because of their disruptive nature. The ligament is of great importance as it is aides the knee in movement and swift changing of directions. To recover from any damage to this ligament is one of the hardest bits for an athlete and it usually requires time for the proper treatment.
Long term injuries are always watershed moments in a player's career. Not only does it require the stipulated time frame of rest and recuperation to come back to the game but it checks one's mental fortitude as well. To suffer a long spell on the sidelines and bounce back immediately to the earlier levels is something not always possible.
More than often there are other smaller incidental issues that are related to the injuries, that come to surface as was evident with Strootman's case after one resumes playing. To be able to withstand so much and more is a big task and so is being away from the sport for that long.
Hargreaves lost his battle with recurring injuries
Football history is riddled with players who were unlucky enough to call it a day on their sporting career due to injuries. Owen Hargreaves is one such player. Hargreaves' story is similar to that of Strootman's due to the fact that Hargreaves also had recurring issues with his injury. The English midfielder had trouble with his knees that saw him sidelined for majority of his Manchester United career.
Eventually it was left to him marketing his fitness on Youtube to further his case for employment. Despite looking like an ideal signing and a coup for the Red Devil when he was signed from Bayern Munich, the Canada-born Englishman was unlucky not to become the fulcrum of United's game play. A midfield dent that has till now typified United's shortcoming, a dent that perhaps Strootman was tipped to fill.
Yes, Hargreaves played in a similar role to that of Strootman. Though Hargreaves was more malleable to play in a variety of midfield position which he displayed in his injury-marred career, most iconic of which was starting on the right side of United's midfield in Champions' League final against Chelsea. But both these players have the same kind of midfield engine room sort of a persona on the pitch.
Strootman needs to recover mentally as much as physically to make a comeback
Going box to box, adding that touch of creativity along with the defensive play. While it is conjectured that Strootman is slowly slipping down the same slope as Hargreaves, but it may not actually be the case. Even Strootman was quick to dispel any rumours stating an end of his career adding that he would be back for next season despite the latest procedures performed on his knee.
Unlike Hargreaves, who had injury issues in the second half of his career, who had been two times Champions' League winner and had carved his niche on the international stage as well. Strootman has all to do and perhaps the time to do in it as well. At 25, with much of his career ahead of him, all he needs is some mental resolve to get back on the saddle. Mental resolve has had a huge say in such cases. A prime example for the same would be two Bayern Munich Centre Backs – Breno and Holger Badstuber.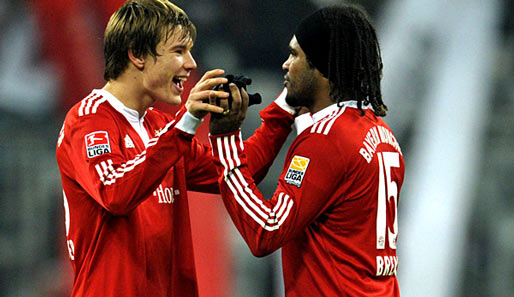 Both the centre backs were touted for great future,to the extent that Badstuber himself proclaimed that he saw Breno and himself marshalling Bayern Munich's defence for the next decade or so. While the Brazilian Breno had his troubles coping with the injuries and eventually developed anger issues and went off on an another tangent, Badstuber stuck to his guns (still doing so) despite having a similarly torrid time making comebacks time and again and nursing injuries and their recurrences.
What has made a difference between the two has been their mentality. Breno is no more a Munich player. Unable to deal with the long-term injury issues even getting arrested in the process, and serving a long layoff as a youth coach for Bayern for his inability to keep it together. Currently, he has been working towards a comeback to playing with Brazilian club Sao Paulo. While Badstuber despite his lengthy lay off is still thought of as the future Bayern first choice centre back.
The examples are many. Another Bayern Munich midfielder, another ACL related injury case, Sebastien Deisler, often seen as Michael Ballack's heir went on to leave the game before Ballack because of the injury and the depression he suffered on his recovery trail. Deisler retired at the ripe age of 27 because he could not bear it. Whereas you see Arsenal Midfielder, Abou Diaby, despite his score of debilitating injuries, still hoping to come back and make a career out of what remains in his body.
Strootman's story has yet to take that turn or any turn for that matter. The Dutch midfielder still has some work left for filling up his C.V. with perhaps trophies and recognitions rather than just the platitude about him being the next Roy Keane or the Dutch Keane. Strootman's potential is not doubted, you do not become one of the youngest Netherlands captains if you are not a talent or a leader, but with these constant injuries it just needs validation.
After becoming this cult figure at Roma with his combative yet cultured display on the field, he has been able to warm the Giallorossi fans. With all the rumors linking him to a bigger move now falling flat he would be working towards his fitness and a long stretch of unhindered game time out of the media glare which will surely help his case.