Kerala Blasters were held on their home turf once again. This time it was against Delhi Dynamos, who equalised late on in the game to keep the score line 1-1. This is Kerala's second successive draw in this edition, despite being on the front foot for most of the game.
Kerala, in their previous match, had conceded in the injury time against Mumbai City FC, through a Pranjal Bhumij strike. Against Delhi, it was Andrija Kaludjerovic who scored in the 84th minute to earn a point for his team.
Kerala climbed up to the second position with five points but must be disappointed not leaving with all the three points from the game. Delhi remained on the eighth position with two points, have much to do in the remaining games to stay in the hunt for semi-finals.
The game got off to a rollicking start with both Kerala and Delhi looking for an early goal, but failed to make their opportunity count as the first half ended without a goal being scored.
The home side were looking more composed in the second half and deservedly got the reward from none other than the homegrown boy CK Vineeth. Slavisa Stojanovic's corner fell to Matej Poplatnik, who calmly chipped the ball to Vineeth. The Kannur-born controlled the ball superbly with his right foot before turning around completely and poked the ball home with his left.
It was thought Kerala will come out with all the points till a Pritam Kotal cross headed by Kaludjerovic beat Kerala goalkeeper Naveen Kumar.
Let us look at the hits and flops of the match:
---
Hit: Rene Mihelic
Rene Mihelic did everything on Saturday, except scoring the goal. He defended, attacked, took set-pieces. He was seen everywhere near the ball. He surely lives football whenever he gets on to the pitch.
Mihelic is the backbone of Delhi's midfield. An attack starts with him. He combined well with his teammates and created chances on a regular basis. He worked tirelessly throughout the match and even took a beautiful shot on goal.
Such is his pace that even Sandesh Jhinghan or Rana Gharami couldn't keep up with it. He built up a beautiful combination with two of his partners Romeo Fernandes and Lallianzuala Chhangte and more often than not fed the ball to them, who created attacks from the flanks. Chhangte too had a beautiful game today.
Flop: Rana Gharami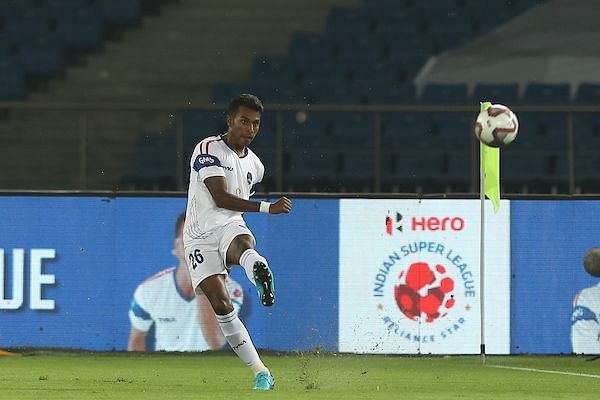 During the first two games, both of Delhi's goals came with Rana Gharami turning the provider. In the first match against FC Pune City, Gharami scored with a stunning shot from yards out. Against ATK, Rana provided the assist to Pritam Kotal.
However, Rana had a bad day at the office on Saturday. He had a normal outing and couldn't leave an impression, which is a bad sign. Delhi already have Gianni Zuiverloon in their team as a central defender and if Gharami couldn't impress in the future games, he could well be replaced by coach Josep Gombau.
Gharami was at fault during Vineeth's goal. During the corner, he marked Vineeth at the near post. But when the ball came to the Kerala forward, Gharami could do nothing as Vineeth easily avoided his marker and put himself on the score sheet. Also, during Kerala's attack, Gharami couldn't maintain his position and lost the ball too many times.
Hit: Slavisa Stojanovic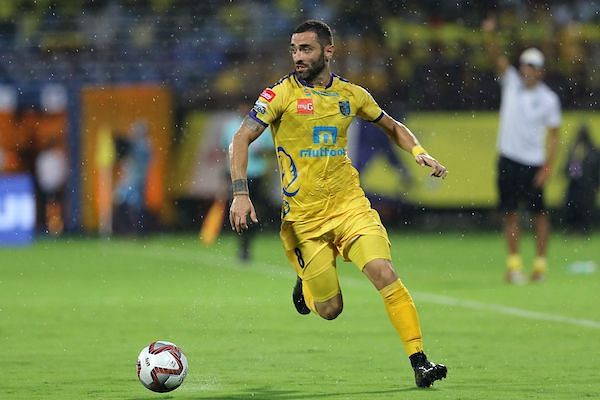 Since joining Kerala Blasters, Slavisa Stojanovic has built up a strong relationship with Matej Poplatnik in just two matches. Both of them combine well and create chances, though that might not reflect in the number of goals scored by Kerala.
But on a day when Coach David James kept Poplatnik on the bench, all eyes were on Stojanovic and how he would fare with his new partner CK Vineeth. Truly, Stojanovic proved his worth. He used his brain against Delhi's tight defence and often changed his position. He took a superb shot on the goal in 22nd minute, which could've opened Kerala's account.
Stojanovic came out as a different avatar in the second half. By then, James had withdrawn Halicharan Narzary and introduced Poplatnik. The result reflected immediately as Vineeth scored from Stojanovic-Poplatnik combination. Stojanovic even played in a deeper role and was often seen going down in his own half to retrieve the ball from his opponent.
Flop: Gianni Zuiverloon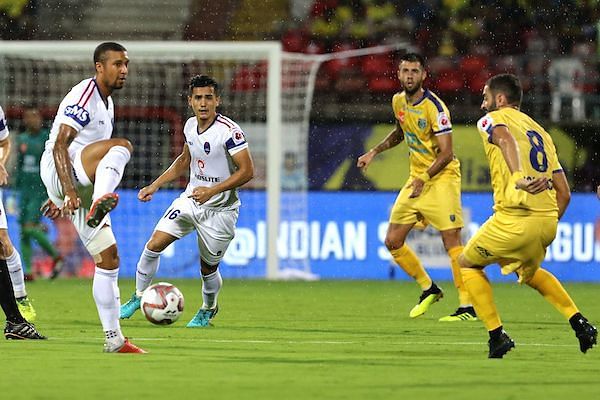 Gianni Zuiverloon got himself back on the team list, but not in his usual position, as a centre-back. Delhi coach Gombau tried to play him in a more attacking role from the left.
Gombau's intention was clear, not to concede a goal. He fielded three defensive midfielders after a four-man backline, who can contribute during an attack. While the other two midfielders, Vinit Rai and Rene Mihelic performed their duty, Zuiverloon failed miserably.
For the 65 minutes he played, not a single time the Dutchman looked comfortable. t looked like he didn't know anything about his role. Neither did he attack nor did he defend, was dispossessed too many times, before being substituted midway in the second half. Zuiverloon took only one shot which was off target and made only one interception.
Substitute Adria Carmona with his attacking mentality made an impact immediately after coming off as he toyed with Kerala defence and took a couple of shots soon.
Hit: CK Vineeth
What a return it has been for CK Vineeth. He never stops scoring in front of Manjappada. Vineeth has found the net six times in the last eight matches in front the home fans. He may be disappointed not to seal three points for his side. But the goal is proof that he hasn't lost his magic touch.
Vineeth started impressing from the first whistle. He was initially playing on the right side, but after the second half, he moved to left. Kerala were sitting deep to defend in the first half and were trying to create opportunities with counter-attacks. They were successful in doing so as Vineeth was the man behind every move.
Even during Delhi's attack, Vineeth did his defensive duties for his team. He could've scored again in 64th minute, had his shot found the target.
With Poplatnik and Stojanovic already in his side, James surely has more options now in framing an attacking line-up.