Jol speaks on adding players, other topics
748 //
09 Aug 2012, 10:50 IST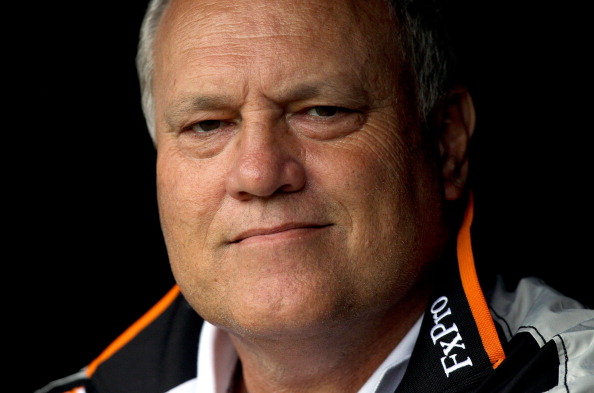 There's only a little more than a week to go before the season.
Wait………what was that? I'm sorry, I thought I said there was a week to go before the season started, I must be dehydrated or somethi…….what's that? There IS a little more than a week to go before Fulham open against Norwich at home?
Wow. Let that one sink in for a bit.
Well, with that out of the way, the club still looks a bit thin heading into week 1.  They can get by for a game or two like this, but soon depth will become a serious issue.  So, with that in mind, Martin Jol spoke at length to a few media outlets about a number of different subjects.
On adding players this window:
"If everything stays as it is I am pretty satisfied, and we are still working to get two or three players in. We need at least a midfield player, in the midfield area. Up front, we lost four strikers – Orlando Sa went, Bobby Zamora, the Pog, and Andy Johnson went. We have got two, Rodallega and Petric, so at least we need one or two strikers as well."
If it were up to me, I'd think we need two midfielders and one striker (four isn't really necessary with the formation Jol plays, but midfield depth is an issue). But either way, this is incredibly exciting news to hear. Obviously rumors are abound about multiple names we've heard over the last few weeks, but the club continues to be incredibly leak-resistant, so we just have to wait and see what the front office chooses to do in this area.
On James McFadden:
"That's ridiculous. We never react so they link us with these players but it's not true as usual."
Thank god.
On the exit of Dickson Etuhu:
"I read in the paper we had a fall out again. Everyone who leaves us seems to have a fall out, it's not true. He wanted to play games. He's 30-years-old, they offered him a long contract so good for him. They will probably play him every week and he was not playing in our team every week. That was a problem for him, not just the past few weeks but the last four or five months. He was really frustrated and wanted to play. He could've stayed but when Blackburn came in we decided to let him go."
That's about what everyone expected. I never believed for an instant that Etuhu got angry with Jol, it's not like him.  I can understand his frustration with being a squad player.  The club really could use him in that role this season, but understandably he wanted to play more, and with a familiar face in Danny Murphy at Blackburn, it was too much for him to resist.  Wish him all the best.
On the new signings:
"From what I have seen so far, they look really good. Sascha is a strong defender while, further forward, Mladen has done well too. He has scored a lot of goals so far, and hopefully he can continue to do so. It can be difficult joining a new club so if I can help the players that have come in after me then I will. There are a few new faces in the dressing room already and in Sascha and Mladen we have two very important additions. Hugo has come in as well, and we're looking forward to seeing him in action. He did well in his time at Wigan and, as a result, has Premier League experience. He'll be hoping he can make an impact too, and I'm sure he will be a success. It's nice to welcome new players. The spirit of the team is really good and we are all looking forward to getting the season started. We had a good year together last season, and we want to do good things again."
This doesn't say much, it's mostly coach-speak and fluff. I mean, what's he going to say? "Yea guys after 2 weeks with the club I obviously blew that signing." No, of course not.  But either way, it's nice to hear him speak so highly of those additions.  It's clear Petric is settling in well, and although we clearly can't expect the pace of goal-scoring success he's having this preseason to continue, I think it's clear he's working very well in the system.
I said it on Twitter and I'll say it again, the policy the club has of keeping doors closed stinks for fans and media (nothing to write about!) but it's great for the club to keep negotiations away from the public. Nobody NEEDS to know the discussions that go on, and sometimes when things get out certain teams get put at a disadvantage negotiation-wise. So we'll all just have to deal! That's why Fulham were so upset when Brendan Rogers talked about enquiring about Dempsey.