Juanito's legacy will never die at Real Madrid
2.11K //
15 Sep 2013, 21:36 IST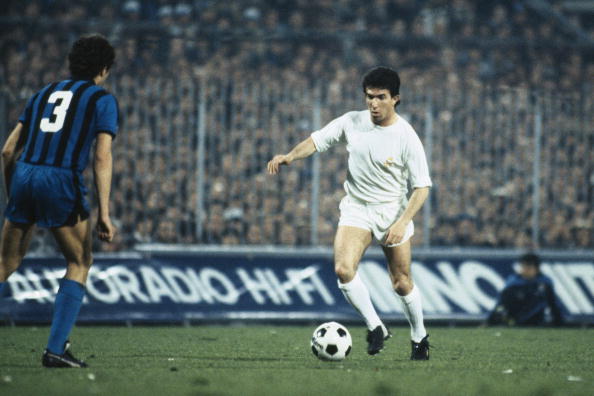 There have been many legends who have donned the white shirt of Real Madrid. Everyone knows Di Stefano, Zidane, Puskas, Butragueno, Raul and so on. But there are players who carve a place for themselves in the hearts of fans, and one such player is Juan Gomez Gonzalez aka Juanito. He had so much love for the team that, he even cut his pony tail in his last match.
Juanito is held in high esteem especially by the Ultras Sur. They chant his name in the seventh minute of every home game. In his 10-year tenure at Real Madrid, Juanito won 2 UEFA Cups, 4 Spanish League titles, 2 Copa del Reys.
He played alongside Santillana, Vicente Del Bosque, Jose Antonio Camacho, and with La Quinta in his final years. During the 10 seasons with Los Blancos, he played 284 first division games and scored 85 goals, and another 17 goals in various European competitions.
Juanito was an elegant winger, with deadly pace and dribbling abilities that turned him into one of the best players to have graced Santiago Bernabeu.
Popular for leading the team to legendary comebacks, Juanito is remembered for his spirit. During Juanito's tenure at Real Madrid, the team managed to overturn first leg deficit a total of 15 times.
Whenever a comeback was needed, he would be the one screaming, pressurising the referees, disturbing the rivals, but always encouraging his teammates. He was the kind of player who used to come on as a substitute, but whenever he came into the pitch, he stormed into the match. Santiago Bernabeu Yeste always wanted a player with such a spirit, but sadly he passed away just after Juanito signed for Madrid.
It was Juanito who led Madrid to overturn the 3-1 loss in the first leg against Inter. It was in this match where Juanito said his immortal line: "Noventa minuti en el Bernabéu son molto longo" (90 minutes are the Bernabéu is a very long time).
When it comes to Real Madrid-related quotes, Juanito wins hands down. When he first came to Madrid, he said: "Playing for Real Madrid is like touching the sky." And then "Mi unico estimulante fue la camiseta blanca" which translates to "My only stimulant was the white shirt".
He was idolized not only for his football skills, but also for his passion, dedication and love for the club. But it was this same intense characteristic trait that often made him a reckless person.
In 1987, during the match against Bayern Munich, Juanito stomped Matthaus while the German was on the ground. Matthaus had brutally tackled Chendo, which made Juanito lose his calm and commit such a folly. Juanito was charged with a 5-year ban from European competitions, and this compelled Real Madrid to let go of Juanito. The Ultras are forever indebted to Juanito, a player who represented the very essence of the club.
After leaving Real Madrid, Juanito played for Malaga for two seasons before retiring in 1989.  He subsequently began working as a coach with CP Merida. On 2 April 1992,  he was killed in a road accident while returning to Merida after watching Real play Torino.

Juan Gomez Gonzalez was a strong-willed man, who ignited his audiences in every match irrespective of scoreline. He lived fast and died young, but shall stay in the hearts of the Madridistas forever.