Klinsmann hails US grit
731 //
15 Nov 2012, 14:54 IST
Krasnodar (Russia), Nov 15 (IANS/RIA Novosti):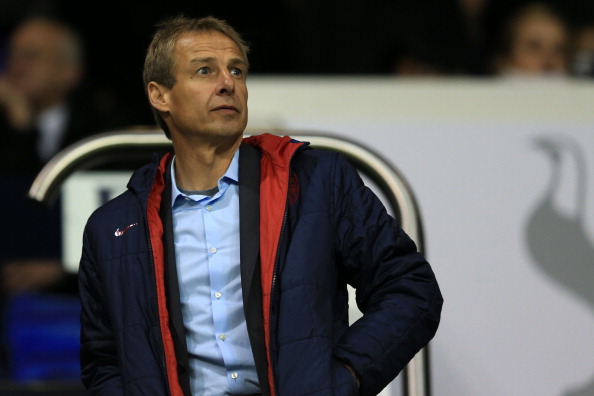 US coach Jurgen Klinsmann hailed his team's spirit in securing a 2-2 draw against Russia.
Rosenberg striker Mix Diskerud blasted home a stoppage-time equaliser Wednesday in a game that began with a debut goal for Russia striker Fyodor Smolov.
The draw extends to nine games an unbeaten run for the US since a 1-4 defeat to Brazil in May while Russia have yet to lose in six games since Fabio Capello took charge in July.
"We showed a lot of character to come back. We showed that we can play with the best teams in the world," Klinsmann said after a game in which his team went behind twice.
The German former international striker said his side showed glimpses of the ability to win the match before half time, with the score at 1-0 to Russia.
"At half time, we said to the team if you continue to play like you did the 20-25 minutes before half time, there's a game, you can win this game."
However, he lambasted his defence for the ease at which Smolov put Russia ahead, put through in acres of space by Alexander Kerzhakov.
"We can't give away like we did the first goal."
Michael Bradley brought the US level in the 76th minute, striking a powerful shot off knock down from Juan Agudelo.
Roman Shirokov's 10th international goal restored Russia's lead when he stepped up to score from the spot in the 84th minute after goalkeeper Tim Howard had brought down Artyom Dzyuba.
Despite the near-freezing conditions here – ironically to avoid the Moscow chill – Klinsmann praised the warmth of the local support.
It made a welcome change for the United States, which is accustomed to playing in hostile Central American arenas for World Cup qualification.
"Qualifying in our region is very different because when you play in Central American countries it's not so welcoming, like you welcomed us here in Russia," he said.
"It's not just the rivalry on the field, it's a lot of social elements off the field."