Legend of women's football: Michelle Akers
1.46K //
26 Mar 2013, 16:49 IST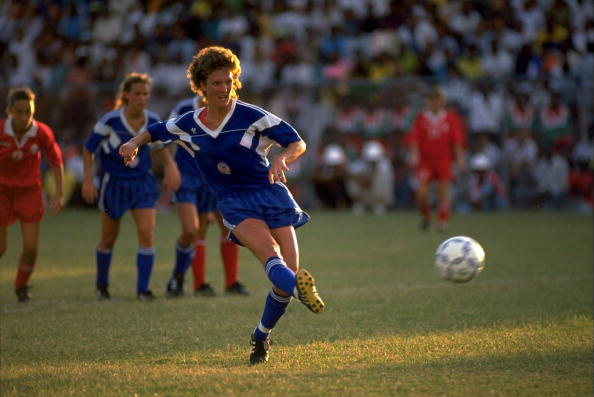 They say the greatest compliment players can receive is from their own coach. So when your coach describes you as the best, you know you've kicked the football right. No, this is not a story of the Peles and Maradonas, or the Messis and Ronaldos. This is the story of Michelle Akers, widely and perhaps justifiably regarded as the greatest woman footballer to have ever played the beautiful game.
Few contested former USA coach Tony DiCicco when he heralded Akers as the "best woman that has ever played the game", and rightly so. Akers dominated the women's game for more than a decade with her skills, physical prowess and understanding of the sport. She was the first real star of US women's football and to this day, holds her own special place in the pantheon of women's football.
Having joined the US national team upon its inception in 1985, she scored their first official goal. Six years down the line, she guided her team to their maiden World Cup glory in China, winning the Silver Ball and Golden Boot in the process. With Akers in the thick of things again, the US national team won the Olympic Gold in 1996. She tasted World Cup glory again in the fag end of her career as USA reclaimed the cup on home soil in 1999.
Few individuals stand-out this tall in a team sport and Akers' illustrious career was laden with personal honours. On 7th June 1998, Akers became the first woman to receive FIFA's highest honour, the Order of Merit for her outstanding contribution to the game. In 2000, she shared the award for FIFA Female Player of the Century with China's Sun Wen. She also found herself on the FIFA 100, a list of 125 greatest living football players selected by Pele and commissioned by FIFA in 2004 to celebrate their 100th anniversary. Two years later, she was inducted to the US National Soccer Hall of Fame.
Despite the flurry of awards and accolades, Akers footballing career was anything but a walk in the park. She was diagnosed with chronic fatigue syndrome in 1991 and throughout her remaining career, she played through bone-weary exhaustion and debilitating migraine. Her post-match celebrations were often spent attached to an oxygen mask, an IV and an EKG machine. Incidentally, she had as many knee operations as she had World Cup goals (12)!
Akers hung up her boots in 2000, aged 34, as the 2nd highest goal-scorer of her national team, bagging 105 goals in 153 appearances. Her determination and grit was best summed up by her former teammate Mia Hamm – "She was a warrior. She was our everything." Ask the star herself about her game and she promptly replies – "My style was to play for the moment. I would jump in and I took a lot of physical risks because I couldn't see beyond the moment. That was my strength and my weakness. I was either going to crash or celebrate big time."