Legends of Club Football: Gary Neville
1.89K //
26 Mar 2013, 11:10 IST
" Love him or hate him, one thing you can't do is ignore Gary Neville."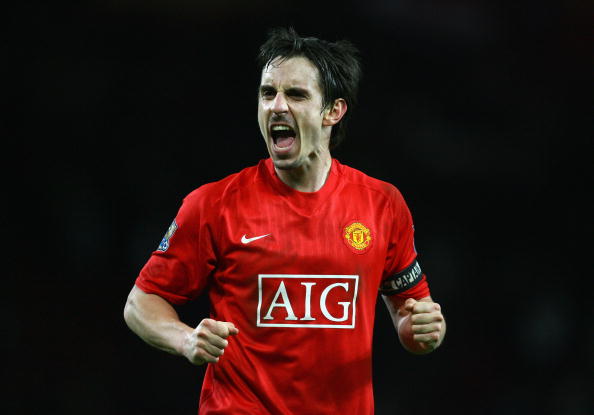 It was 1993, when the English FA decided that it was time to bring about a change, being that no team was allowed to field less than five British players. It was then that Manchester United manager Alex Ferguson and Brian Kidd decided that the permanent solution would be to harvest their youth players. Hence, a new batch of players emerged, popularly known as the Fergie Fledglings, and thus a new era was born, with a new batch of players and more importantly, a footballer (not a star) and a captain, and his name was Gary Neville.
"As a young boy he had the will and determination to succeed as a footballer and that character remained with him throughout his career. That's the legacy he leaves every young player at Manchester United."- Sir Alex Ferguson
Leader, Captain, Legend. These are the three words that best describe Gary Neville. He is one of the very few one-club men in the modern era of football, and joins the elite club of greats of football such as Steven Gerrard, Ryan Giggs, Nat Lofthouse, and so on. Interestingly, Neville is also only the third Manchester United player from the much famed Class of 92, along with Ryan Giggs and Paul Scholes, to finish his career with the Red Devils.
If the yin-yang theory is to be believed, then it is indeed safe to say that Gary Neville has two dimensions to his personality. Early in his career, when quizzed by the media, Neville's answers were generally followed up by a timid giggle, which gave the media the impression of  a 'fruit cake'. However, on the grass, Neville was a different character altogether. He made runs into the danger area like no one else at the time, and was perhaps the most reckless and brave full back till date, charging at the attacker like a raging bull simply to keep a clean sheet. This just just goes to show his commitment towards the sport, as well as the pride in wearing a Manchester United jersey. Since Neville graduated from the ranks of the youth academy, he knew the value of a Manchester United cap, the attitude that cast no doubt in the mind of the manager to make him club captain.
"His impact on the club in general has been huge; his presence in the dressing room and leadership qualities have been an asset to me as a manager. "- Sir Alex Ferguson
Apart from being a part of the 1998-99 treble winning United team, what Gary Neville will cherish more would perhaps be the partnership that he forged with David Beckham on the right wing, helping the team's cause, as well as his, in terms of cementing his place in the starting line-up for England.
Upon the departure of club icon Roy Keane, Gary Neville was the obvious choice for inheriting the captain's armband for a number of reasons. Firstly, he was the captain in the FA Youth Cup winning squad, which made it easier for the players. Secondly, his attitude towards the game, and thirdly, he was the most obvious fit at the time.
There's rarely been a more obvious fit. Gary Neville didn't need to wear the skipper's armband to be a leader; it was the only way he could play. His spell as captain may have been interrupted by injury, but his organisation at the back, constant cajoling of team-mates and penchant for cheerleading goal celebrations were all characteristics of his game long before he first led the team out. Wearing the armband was merely recognition.- Paul Davies, United Review editor
There are many instances to showcase Gary Neville's most memorable moment, since he had never gone after the limelight in his career. However, I would say that his most memorable moment would have to be the UEFA Champion's league home fixture against AS Roma, where his comeback was greeted with a standing ovation from the packed house at Old Trafford, and upon stepping on the pitch, he was promptly given the captain's armband. In terms of winning trophies, Gary Neville will definitely never forget the 2006 Carling Cup final victory over Wigan, which was the first trophy he lifted as captain, and this would definitely not be his last.
"He dreamed of lifting a trophy as captain of Manchester United, and realised it at the Millennium Stadium in February 2006. Raising the Carling Cup (after beating Wigan 4-0) was not the pinnacle of his career, but still a huge moment for him and the Reds – launching another glory-laden period"- Paul Davies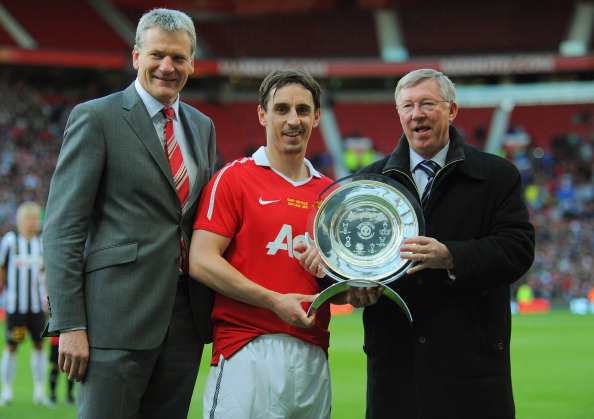 Controversy is something that is associated with football – it does not go away, but it depends on how one handles it. Gary Neville stayed true to this statement, and did indeed have a criminal record. Since Neville is generally regarded as a big game player, he generally steps his game up by a notch, especially against Liverpool. His celebrations on the last minute goal and so too his overall performance, which later went on to show his degree of recklessness and also highlighted the fact that he would not give an inch, was subject to heavy criticism, especially by Jamie Carragher.
Playing for England is supposed to be one of the highest honors for a player in the Premier League. However, despite having a comfortable club career, Neville has often described his time with England as "a massive waste of time", a place where he is currently employed.
Despite all of this, love him or hate him, it is absolutely impossible to forget the man who has made such a tremendous contribution to the sport he loved. I am sure that praise has been heaped on him throughout his career; however, one that will stand out would probably be the one comment from Sir Alex Ferguson, which is equivalent of that of a father praising his son.
"Gary was the best English right-back of his generation." – Manchester United manager Sir Alex Ferguson on Neville
On May 24, 2011, Gary Neville was given a true legend's tribute, with the club trying to recapture the scenes from where it all began for Neville. They did as much as to have the testimonial match against Juventus in front of a packed Old Trafford, with his colleagues from the 'Class of 92′. Despite losing the match, everyone saw what they came to see – Manchester United legend Gary Neville at his very best with the captain's armband, one last time.
"I have been a Manchester United fan all my life and fulfilled every dream I've ever had. Obviously I am disappointed that my playing days are at an end, however it comes to us all, and it's knowing when that time is and for me that time is now. I have played in the most incredible football teams, playing with some of the best players in the world as well as against them and I have been lucky to have been part of the team's achievements and the club's great success." – Gary Neville