Legends of Club Football: Patrick Vieira
2.03K //
27 Nov 2012, 11:18 IST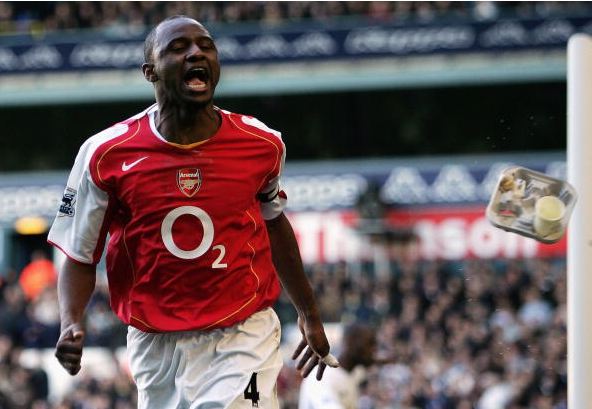 Patrick Vieira. That is all.
To the initiated, 'Paddy' is one of the greatest of all time. His reign as captain was immense. Filling the boots of Mr. Arsenal himself, Tony Adams, was always going to be a tough ask for anyone, but Vieira stood out as the natural successor. A dynamic midfield player whose ability to bring the ball from defence to attack was a marvel to behold, whose passion for the club and to win every match was unquestionable and a player who has entered the immortal hall of the legends of football.
Before Arsenal, Vieira's spell at Milan left him rotting in the reserves, and with accusations of being racially abused in Italy dogging him, the player was snapped up by Arsene Wenger's revolution at Arsenal as a virtual unknown. In fact, he was one of the few players Wenger demanded the club purchase prior to his agreement to manage the club. The £3.5 million later seemed a bargain as he went on to become one of the greatest players in the club's history (being voted the 5th best in a 2008 poll of Arsenal fans).
Perhaps the peak of Vieira's Arsenal career was captaining the side to its historic unbeaten season, which, along with the Doubles in '98 and 2002, and league and FA Cup wins early in the millennium, marked the period as one of Arsenal's most trophy-laden periods.
Every fan of any side who watched the Premier League will never forget the epic battles that characterised the early 2000 Arsenal-Manchester United derbies. Two teams packed full of players to whom coming second was an unacceptable humiliation, an attitude epitomised by the two captains, Vieira and Roy Keane. The teams often came close to blows, with much going unreported, but plenty of rumoured confrontations in the tunnel after particularly tense matches; 'Pizzagate' was the high (or low) point of their relations.
Vieira led his team by example. A player whose quality of tackling, passing energy and determination made him a natural fit to the League and an easy player for fans to fall for. Even the yearly transfer sagas, to Real and Juventus amongst others, did little to diminish the fans' love for the player, a fact that speaks volumes about his class.
The ability to regularly beat people with the ball, especially in the middle, is a rare one, but to Vieira this seemed to come naturally. A combination of height and strength added to technique and composure led to him rapidly becoming a vital cog within Arsenal's gameplan, a cog which a young Diaby was earmarked to fill before injuries set him years back.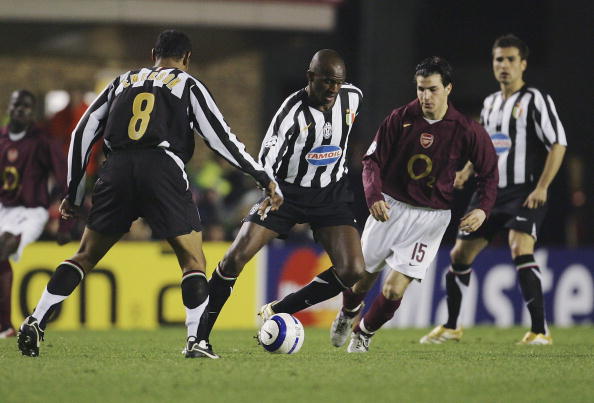 Sadly, all good things must come to an end and in an 'it's the right time' move, Vieira was granted his long-standing wish to play abroad in the summer of 2005 when Arsenal accepted a €20m bid off of Juve, in part because of the emergence of the young Catalan midfielder by the name Francesc Fabregas. For me, the Champions League match at Highbury later that season proved Wenger right as a young Cesc dominated the midfield over his ex-teammate, with Vieira even losing the ball to Robert Pires to set up a Fabregas goal.
The facts of Vieira's career speak for themselves; at the time he retired he had amassed 107 caps for France (including the '98 World Cup and 2000 Euros), featured in six seasons in a row in the PFA team of the year at Arsenal, won three Premier Leagues and four FA Cups, and five Italian league trophies – Juventus' match-fixing '06 one and four with Inter. Aside from trophies, Vieira the man also retains strong links with his native Senegal, sponsoring numerous charities through football initiatives.
More than the trophies and caps, however, are the memories. When Vieira, armband and Vicks Vapour Rub in tow, stepped on the field, you knew you were about to watch a legend play. You could expect a game of tenacity, of power, and of an unbridled determination to beat what was in front of you. Qualities somewhat lacking from recent Arsenal sides.
It is impossible to forget the sight of Vieira and Keane's square ups when they met, including 90 minutes of trying to get one over each other – the sort of personal competition that has become somewhat reduced in recent Premier League games between all sides.
Even Vieira's last game lived up to expectations. With a transfer to Juventus all but signed, everyone knew the 2005 FA Cup final, against Manchester United, of all opponents, was to be his last game. Although the match itself led to Arsenal being outplayed by United, the score, and who was to finish it, summed up a perfect love affair. 0-0 after 90 minutes, still 0-0 after 120, and the game went to penalties.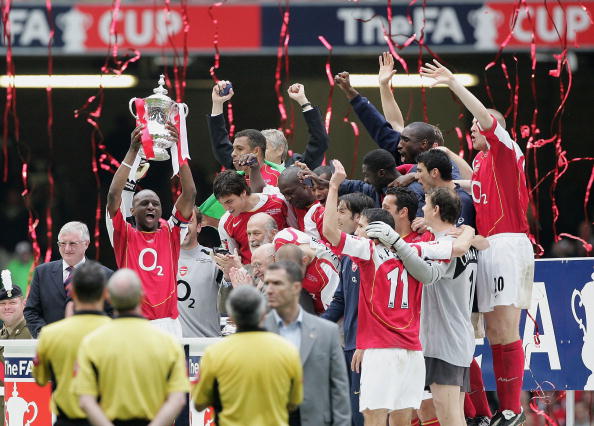 By the 5th round of penalties, Arsenal had scored four times and United three, with Paul Scholes missing. Once again up stepped the two captains, Keane to take the first followed by Vieira. Keane scored off his penalty, levelling the scores to 4-4. Vieira, with his last kick for his club, had the chance of winning yet another trophy and getting one up on United, or of fluffing his lines.
If you don't know how this story finishes then you've probably not been paying attention so far. Vieira, unfazed by circumstance, did his duty, smashing it high to the left, beating Roy Carroll (who guessed correctly), leading to jubilation on the pitch and in the Arsenal end of the Millennium Stadium, Cardiff, and rounding off a perfect tale. It wasn't the greatest of his goals, which were always special, if few and far between, but it was perhaps one of his most important.
Paddy, I salute you.