Legends of Club Football: Roy Keane
4.25K //
01 Dec 2012, 09:34 IST
Old Trafford has witnessed many spectacular individuals donning the Manchester United captain's armband during its 113 year history, and has also witnessed quite a few ordinary players being entrusted with this armband. No prizes for guessing which category Roy Maurice Keane goes under. That he used to play for Manchester United just seven years ago is now somewhat amusing because it seems ages ago. It's like there has been a famine, a Great Harvest, and Hell has long frozen over since. Sure, his quality in midfield was replaced by the delectably soft-shoed Michael Carrick and the full bodied presence of Darren Fletcher; but if you thought that was all that Roy Keane contributed to the team, take a deep, yoga style breath and think again. And again.
Now continue reading this article.
Roy Keane, unlike many other 'iconic figures' (let's keep the term 'legend' aside for a while) in the Red attire of United to grace the Theatre of Dreams, was not a product of the famed United Academy. He was purchased from Nottingham Forest, by now in decline just like their manager Brian Clough, at a reasonably young age of 22. An ideal age to sign a promising youngster, as he would have already gotten a fair deal of experience at the top level but could still be moulded into a far greater footballer and the coaches would be able to instil in him composure, develop within him the raw talent required at a club like United and watch him bloom. Composure on the ball was one quality that Roy Keane's shelves brimmed with.
Off the ball of course, he was something else.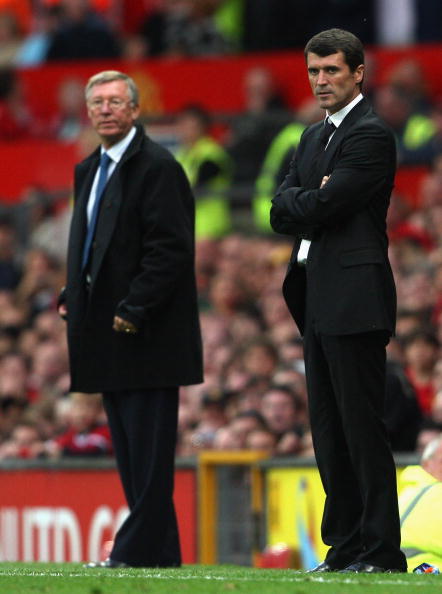 MANCHESTER, UNITED KINGDOM – SEPTEMBER 01: Manchester United Manager Sir Alex Ferguson (L) and Sunderland Manager Roy Keane watch the action during the Barclays Premier League match between Manchester United and Sunderland at Old Trafford on September 1, 2007 in Manchester, England.
Roy Keane resembled the man who signed him from Forest in many ways. Of course, although Keano was an infinitely more gifted player than Sir Alex Ferguson in his playing days, the fire in his belly seemed to blaze just as intensely as Ferguson's did. The referee baiting, needless insults towards colleagues, even his own teammates, the unnecessary and unprofessional acts and the avoidable opinions (read his rant about fans at Old Trafford enjoying less of the game and more of the munching of prawn sandwiches) that seemed jocular to others but were anything but, coming out of his mouth. Even the approach to physical play seemed similar. Ferguson played with his elbows parallel to the ground, with the bony weapons ready to stab anyone that dared step within its range, and Keane played with his feet ready to glide on the pitch any time he felt like taking the ball back. He was the Ferguson replica writ large. And the gaffer was more than willing to acknowledge:
"I'm happy seeing myself"

- Sir Alex Ferguson on Roy Keane
But that can barely be called criticism. It would be so, if we were talking about a mediocre midfielder. But the myriad other qualities that Keane possessed greatly outweighed his flaws. And even those flaws were only internal. Technically, he came close to the blueprint of the ideal Premier League midfielder. With due to credit to the Irishman, a recognition that he was his greatest nemesis led to the finest phase of his career, coming in his late twenties and early thirties. He would remain tough (as Patrick Vieira would testify) but would maintain enough discipline to stay away from cards and hospital beds :
"I'd come to one firm conclusion, which was to stay on the pitch for ninety minutes in every game. In other words, to curb the reckless, intemperate streak in my nature that led to sendings-off and injuries."

- Roy Keane
He was handed the captaincy after Eric Cantona's unexpected retirement at the end of the 1996/97 season. He continued in the role for eight more seasons with the club. Keane had already played five years with the club when the captain's armband was given to him, and had already won the League thrice and the FA Cup and the League Cup twice each. Under his captaincy, United were to add four more League trophies, two more Domestic Cups and that iconic Champions League which was a part of that iconic season. There was a memorable performance written in the stars that season, waiting for Keane to tie his shoelaces and step onto the Turinese stage.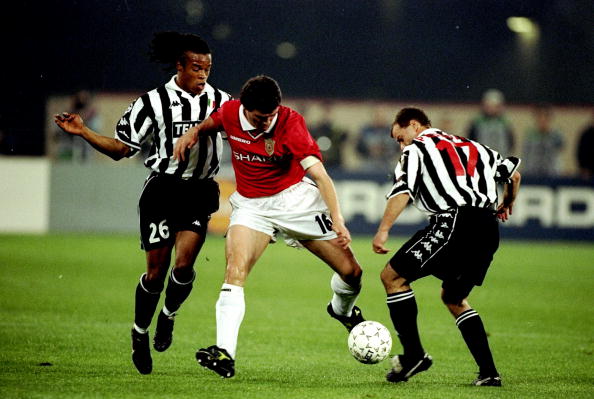 That day… That man… That year…!
It is described as Keane's finest hour. Some say that had it not been for the skipper, the idea of completing a European Treble would still remain just that, an idea, for United fans. After a draw at Old Trafford, United travelled to Turin to pursue the most exciting element of their treble quest. Juventus had been in the last three finals of Europe's elite competition and looked to be just about booking their tickets to Barcelona for their fourth, with Pippo Inzaghi scoring twice in the first ten minutes when Roy Keane announced that their flight had been cancelled. He began the comeback with a raging header in the twenty fourth minute. The equaliser came after ten minutes when Dwight Yorke headed Andy Cole's lofted ball past the Juventus goalkeeper. United were ahead on away goals but Keane and Co. pushed forth and the Old Lady finally stepped aside as United took the lead six minutes from time. Keano received bravados and bouquets from every corner, after a warrior-like performance that we are now so familiar with.
"It was the most emphatic display of selflessness I have seen on a football field. Pounding over every blade of grass, competing as if he would rather die of exhaustion than lose, he inspired all around him. I felt it was an honour to be associated with such a player".

Ferguson's take on Keane's performance in the game.
He missed the final due to a yellow card, as did Paul Scholes. Both of them joined the frenzied celebrations at the Nou Camp with a fair bit of bitterness for not contributing in the team's win, which only showed their commitment and dedication towards the club and an itchy yearning to help the team win. Keane extended his contract with the club until 2004 and although he was more disciplined and had a – comparatively – cool head on his shoulders, the most shameful incident of his career was still to come. In the 97/98 season (his first as United captain), in an away game at Leeds, Keane had sustained an injury while trying to foul Alfe Inge Haaland. He missed the rest of the season. But what really sparked Keane's ire was the fact that as Keane writhed in anguish, the Leeds player stood over him and accused him of feigning the injury to avoid being booked.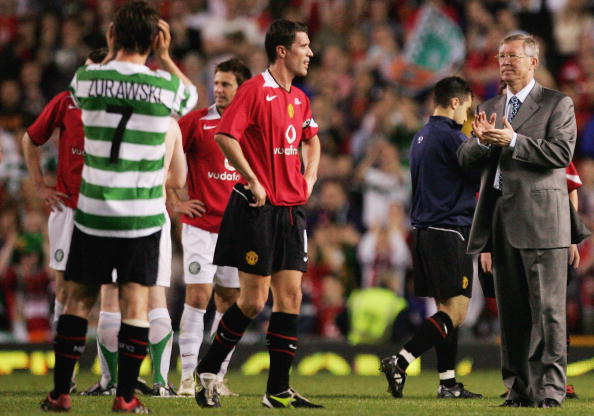 MANCHESTER, UNITED KINGDOM – MAY 09: Sir Alex Ferguson of Manchester United applauds Roy Keane of Celtic after his Testimonial match between Manchester United and Celtic at Old Trafford on May 9, 2006 in Manchester, England.
He neither forgot nor forgave Haaland for this, and three years later, when Haaland was playing for Man City, Keane wreaked his vengeance upon him, with a deliberate knee-high foul on the Norwegian. This is how apologetic Keane was in his autobiography:
"I'd waited long enough. I f***ing hit him hard. The ball was there (I think). Take that you c***. And don't ever stand over me sneering about fake injuries. My attitude was, f*** him. What goes around comes around. He got his just rewards."
Roy Keane was not an angel. Roy Keane was a devil. If Ferguson was Lucifer, Keane was Beelzebub. They had loyalty, passion, devotion and dedication, but were dark personalities on the pitch. His tackles had malicious intent and his policy was 'two eyes for an eye, and the whole upper jaw for a tooth'. But then, this was exactly what United wanted to replace Cantona with. After years and years of only domestic cup wins which came along once in a while to lift fans' hearts, and with managers like Tommy Docherty and Ron Atkinson stepping out in charge of increasingly lethargic United outfits who looked more like office clerks just filing out their paperwork than football players who had an opportunity to win over one of the most devoted fan bases in the world, Ferguson and Keane were a fresh breath of air at Old Trafford.
But Keane wasn't simply a poor tackler with a dark and twisted mind. He wasn't just looking to break legs and let the referees have some fun with their cards. He was a fine orchestrator of United's passing game, and could do anything required from someone in his playing position. Sometimes, just out of boredom, he would do more than that. The extra assistance proved helpful to United on some occasions.
And on others it was just disastrous.
But the fact remains that Roy Keane is the most successful captain to lead United, and probably the most maverick, reckless one at that too. United flourished under his leadership and played some of their best and most alluring football with him in the centre. He was ready to take more than one for the team, and had everyone's back, just as they had his. A tunnel warning to Arsenal's Vieira not to pick on Gary Neville made unforgettable television, and showed how protective he was of teammates. When he got down to criticizing them on MUTV, it was because he wanted them to thrive on the pitch, not because he wanted to bring them down.
"Happiness is not being afraid".

- Roy Keane
If that is the case, Keane is one of the few men who can claim to have been happy their entire life. Roy Keane knew no fear.
For he was a legend.