Most people prefer not to bring their work home but Lionel Messi is not your average person. Arguably the best player on the planet, Messi has 5 Ballon D'Ors to his name and along with Cristiano Ronaldo, is one of the greats of the modern game.
Messi was born and raised in Argentina but moved to Barcelona at the age of 13. After progressing through the youth ranks, Messi made his competitive debut at the age of 17 and there has been no looking back since. He has won 8 La Liga and 4 UEFA Champions League titles in his time in Spain and has established himself as Barcelona's leading goalscorer of all time.
Messi holds the record of being the only player in history to have won 4 consecutive Ballons D'Or and 5 in total. He is considered by most experts to be the greatest football player of all time.
The Argentine is known to eat, sleep and breathe football and is also now living IN it. Along with the help of architect Luis Garrido, Messi has designed a soccer ball house called the One- Zero Eco House in which he currently resides.
According to reports, the cost of designing and building the house is estimated to be a whopping 7 million euros, but for a player whose net worth is 230 million euros, that should not be much of a problem.
His football spirit is well represented in the mansion. Messi's house which is located 22 miles outside Barcelona in the Castelldefels area overlooking the Catalan mountains is built on a plot shaped like a football field. Arranged smack bang in the middle of nature, the building was designed by famous architect Luis de Garrido.
Garrido is a celebrity in his own right. He has designed buildings for a number of superstars including supermodel Naomi Campbell and has taught architecture at the Massachusetts Institute of Technology. His One-Zero Eco House is a part of a collaboration with the National Association for Sustainable Architecture in which the architect designs eco homes for a number of celebrities keeping in mind their personal preferences and specifications.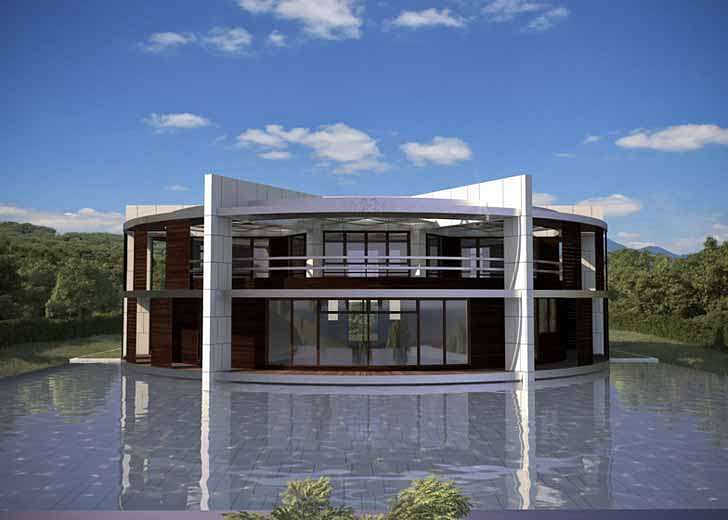 Taking inspiration from the design of a soccer ball, De Garrido designed the One Zero Eco House as a homage to Messi, keeping in mind the little magician's every interest and lifestyle preference. The Spaniard even studied Messi's physical and emotional needs while designing the luxury mansion.
Garrido said in an interview, "Messi's house is closely related to him, his idiosyncrasies, his personality and even his own torments. I would say the most important personality of Messi is duality, determination and self-belief."
He added, "Messi is a person who has come from little and had to work for what he had. Messi's house symbolises duality."
Coming to Lio's house we see that it is a remarkable blend of football and engineering. The plot is approximately 35km in size and is divided into 2 halves exactly like a football pitch.
One-half contains the oversized swimming pool while the other boasts the plush lawn with the soccer ball-shaped house bang in the middle. It is thought to be a physical representation of the saying about football being a game of two halves.
The left half containing the entrance, when viewed from above, looks like the number 1 and when viewed together with the central main house spells out his jersey number 10. The home itself appears to be a soccer ball with classic hexagonal patterns which serve as dividers and permeate the structure.
To allow the entry of natural light, half the roof is covered by mirrored glass. The other half, similar to a football playing surface is covered with actual green grass. The roof also has lush vegetation and durable properties.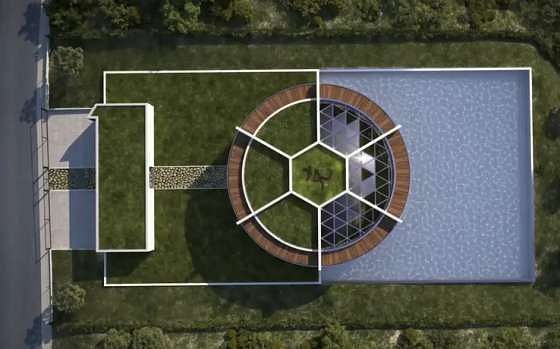 The home's perimeter is surrounded by wooden terraces which allow residents to connect with the lush outdoors. Regional visitors can enter through a gate that leads to the main house. The rear side of the house meets with an oversized magnificent swimming pool constructed on a sparkly marble floor.
Lionel Messi lives in his house with his wife, Antonella Roccuzzo, and two sons, Thiago and Mateo. Messi also has other houses in Spain and Argentina.
Paul Merson predicts Man City vs Liverpool and other Premier League GW 29 fixtures! Click here