Lionel Messi: 86 and counting
952 //
10 Dec 2012, 19:39 IST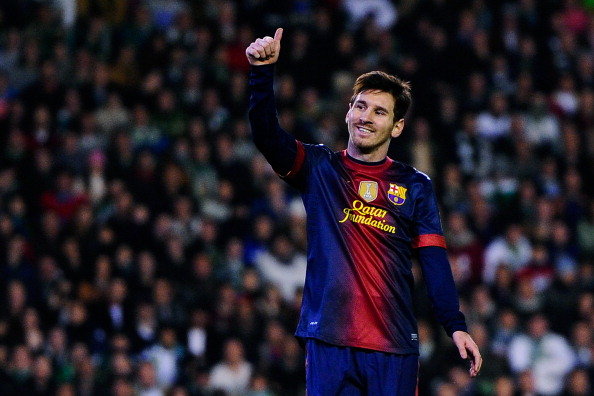 Messi, Messi, Messi! Goal, Goal, Goal! This is what everyone in Catalonia is singing.
Barcelona performed extremely well, defeating Real Betis 2-1 away from home. Messi scored 2 marvellous goals in the opening 25 minutes of the game with the help of Iniesta. The Argentine striker smashed the record of scoring the most number of goals in a calendar year, which was previously held by German player Gerd Muller with 85 goals. Lionel Messi with 86 goals to his name this year is the top scorer in La Liga and yet has a few more games to play before the year end. That means he has a strong chance of  increasing his own record.
The two goals he scored last night against Real Betis were crucial as they will boost his statistics and get him closer to winning the Ballon d'Or for the 4th time in a row, in the process creating a new record of becoming the only player with 4 Ballon d'Or's.
A major role in his career's development was played by the former Barcelona manager Pep Guardiola who got the most out of his striking speed and touch on the ball.
The road to success was not easy for him as he faced great challenges from players like Ronaldo, Rooney, Robin Van Persie, Falcao, Gomez, Torres and many such world class strikers. However, today he is regarded as the best player on earth due to his persistent nature, hard work and the quality of not giving up, no matter what. Messi is a top class finisher and a natural goal scorer, and never looks for one moment that he is happy with his achievements and always aims for more.
Besides, Messi has contributed a lot to Barcelona's success over the years by winning many European trophies for the club, says NFFS (National Football Federation in Statistics).
When asked by an interviewer: "What do you think of Barcelona", Lionel Messi replied, "Barcelona is my family and its players like Xavi and Iniesta are my brothers."
We can safely say that Messi is staying at Barcelona and will be breaking more records if he continues to play like this.
So all the best Messi, for scoring more and more goals and breaking more records!