Lionel Messi: Simplicity in greatness
1.41K //
10 Dec 2012, 12:58 IST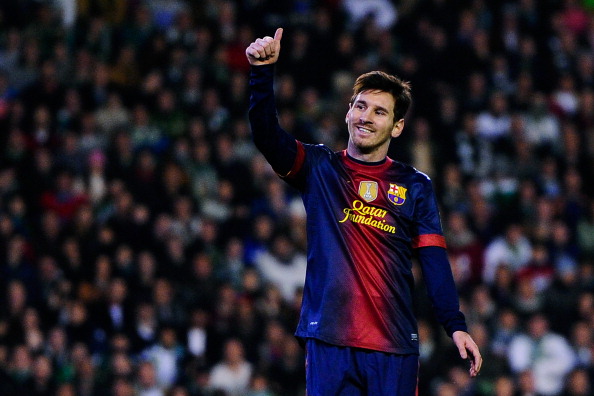 Real Betis manager Pepe Mel writes mystery novels to help him relax from the pressures that come with the job. When Lionel Messi opened the scoring for Barcelona last night, Mel looked exasperated and gesticulated at his two central defenders why they gave him so much room to shoot.
Messi just equaled a 40-year-old goal record, and yet we did not see him remove his XXS size shirt and do the 'muscle flex'. He pointed to the heavens and said a short prayer. Until that point, he gave away possession twice and his first touch was dreadful. It was a surprise that he started the game, to begin with.
It is indeed a mystery how we reached to this point in time, when not so long ago Messi was stretchered off the pitch in midweek. A mystery that infuriated Mel as he stood watching Messi make history from the sidelines.
This has more sub-plots than the number of copies Mel has ever sold. Real Betis haven't lost a home game against Barcelona since the 2006/07 season, and even managed to beat them twice in the last five home games. A fortnight ago, Real Betis defeated Real Madrid 1-0 and they are not meant to be taken lightly.
Betis mirrors Barcelona's style of play. They press down their opposition and pass the ball quickly.
The opening few minutes of the match was like watching Barcelona play piggy in the middle with Betis. However, Betis got off to a great start, allowing Barcelona very little time on the ball, but eventually were overrun like Manchester United in 2011.
"Betis are wearing Green and white but they are not Celtic," said the match commentator.
In the 16th minute of the game, Messi's 85th goal in 2012 arrived. Andres Iniesta played a slide rule pass to Messi and the nimble-footed forward dribbled towards goal, pulled away the two central defenders from their positions, and found the bottom right corner of the net.
It took Messi just nine minutes to better his goal tally. At this point in the game, Betis were attacking Barcelona and they lost possession in the final third. Right-back Adriano made a darting run from his half beating three players before he squared the ball to Messi in midfield. Messi pushed the ball higher to Iniesta and the Spanish international pulled it back for Messi to score.
I fear the Andres Iniesta back heel assist will get lost in the record books. Gutted.

— 101 Great Goals (@101greatgoals) December 9, 2012
Teammates rushed to congratulate him and he celebrated with a fist pump. Messi just broke Gerd Muller's most number of goals in a calendar year and there are still three more games left before Christmas break.
A simple goal celebration after achieving such a remarkable feat is a sign of greatness. He wants to play in every game and doesn't come across as someone chasing records. Messi hasn't missed a single game in the last two years and is currently two goals ahead of the clubs all-time leading scorer in La Liga. With 23 goals in 15 games already this season, the 50 goals he scored in the previous season now appears even more smaller against his 5 foot 6 inch frame.