Lionel Messi: The GOD of Football!
4.42K //
18 Dec 2012, 19:21 IST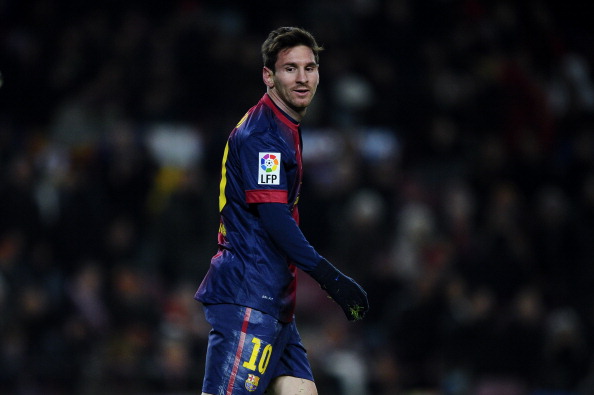 To all Ronaldo Fans: Stop justifying how Ronaldo is better than Messi, because this year Messi has been unarguably the best of all. 90 goals in total, with one match still to go; the numbers state the difference. Yes, there have been some penalties, some assists from two compatriot legends Xavi and Iniesta for Messi, but even accounting for that, Ronaldo is nowhere close.
Working one by one on his issues, Messi has been one of the most improved players in the past years. Facing Messi now is a nightmare for defenders. The only thing not perfect about his game is the long balls, and that was never an issue. Barcelona anyway has a short passing-based strategy and he just masters it. Another year and you may see him delivering perfect long balls as well, just like he worked on his free kick. And guess what, even Casillas finds Messi's free kicks hard to save.
No, I am not saying all is done for Cristiano Ronaldo. He surely is a fighter. But for now, he has to improve himself. He has the perfect skills for every aspect of the game – that is a big boost – but he needs to work on his consistency. Perhaps being at Real Madrid is an added difficulty for him, given that they play two strikers in a match alongside Ronaldo. With so many people to score, Ronaldo often ends up providing assists or trying to set up goals. Yet he had more attempts at goal than Messi. Those were primarily difficult chances he tried (the easier ones being available for Higuain and Benzema) but he can surely work a way out. Competition is what forces one to improve.
The situation is quite similar to what we saw in Tennis a year back. Novak Djokovic was winning everything. Even Rafael Nadal was nowhere close to defeating him on ANY Surface. Not even clay. Ultimately, Nadal improved his game, he came back stronger, and the Australian Open final was an example of what happens when two perfectly matched people compete. Nadal lost the final, but his game improved. Ultimately, he defeated Djoker in a number of events and was arguably the best before his injury concerns surfaced.
Ronaldo faces a similar case, and I hope he comes back stronger.
PS: I am not a big fan of Messi, on the contrary I am a big fan of Ronaldo, but that doesn't mean I am blind!