Liverpool 1-2 Arsenal: He scored when he wanted
Success very often is the enemy of future success- Garry Kasparov
Apt words, the aforementioned. One week after Arsenal's vicious drumming of Tottenham, many fans had started whispering positive things about the club; about how following the same template of pressing and closing down of opponents coupled with direct, incisive passing could spawn a winning run that would take the Londoners to fourth at the end of the season. Similarly, Liverpool's Carling Cup victory was their first trophy in some time, and a potential springboard for future triumphs. Both teams and sets of fans were confident heading into this fixture, and one team was bound to prove Kasparov's words right.
As it turns out, that team was Arsenal performance-wise; but they did what is frequently called 'getting away with first-degree murder' as Robin van Persie's excellent brace gave the Gunners much needed and barely deserved three points.
Team news
And Arsene Wenger got the unprecedented luxury of naming an unchanged starting eleven from the match against Spurs. A midfield trio of Arteta, Song and Rosicky played behind a frontline blessed with pace (Walcott), technique (Benayoun) and persiesque awesomeness (umm, Persie). Liverpool made a couple of crucial changes from their Wembley encounter with Cardiff, with Gerrard and Agger both picking up knocks and being left out. Kuyt got a start after his impressive performance against the Bluebirds, Bellamy dropped to the bench.
The first half
Was fully, undoubtedly, unequivocally Liverpool. After their insane pressing against Tottenham, Arsenal were disappointingly off the pace in the first forty-five, and Liverpool could have been out of sight. Probably should have been. They combined work-rate and a no-nonsense approach to get it forward to Suarez, and many chances ensued.
In the 16th minute, a quick give-and-go from a throw-in released Suarez in the box. Szczesny came forward, and Suarez went down in the ruckus that followed. Referee Mark Halsey pointed to the spot, which was strange because his view was impeded by many players. Replays showed that there was minimal contact between Suarez and Szczesny; indeed, it seemed as if the Uruguayan was already on his way down before the keeper's hand came out. But the decision stood, and Kuyt stood up.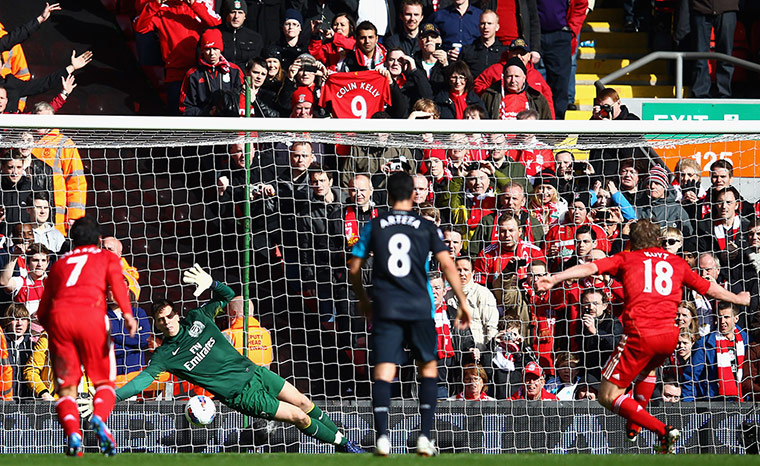 Twelve seconds later, Messrs Karma and Comeuppance must have shared a high-five. Arsenal's Pole in goal first dove low to his right to save Kuyt's penalty, and then dovetailed magnificently in the opposite direction to somehow keep out the rebound. The Pole has made few better or more important saves this season, and parity persisted.
But then it didn't. A slick reverse pass from Spearing to Downing had the English winger storm forward and spread it out to Henderson. The cross inside was poor, but Laurent Koscielny made a ridiculous hash of it; completely miscuing his clearance as the ball nestled in the corner of the net. After all the chances Liverpool had, it was an own goal that put them in front.
And it could have been more. A lightning-quick move forward ended with Szczesny palming away a Dwoning shot and the rebound crashing against the post. There was a Liverpool attack every two minutes, and Arsenal were up against it in every sense of the word. A moment of magic or lucky deflection seemed the only outlets to bring them back into the game. It was the former.
The magic in question wasn't so much in the finish, as it was in the deliciously whipped cross from Bacary Sagna that evaded all Liverpool defenders and fell plop on van Persie's head. He wouldn't miss that from five yards, and Arsenal were offered an unmerited reprieve.
Liverpool took their foot off the throttle for the rest of the half, and could have been a couple of goals to the good as a result. Suarez first twisted and turned like a sprightly ballerina in the box before seeing his goal-bound shot palmed brilliantly away by Szczesny, and Kuyt got to the end of a cross but saw it cannon off the post. Liverpool went in at half-time scratching their heads, Arsenal clutching their lucky lockets.
The second half
Was not as much of an all-action affair as the first half. Arsenal were more solid and had a definite shape, and Liverpool began to tire after their intense pressing. Mikel Arteta (who had one of his worst games in an Arsenal shirt) went off with what looked like a serious face injury in the 54th minute, and Diaby came on to wrest control of the midfield briefly in Arsenal's favour.
Chances were few and far between. Gibbs found himself in the Liverpool box after being beautifully set up by Song, and his pull-back to Walcott drew a good reflex save from Reina. At the other end, Liverpool had crosses and corners like nobody's business, but made scant use of them. One of their decent crosses ended with Kelly swiping at the ball with all the subtlety of an axe-murderer.
It seemed as if the match was petering to an anti-climactic close, but the 92nd minute changed all that. Song has been defensively suspect this season, but has a penchant for through balls and assists which beggars belief. The Cameroonian took the ball in midfield and swung a peach of a ball to van Persie, who had made the perfect run. A wonderfully controlled side-foot volley was in the back of the net before Reina could flap his hands at it. Pandemonium in the away end, wild celebrations, Arsenal had scandalously nicked it.
Liverpool can feel hard done by the result, but not finishing off chances comes down to the players and no one else. Arsenal ended up having more shots on target despite seeing less of the ball, and van Persie scored twice from the only two passes he got inside the penalty area all game. Not for the first time, Liverpool were profligate. For perhaps the first time, Arsenal were clinical.
Match Highlights: